I Finally Found the Perfect Full-Length Mirror, and It Has an Added Bonus (Plus, It's on Sale for 40% Off Right Now!)
We independently select these products—if you buy from one of our links, we may earn a commission. All prices were accurate at the time of publishing.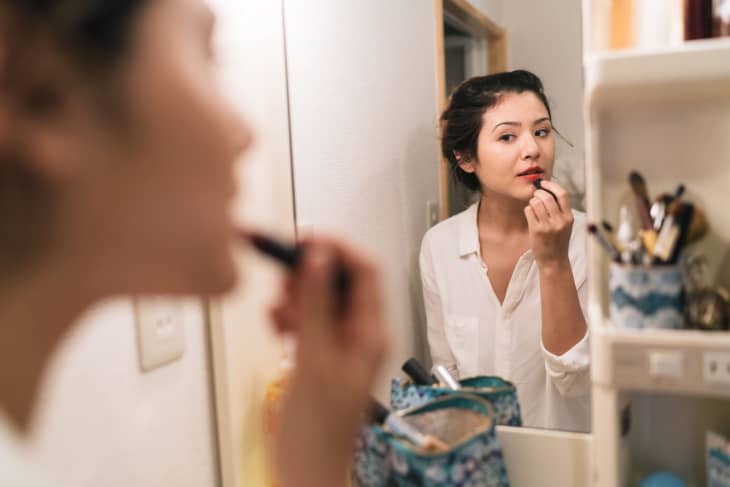 I firmly believe at least one full-length mirror is a home must-have. We may not think of them right away, but when the moment strikes that you need a good look at yourself and don't have the proper reflective surface, it becomes more apparent than ever. My last apartment spoiled me. Previous tenants had installed a mirror on the inside of a closet door that I got so accustomed to, I assumed it would be in my next place — but it wasn't. Knowing I was limited on space, I started shopping around. As enticing as it was to splurge on a huge mirror that stretched far and wide, I had to be realistic and considerate of my budget. Nice full-length mirrors are expensive, period. So, whatever I found would have to stand out as something special. 
I learned of the contemporary furniture brand, Harmati, through working at Apartment Therapy. We've covered their rattan coffee table, sherpa storage bench, and computer desk. Inspired by these pieces, I decided to check out the rest of their collection, and their newly-launched Viv Mirror caught my eye. Once it became available, I had to try it and see if it was truly love at first sight.
There are three ways to style the Viv full-length mirror. It's sturdy enough to lean against the wall, and there's wall-mounting hardware included in the box if you want to hang it; but neither of those options give you the added bonus of a built-in clothing rod. It's what caught my attention in the first place! I initially imagined the mirror as a smart solution for storing garments while cycling through outfits for the day, but it's also a completely viable option for hanging pieces of clothing that may not fit anywhere else. I've got a pile of scarves just waiting for a place of their own as we speak. 
It doesn't take much to assemble the versatile freestanding mirror. First, you piece together the metal rods that stand it up, and then you attach that structure to the back. Afterwards, the clothing rod is added, and you're done! Altogether, it took me less than 20 minutes. It's well-constructed and won't tip over at the slightest touch, which I was super happy to see. When I opened the box and saw how slim the metal rods were, I worried that it might be too light. Once you have it all put together, though, you get a far more accurate feel of how stable it actually is. 
The Viv Mirror measures 63 inches tall and 18.9 inches wide, and is set at a flattering angle that allows you to see yourself clearly from head to toe. From front to back, its depth is 16.5 inches. Once I placed it, I felt like the mirror immediately elevated the look of my bedroom. The arch gives it a splash of elegance without going overboard, and the thin frame that outlines the glass panel makes the mirror look even bigger. As much as I love an opportunity to go all out and be a little maximalist with statement pieces, I tend to balance that out with simpler decor that speaks for itself, and Harmati had exactly what I was looking for.
The Viv comes in two chic colors: gray and green. No matter which hue you choose, the accent doesn't take the spotlight away from the mirror itself. Even the clothing rod is set at just the right position and width to keep anything hanging on it out of sight. I can only think about how helpful this mirror would have been when I moved into my first apartment over a decade ago! I love the combination of fashion and function, and this mirror brings both at 100 percent.
PS: It's also on sale today for 40% off with code FALL. Don't miss out on this deal!