My Family Can't Stop Sending These Food Baskets to Each Other
We
independently
select these products—if you buy from one of our links, we may earn a commission. All prices were accurate at the time of publishing.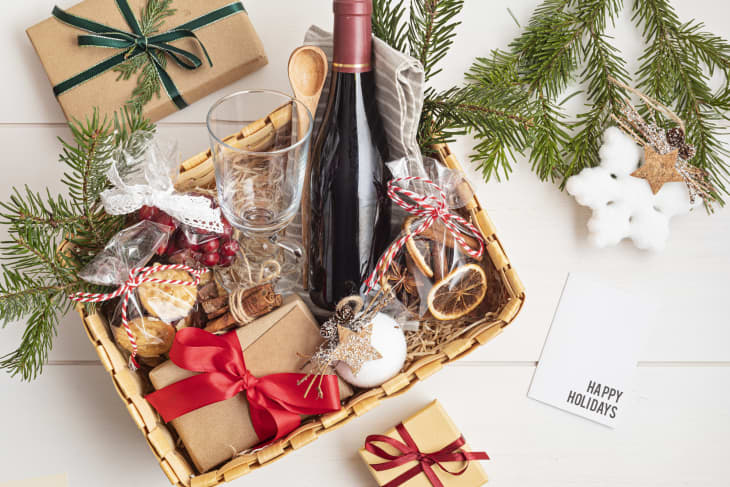 Once upon a time and long ago, there was a Harry & David store in my local mall (Tyson's Corner in Virginia, if you're familiar). I loved peeking in there with my mom because to me, it was — along with Viennetta ice cream and countertop bread makers — the peak of culinary luxury. The baskets were stuffed (literally stuffed!) with caramel corn, biscuits, chocolate-covered cherries, and gold-foil wrapped pears. Pears in foil. If this wasn't a 10-year-old's idea of what being rich was like, then I don't know what was.
Eventually, I grew up and moved away from home. That store closed, and I didn't think about Moose Munch for two decades (the dark ages). As far as I was concerned, Harry & David went the way of other symbols of '90s excess, and pears hadn't heard the word "foil" in years.
But! I was proven very, very wrong last year. My large immediate family was separated by several states thanks to the pandemic, and one day in December, my sister and her husband sent a basket of heaven to my parents' house, where I was staying. It had everything: Royal Riviera pears (gold foil and pears, reunited!), mini sausages, my dad's one true love, a nut variety, and those chocolate-covered cherries, which were just as good as I had hoped, and so much more. Wow. To say it this surprised and delighted us is an understatement. All of us marveled at how a food-filled gift basket was such a classic, underrated delivery, and yet in the doldrums of winter 2020, it was exactly what we needed.
A few weeks later, my aunt and uncle in California sent us another basket, this time filled with a variety of baked delights from Wolferman's Bakery, which Harry & David also owns. A week later, another one of my sisters texted that she had ordered herself a "deluxe bakery banquet tower" from Wolferman's just because.
In a year where we relied on texts, FaceTimes, and video conference-enabled games of Mah Jongg and Codenames, the Harry & David baskets gave my family yet another link to each other. We've continued to send and receive them throughout 2021, and much like how Goldbelly has made it feel like a Russ & Daughters can exist right inside your kitchen, so too can these make you feel like you're getting both hugged and fed at the same time.
If 10-year-old me knew how many pieces of chocolate-covered Moose Munch I've eaten in the past 12 months, I would cry for someone to break me free from the chains of childhood at once to experience the true joys of being able to say, "I'm an adult and no one can yell at me for not saving the chocolate pieces for anyone." Sorry about that, by the way, mom. They were delicious and there were many more in that bag than I said there were.
If you, like me, hadn't thought about these things in years, keep it them in your back pocket as a holiday gift idea or a "just thinking of you" present. I know this year might not have had the fully-reunited holidays you've been dreaming of, but no matter how you're spending them, think about sending someone (or yourself!) a basket, because a teeny bit of delight goes a long way, and sometimes that delight comes in the shape of a golden pear.