These Harry Potter-Inspired Interiors Bring Hogwarts to Life
We independently select these products—if you buy from one of our links, we may earn a commission. All prices were accurate at the time of publishing.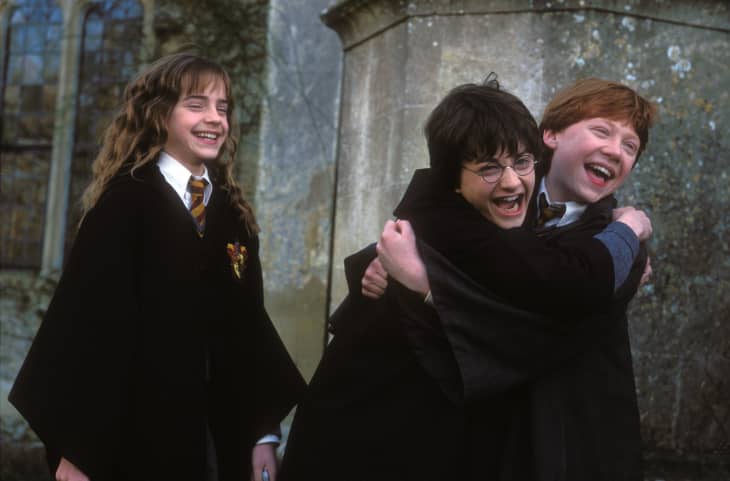 If the Harry Potter 20th Anniversary HBO special has left you longing for your Hogwarts acceptance letter, why not add a touch of wizarding magic to your home? Design experts at Modsy have reimagined Gryffindor, Hufflepuff, Ravenclaw, and Slytherin as stylish interiors that will delight any Potter fan. From a cozy Gryffindor-themed living room to a moody bedroom for the Slytherin in your life, the renderings will up the nostalgia and inspire you to incorporate your favorite childhood series into your space.
The designs match the Hogwarts houses perfectly, with color playing a huge role in the spaces. The Gryffindor living room, which would be frequented by Harry, Ron, and Hermione themselves, features plush fabrics, vintage patterns, and plenty of deep red hues. The Slytherin-themed bedroom has modern curved furniture and a blue color palette, while the contemporary Ravenclaw reading room has been inspired by the dark academia trend. Finally, the Hufflepuff dining room is adorned with light, neutral colors and rustic materials. Check out the spaces—as well as expert commentary from Modsy designers—below.
Follow Topics for more like this
Follow for more stories like this
"Chivalrous and strong, just like the lion, this bold living room encapsulates everything Gryffindor—from the fiery red color palette to the well-stocked bar cart for party-throwing. This space invites the "brave at heart" to relax, drink, and get beaten in a game of chess by Ron in front of the fire. Layers of regality and cozy, plush furniture, mixed with the ornate, dark wooden elements nod to the British Colonial style and can be incorporated into almost any space that craves a bit of eclecticness." – Becky Sturniolo, Senior Luxe and VIP Designer.
"This moody and luxurious bedroom space is perfect for a Slytherin. They'll feel right at home amongst the modern and edgy wall art, the oversized circular bed upholstered in rich green leather, and the sculptural concrete desk where they can organize all their cunning plans. For me, the defining piece in the space is the large chandelier that has a gorgeous layered look, bringing a ton of drama to the space. I love this piece for the Slytherin House because it reminds me of a rattlesnake tail! Because the Slytherin Common Room is located under the lake at Hogwarts, I went with large windows that look into water, giving the room an ominous blue/green glow. Also, Slytherins are always ahead of the curve, so chunky furniture pieces like the emerald velvet desk chair are right on trend for 2022." –  Mackenzie Rifkin, Senior Designer.
"This moody space inspires curiosity for those that thrive amongst the halls of learning, or those who truly resonate with dark academia. A Ravenclaw mind often turns inward or up. With celestial inspiration and a comfortable place to curl up, this is a perfect setting to reach for the stars or turn towards the inner eye. A flexible work space is essential to have close at hand, for when inspiration strikes at the drop of a wand." – Peter Carr, Design Ops Coordinator and Real Estate Designer.
"The key piece to this design is a large table that caters to the industrious and communal nature of the Hufflepuff. The cottagecore style is perfect for a hardworking witch or wizard who keeps the things they love close at hand, ready to respond in a moment. An eclectic assortment of seating highlights the fact all are welcome at the Hufflepuff table. The Hufflepuffs appreciate tending to animals and the natural world, incorporating them into daily routine as a reminder of greater purpose." –  Peter Carr, Design Ops Coordinator and Real Estate Designer.