These HGTV Expert-Approved Mirrored Subway Tiles Are Far from Boring
We
independently
select these products—if you buy from one of our links, we may earn a commission. All prices were accurate at the time of publishing.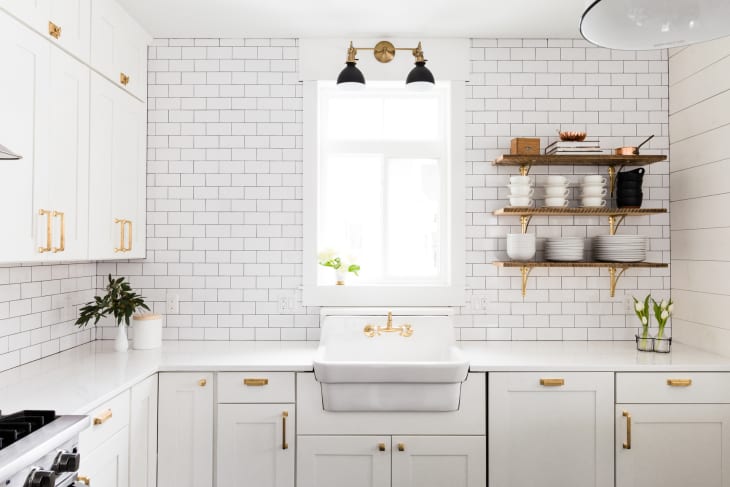 It's hard to imagine being surprised by subway tiles at this point in the game. Classic subway tiles have been around the block once or twice. There's bright white for the traditionalists, luxe emerald green for an elevated pub feel, even black tiled themes for those who prefer a moodier backdrop. In any case, surely it's all been done before. That's why it's such a pleasant shock to see subway tiles in a fresh way, as shown by HGTV expert Breegan Jane in a recent Instagram post. 
Perfection isn't something one sets out to achieve. Often, it's stumbled upon. That's exactly what's happening in the incredible glass, mirrored subway tiled backdrop that Jane showed her followers while recently touring home appliances. There are few ways to center style, elegance and forward-thinking design intuition than in glass and mirror accents. There's something about the durability of glass, the luxury of a clear reflective surface boldly staring back at you and all before it, the audacity of an element so fine being the first thing you see when you walk into a room, that just screams: everything but boring. 
Hard-pressed or not to think of more interesting iterations of this common design staple, these glass, mirrored subway tiles are doing a lot for this model kitchen. What's working so well here is the finish of the chrome stove and kitchen hood bouncing off the mirrored surface of the subway tiles. If it weren't for the beveled edges of the tile, the backsplash would almost certainly blend into the scene seamlessly. Think of the possibilities. A colorful, maximalist bathroom with mirrored subway tiles for an extra wall of excess. An all-white kitchen affirmed of its serene command in paneled reflections. An entryway that challenges all who walk through it to give life — and themselves — a double-take. Name a better moment for subway tiles. 
And the good news? They're not as expensive as one might think. Glass, mirrored subway tiles can be an affordable, achievable design motif in your home for as little as $150 for about ten square feet of material. Retailers like Home Depot and Wayfair also offer customizable quantities if you don't need that much, and some come as peel-and-stick so the tiles are easier to apply.
Now that you're in the subway tile mood, don't be shy to still check out the number of ways to incorporate this evergreen trend in your space, from the colorful to the monochrome, to the just plain classic.