How the Plant Doctor Maintains a Watering Schedule for His (Many, Many) Plants, Plus 3 Other Helpful Tips From "The Couch Live"
We independently select these products—if you buy from one of our links, we may earn a commission. All prices were accurate at the time of publishing.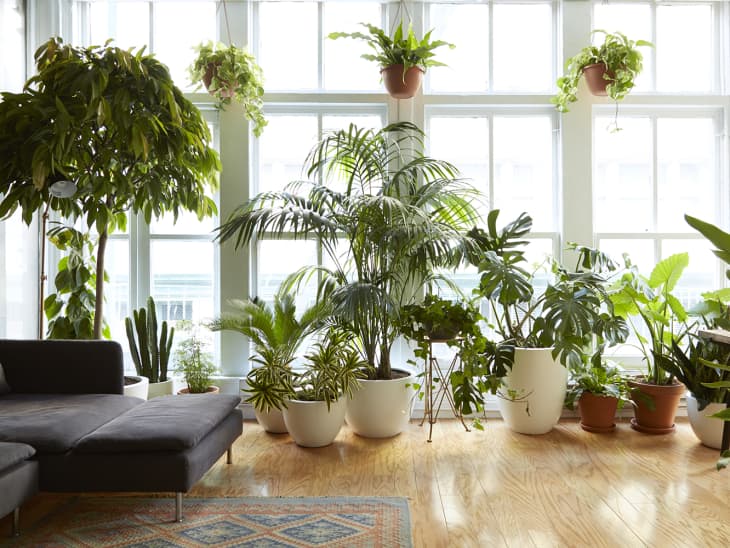 While everyone is cozying up at home, Apartment Therapy decided to bring "The Couch with Laura" video series right to Instagram. Every Thursday at 5:30 p.m. EDT on Instagram Live, AT's Editor-in-Chief Laura Schocker is sitting down with different personalities on their respective couches. And yesterday, Schocker brought Plant Doctor Hilton Carter on to talk about, well, everything plants. 
Throughout the Live, Schocker and Carter played a series of games, from guessing which plant is fake or real to a "Never Have I Ever" home edition. Carter also answered pressing plant questions from audience members, and we decided to round up some of the takeaways.
Follow Topics for more like this
Follow for more stories like this
See below for plant tips straight from the Plant Doctor himself.
Tip #1: If you have a dark apartment, try grow lights.
Not all spaces are created equal when it comes to light, and Carter says there's nothing wrong with getting some grow lights for those dark rooms to help your plants thrive.
"Turn them on at night, push them into a corner, let your plants do their thing while you're sleeping, and when you wake up in the morning you can turn your grow light off and have that plant in your dark apartment," Carter says "Using grow lights is a great way to at least give that plant some of the light that it needs."
For those of you who do have low-light homes, Carter suggests snake plants, ZZ plants, a variety of pothos, and parlor palms, depending on how dark your space is. 
Tip #2 : You don't have to wipe your plant's leaves, but you should.
While Hilton says it's not required, wiping down your plant could maximize the amount of light that touches its leaves. "A lot of the time, I tell people to wipe their leaves down because it'll take that extra filter off, that layer of dust is blocking the light that could be hitting the tissue of those leaves."
He also makes the comparison to having a pet, which you brush and clean eye boogers from because you have the nurturing instinct to do so and care for it. 
Tip #3: Get plants based on what works best with your schedule. 
Carter has an abundance of plants in his apartment, so how does he keep track of watering them all? Well, it's all about creating a schedule that works for you.
"I bring plants into my home that are on a schedule that I can work with," Carter says. "Every 7-10 day watering plants or every 3-week watering plants. It takes me about 3-4 hours, I keep track based on writing a reminder in my calendar on my phone, also just walking around and checking the soil."
Tip #4: Yellow is a sign of overwatering.
If the leaves of your pothos are starting to turn a shade of yellow, it's a warning sign that you're overwatering the plant. Hilton says that overwatering is the main reason people kill their plants, and while it's not intentional, he warns about being a helicopter plant parent. "You're stuck at home, you're around your plants so much. 'I have this half-full glass of water, how about I pour it into this pot?' Don't, they're fine!" 
Go around and check the soil to make sure it's time to give that plant some water.