Here's What it's Like to Live Next to a House with Tourist-Destination-Level Christmas Decor
We
independently
select these products—if you buy from one of our links, we may earn a commission. All prices were accurate at the time of publishing.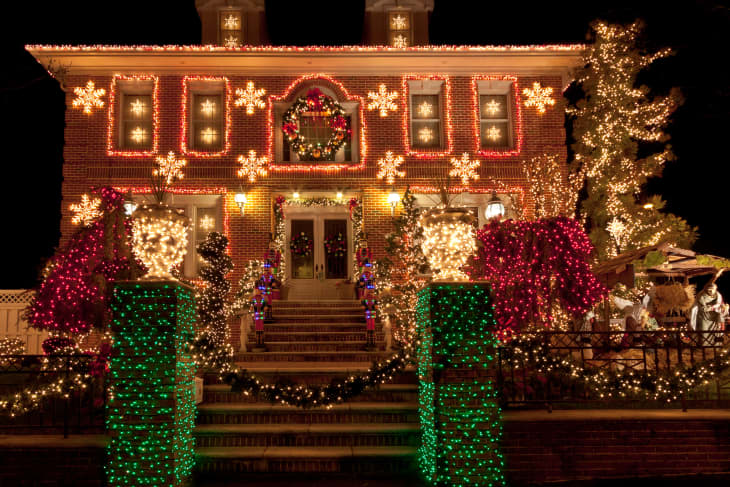 Imagine it's the holidays, you're soaking in the cheer and chill during the day, over gingerbread lattes and twinkly lights as far as the eye can see. You close your eyes at night, ready to dream of snowflakes and fireplaces—but you can't, because the glare of your neighbor's house is practically blinding. You've seen it in "Christmas Vacation" and on "The Great Christmas Light Fight": for every person who chooses a few, low-key holiday decorations for the outside of their house, there's another that almost wipes out the power grid, thanks to light-up Santas, strobe displays, and even accompanying music.
No one wants to be a Grinch, but for anyone who's… er… lucky enough to call a holiday super-decorators their neighbor, there are usually some drawbacks to the abundant holiday cheer. Whether it's because of the light pollution at night, or extra traffic thanks to people taking a detour to check out the display like it's Dyker Heights, they know what it's really like to live right next to Christmas central.
We talked to three people around the U.S. who are definitely in the holiday spirit—at least by proximity. Here's what they say it's like this time of year:
"My parents' neighborhood has become a tourist destination"
Every year, Frank* transforms his front yard, driveway, backyard, and den into a tourist destination with animatronics, lights, music and more.
"The scale of this Christmas set-up is massive," his neighbors' daughter Stephanie Figueroa says of the decorations, which make an appearance as early as October. "It borders on a commercial attraction. People line up to tour the decorations and park their cars up and down the block."
Frank has been outdoing himself on the Christmas decor front since 2001—but there's a poignant reason behind his desire to keep this tradition going: Figueroa says Frank does it to honor his late wife, who passed away in the World Trade Center on September 11th.
Perhaps in part because the decorations are part of a tribute, Figueroa says the shine of Frank's uber-decorating tendencies has rubbed off on her family.
"What I like about this house being so over the top is that it has eventually become part of my family's own holiday tradition," she says. "And because there are so many people who go to see this display, you forget that people actually actively live there."
Take one recent Christmas Eve, for example.
"My brother and I went for a late night walk to take a look at the house," she recalls. "When we saw the crowds of people there we figured they were all doing what we were doing, but it turns out they actually lived there and were the family members! Of course they're there hanging out, it's Christmas Eve for crying out loud. They were partying and celebrating—it was really fun to see!"
The only downside? Frank has a giant digital counter over his garage that counts down the days until Christmas. "It kind of puts the pressure on," Figueroa says. "It's actively reminding you the holiday season is coming, and that can feel stressful at times."
"We're steps away from over-the-top decor"
Kristen Ford lives in Plano, Texas, right next door to Deerfield, Texas, which is known for its Texas-sized "Holiday Lights" display as well as an annual "Best Decorated House" award given to the house that does it up the most. What's not to love about the Texas state map done up in red lights?!
The decor reaches epic proportions in keeping with Texas tradition, Ford says.
"A couple of years in a row, one family covered their front windows with all sorts of different cartoon figurines in blown up balloon form," she says. "This other guy covers his whole front lawn with a steam train and a working Ferris wheel he built himself!"
This has become a tradition that Ford looks forward to every year, despite the fact that one lawn in the neighborhood is filled with "really old creepy Christmas decorations, including a 'choir' of figurines."
"I lean towards this being more fun than a headache because I have kids and love making memories with the," she says. "We look forward to checking out these homes every year and it gives us inspiration to do things to our own place though right now we pretty much just have a wreath on our front door and some lights inside!"
"I live steps away from Baltimore's 'Miracle on 34th Street'"
For two years, Melissa Delcher has lived half a block from an entire street of super decorators that, for the past 73 years, have transformed the entire length starting at Thanksgiving through New Year's. The street has gotten plenty of national media attention, too. Maybe that's because tourists and locals alike can't get enough of the hubcap Christmas tree, bike rim snowmen, overhead trains and Big Red Lighted Crab?
"The best part is how easy it is to get into the holiday spirit," Delcher says. "I love taking friends and family to the lights when they come to visit. On New Year's Eve, they have an actual ball drop. It's so much fun to have a party at home—we can just walk up with our champagne when it's getting close to midnight."
One thing that is showing no signs of slowing down? The sheer volume of cars packing the neighborhood during this time of year. 
"The worst part is easily the parking," she says. "It's not unusual to have to park a quarter mile from your house during the holiday season. Traffic is awful with people often driving the wrong way up my short one-way street. By mid-December, I'm pretty over it!"
We've got to hand it to these homeowners—they're definitely not the neighborhood grinch—no matter the crowding around the corner or the red and green lights buzzing on and off all season long. And, in the end isn't that what this season is all about? 
*some names have been changed for privacy purposes.