10 Home Upgrades Your Neighbors Will Love
We
independently
select these products—if you buy from one of our links, we may earn a commission. All prices were accurate at the time of publishing.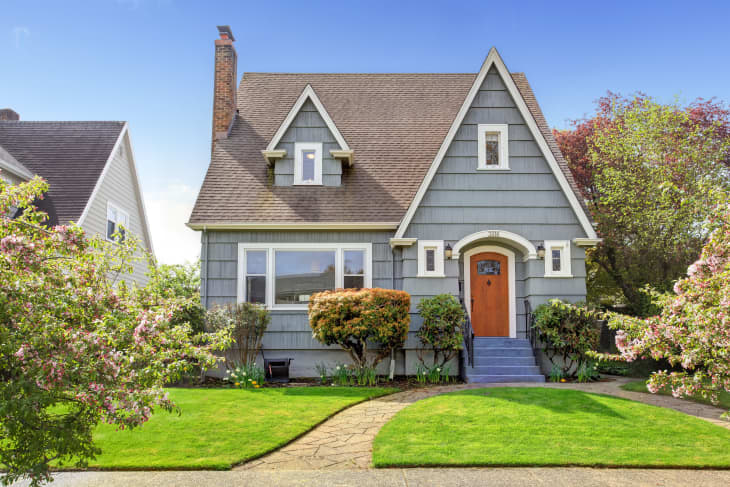 When it comes to home renovations, there are plenty of things to consider: your budget, renovation timeline, current trends, your DIY or delegating skills, and whether this is your starter home or your forever home. All of these weigh into the decisions you make when sculpting renovation plans, but here's one more thing to think about: your neighbors!
Of course, how you choose to renovate your home is ultimately up to you (and your HOA, if you have one), but there are certain home upgrades that will not only increase your property value, they'll also make your neighbors like you a little bit more (unlike the ones they might actually hate). And there's nothing wrong with that! Here, 10 home upgrades that your neighbors will relish just as much as you do.
1. A fresh coat of paint on your home's exterior
Yvonne Johnson of the design and renovation duo Reclaimed Karma in Marietta, Georgia says adding a nice coat of fresh paint (in a color that blends well with others in the neighborhood) is a home run update that the neighbors will love, since it instantly adds curb appeal and makes your home look well cared for.
Don't have the budget to repaint your whole house? Go for a fun front door color. "A pop of color on your door is a simple upgrade that makes the neighborhood feel like someone has added an extra 'oomph' to their house," says Yvonne.
2. Upgrading your driveway (and pressure-washing it once a year)
Upgrading your driveway to concrete or asphalt is always a welcome addition, and Contractor Morgan Venetos of The Home Collective suggests taking it a step further and using pavers instead of concrete. It's a bit more expensive, but your neighbors will thank you, since it means your driveway will look new for longer.
"Pavers are much more flexible and can accommodate natural settling and expansion," Venetos says. "This means they rarely ever crack, can last a lifetime if installed properly, and if one gets damaged they're easy to repair. Just pop it out and pop a new one back in!"
Whether you've upgraded to asphalt, concrete, or pavers, builder Chris Johnson of Reclaimed Karma says pressure-washing your driveway once a year will help keep it in shape, which everyone will be grateful for.
3. A nicely built privacy fence
There's a lot of controversy when it comes to neighbors and their fences, including material choice, height, installation, and the issue of possibly crossing property lines. But everyone will be grateful for a solid privacy fence done correctly, since it helps add a sense of seclusion on both sides. "Our neighbors just put in a privacy fence and it looks amazing. We're so happy they did it because it gives them some privacy, and it gives us some privacy," says Yvonne.
4. Choosing interesting materials over standard
If you're already planning on re-doing your roof or siding, Yvonne says that choosing the small details thoughtfully can really take your upgrade from a standard one to something that really looks custom. This includes choosing a more architectural shingle over a typical black asphalt one, or changing your siding from traditional to a more board and batten-type siding. "That's an upgrade that feels a little more custom—even a mixture of traditional siding and board and batten adds a little pop to your house," says Yvonne. A neighborhood of homes that have character beats out a cookie-cutter block every time.
Chris adds that it's important in all of these decisions to take into consideration what type of home you have and what design would complement the style of home you have.
5. Enlarging your porch (or upgrading your current one)
Enlarging or adding a front porch is an exterior upgrade most neighbors will also smile about—not only does it add some charm and curb appeal to your house, but it makes your space feel more welcoming to visitors, too.
If you already have a porch, freshening up or changing out your current porch details can make a difference. "Just going in and wrapping your old posts in cedar makes a big difference and the homes around you will love it," says Yvonne.
Chris adds that even upgrading the railing on your current porch or changing out the boards or re-staining them would be an easy upgrade that neighbors would appreciate.
Clearing away dying plants and trees and adding well thought-out landscaping and pops of color can really beautify the exterior of your home. Chris encourages you to hire a professional landscaper to help you do this one. All neighbors enjoy looking at gorgeous, well-kept plant beds!
7. Adding landscaping lights
"You can see a major difference in a home that has spent the extra money to upgrade their lighting in their front, side, and backyard. It just changes the whole feel of your home if it's done right," says Yvonne. Chris adds that landscaping lights can serve a dual purpose that your neighbors will appreciate. "It's an aesthetically pleasing way to add some extra security," he says.
These are all wonderful upgrades that will up your curb appeal and make you and your neighbors happy, but what about us city people whose neighbor might actually be just a few feet away from us?
8. Sound-boarding the walls
If you're going to gut renovate a brownstone, Angelo Goncalves of MichaelAngelo Contracting in Brooklyn, New York highly recommends sound-boarding the walls—especially now that many brownstones are turning into multi-functional living spaces similar to apartment buildings, making your neighbors closer than ever.
"Prior to sheetrocking, we do spray foam insulation (closed cell insulation), and to double up, we would do the sound-board and the sheetrock over it, so it serves as thermal insulation and a sound barrier," Goncalves adds. For those who are not gut-renovating, he says at the very least to put a carpet runner on the notoriously squeaky brownstone staircases.
9. Carpeting or further sound-proofing your floors
Speaking of carpet runners, anyone that has to worry about downstairs neighbors, adding carpet to your floors is an upgrade your neighbors will thank you for—especially if you're into doing at-home workouts right now!
For those of you who aren't into the look of carpet, Chris says to consider paying the extra money to have a cork underlayment installed underneath your hardwood floor to help absorb the extra sound.
10. Environmentally friendly and sustainable renovations
"A lot of neighbors and really anyone who is conscious about the world we live in right now appreciates anything that is built with environmentally friendly materials or anything that's sustainable," says Goncalves. That goes double for materials used in close quarters that are low-VOC, which limits the smelly off-gassing.
So while the home renovations you choose to move forward with are ultimately up to you, investing in upgrades that will also make your neighbors' lives a little happier is a good choice.