10 Home Upgrades Your Neighbors Will Hate
We
independently
select these products—if you buy from one of our links, we may earn a commission. All prices were accurate at the time of publishing.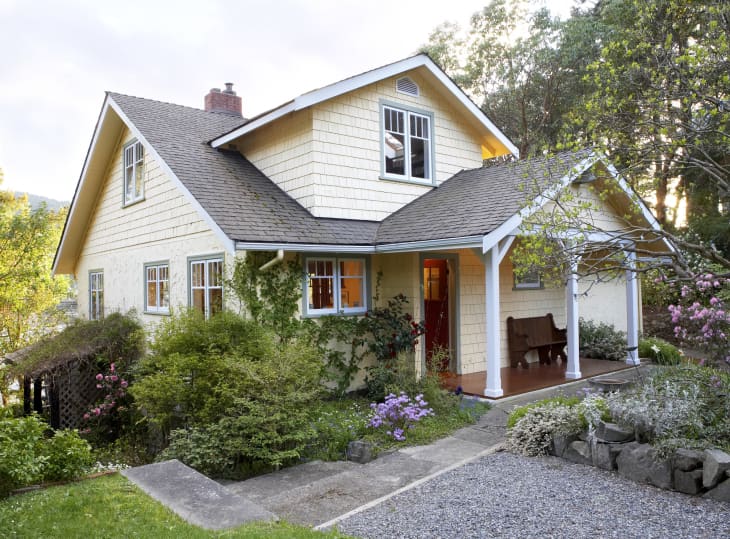 Summer is peak home renovation time: the weather's good, and it's easier to spend time outdoors while your home's under construction. And as June slips into July, you might be itching to paint our house a bold color or DIY a pallet fence. After all, it's your home—who says you can't? Well… your HOA, for starters. But even if you don't live in an area that's governed by one, you might think twice about some particular upgrades that could make you a few enemies in your neighborhood—because they decrease privacy, infringe on property lines, and more. Below, 10 upgrades pros say your neighbors will hate. Proceed with caution.
Any serious (and sometimes not so serious) upgrade to your house is going to require a permit. If you don't get a proper permit for your construction, you're not only breaking the law—you could also unknowingly cross a property line into your neighbor's yard.
When you're getting ready to add an addition to your house, there are a few steps you need to take, explains Chris Johnson of the design and renovation duo Reclaimed Karma in Marietta, Georgia. "Depending on where you live, the first thing that you want to do is check with your HOA, if you have one," says Chris. "Work with a licensed contractor who can pull the permit and who's insured. There's a land survey that will determine how close one dwelling can sit next to the next dwelling. That survey will determine how big of an addition you can actually do."
Then you'll have your architectural designs drawn up, and, again, depending on where you live, you'll most likely have to submit some type of drawing to the city to get approval. Going through the proper process is not only the right thing to do, it will also ensure that your addition is added on safely, and it will keep your neighbor from accusing you of crossing their property line.
2. DIY or too-tall fencing
"Good fences make good neighbors," jokes Angelo Goncalves of MichaelAngelo Contracting in Brooklyn, New York. There are many factors to take into consideration when deciding on your fence. How much privacy do you want? What kind of style are you going for? Where exactly is your property line? And, yes… what is your relationship with your neighbors?
While there are a lot of materials you could choose for your fencing, the height of your fence can really be where the issue comes in. "Imagine you have a neighbor with a little-bit-above-the-waist fence, and you come in, you've just bought the house, you don't know anyone, and you put up an 8-foot fence because you're going to have BBQs and you don't want anyone spying on your kids. So you put your fence right up next to his fence, which you're legally allowed to do, but that's really going to piss him off," says Goncalves.
Not only is that going to look strange from his perspective, but if that changes the amount of sunlight your neighbor gets in their garden that they've spent a lot of time and money developing… you see where the height and placement of the fence can be a real issue.
Reclaimed Karma designer Yvonne Johnson adds that the DIY pallet fencing that is trending right now is one of those things that could easily slip into a #pinterestfail. If you don't know what you're getting yourself into, that could be a real eyesore for you and your neighbors. Chris adds that when you're choosing your fencing materials, "You want to use a material that aesthetically co-exists with the neighbor." There's no right or wrong answer for how you choose to build your fence, but this particular home upgrade is one that hits close to home (really!) for your neighbors.
3. Placing backyard upgrades in your front yard
This can be anything from above-ground pools to playgrounds to full-on skate ramps. "Basically your recreational structures should be kept in the back," says Chris. That's an easy enough rule to follow!
4. Too bold of a paint color
Many HOAs have rules as to what color you're allowed to paint your house, but not all neighborhoods have HOAs. If you're trying to be cognizant of your neighbors, you're going to want to steer clear of bold colors and choose muted ones instead.
Yvonne suggests taking into consideration what your neighbors' homes look like, and then trying to coordinate from there (and even talking to them!); you could also consider picking from a classic color palette of blue, grey, white, or even yellow and green.
"If you are attempting to stay in the good graces of your neighbors, you may choose a more muted palette versus a vibrant palette, so if you do love a blue, maybe you go with a more muted blue than a vibrant one," she adds. If you're really wanting a loud color, choosing a bold pop of color for the front door is the way to go.
Before you start cutting down trees on your property, Chris says there are two things to take into consideration: Whose property line is the tree actually on? Are the trees serving as privacy?
"If there's a tree that leans over your property line, but the base sits on your neighbor's property line, you'll want to talk with them about that," says Chris. He also says that in more mature neighborhoods, trees and shrubs tend to serve as privacy, so cutting them down without consideration could leave you and your neighbors vulnerable.
"It might be an upgrade to you, but it might be a big frustration for your neighbors," adds Yvonne. On the flip side, Yvonne adds that if there are dead or dying trees on your property, your neighbors will probably thank you for taking them out.
6. Closing in your garage without adding another garage
If you decide to close in your garage to make it an extra bedroom, playroom, or TV room, that's awesome. But if you take away the space that normally houses your cars, tools, and more, then where do those cars and extra things go now?
"Don't close in your garage and build off a carport. At least build another garage," says Yvonne. By closing in the garage and building a carport, you are now forcing the neighbors to see your cars and storage. If you're really being considerate and thinking long-term, you'll add on a proper garage or addition.
7. Camera security on the back side of the house
There's a fine line between taking proper security measures for the safety of your home and becoming an at-home spy. It really comes down to your relationship and trust-level with your neighbors. "Cameras are sometimes an issue," says Goncalves. "If you have kids, you don't want someone pointing a camera into your backyard."
He adds that cameras in the front of a house or building are pretty standard, but if you don't know your neighbors well and they have cameras on the back of their home that you feel could potentially be encroaching on your privacy while you (or your kids) are enjoying your backyard… that's not great. Best not to be that neighbor.
8. Adding a second-story balcony
Contractor Morgan Venetos of The Home Collective says to skip the second story balcony in your home renovation. "It's already tough having a two story house around, as the back windows usually veer right into the neighbors backyard—and sometimes it's not always pretty!" Venetos says. "Adding a second story balcony intrudes on their privacy even more and puts you front and center."
She says instead to focus your attention on creating a cozy patio, complete with a pergola, string lights, curtains, and furniture you love. "Having a covered and thoughtful patio will give you as much value as a balcony," she adds.
9. Mosquito attractors like poorly-maintained pools or landscaping ponds
This could be anything from landscaping that attracts mosquitoes to poorly maintained pools or small ponds. Goncalves suggests that if you have a mosquito problem and want to be a considerate neighbor, stay away from the tiki torches and plant citronella plants instead.
Having good lighting is important, but depending on how close your place is to your neighbors' place, censored spotlights or poorly placed censored lighting might be an annoyance. Let's take some homes in Brooklyn, for example, that might only be separated by a small alleyway. "With sensors, if a cat goes by, they'll turn on," says Goncalves. "And that can get pretty annoying because a lot of these houses have the bedrooms facing out toward that way, so if the light comes on with the sensor, that can be very bothersome." Instead, he recommends getting lights that curve down and only illuminate your house instead of spotlighting the whole area.