This Is How Much Home Values Have Increased Since 2019 — And It's Not Pretty
We independently select these products—if you buy from one of our links, we may earn a commission. All prices were accurate at the time of publishing.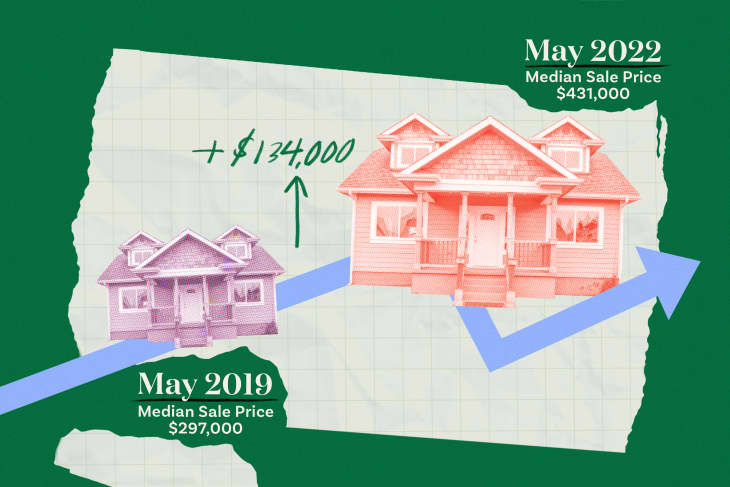 If you've tried to buy a house within the last four years — or scanned the news headlines on any given day — you're likely well aware that home values have been skyrocketing during the coronavirus pandemic. But exactly how much have they gone up? And, perhaps more importantly, why?
I wanted to find out, so I turned to a handful of real estate experts for their take. Here's what they had to say.
Average Home Value Increase
There are several sources of data to turn to for a general overview of how much United States' home values have increased since 2019. Redfin, the real estate site and brokerage, found that the national median sale price for May 2019 was $297,000. Flash forward to May 2022 and that same number increased to $431,000, which represents a whopping 45 percent increase.
The National Association of Realtors (NAR), the trade group that represents the real estate industry, keeps similar stats. According to their data, the April 2019 median home price of a condo was $249,500, while the median price for a single-family home was $269,100. By April 2022, those numbers had shifted quite a bit: up to $340,000 for condos and $397,600 for single-family homes. That's a 36 percent increase for condos and a 47 percent increase for houses.
Of course, the numbers look different for specific regions of the country, but the bottom line is that home prices everywhere have been trending upwards.
"Home prices have had year-over-year gains for 123 straight months," says Jessica Lautz, NAR's vice president of demographics and behavioral insights.
What's Going on Behind the Numbers
When it comes to understanding what's causing this dramatic increase in home prices, it's important to know there are a handful of factors at play, Lautz says. Before the pandemic started spreading rapidly across U.S. in March 2020, home prices were increasing for simple macro-economic reasons: There wasn't enough housing supply to meet all of the demand, she says.
That housing shortage continued during the pandemic, but demand picked up even more. As people began working remotely and spending more time at home, they also began moving to new places — with gusto. 
"Buyers' priorities have changed as a result of COVID," says Michael J. Franco, a Manhattan-based real estate agent. "Many buyers are needing or wanting more space for themselves and their families, as well as the capacity to work from home."
Interest rates were also super low, which made borrowing money to buy a house cheaper and sent more people scrambling to become homeowners. Meanwhile, supply chain issues and labor shortages made it harder, and more expensive, for builders to construct new homes, townhomes, and condos.
The past four years have been especially rough on homebuyers (though really good for sellers). But what does the future hold? Though no one has a crystal ball to peer into, Lautz predicts that home prices will continue to rise, but at a slower pace until they eventually normalize. This trend will be driven primarily by rising interest rates, but also because some people are just frustrated with the homebuying process and are dropping out of the hunt.
For buyers, this is welcome news. For sellers, who have been riding the high of the last few years with bidding wars and around-the-block open house lines, the slowdown could mean they'll receive lower offers and that their homes will sit on the market longer. 
"As rates tick up, demand will naturally fall back to more or less normal levels," says John Walkup, cofounder of real estate analytics company UrbanDigs. "However, because the market was so hot for so long, this return to normal will feel like a hard slowdown."