3 Ways to Avoid Homebuyer's Remorse, According to Real Estate Pros
We independently select these products—if you buy from one of our links, we may earn a commission. All prices were accurate at the time of publishing.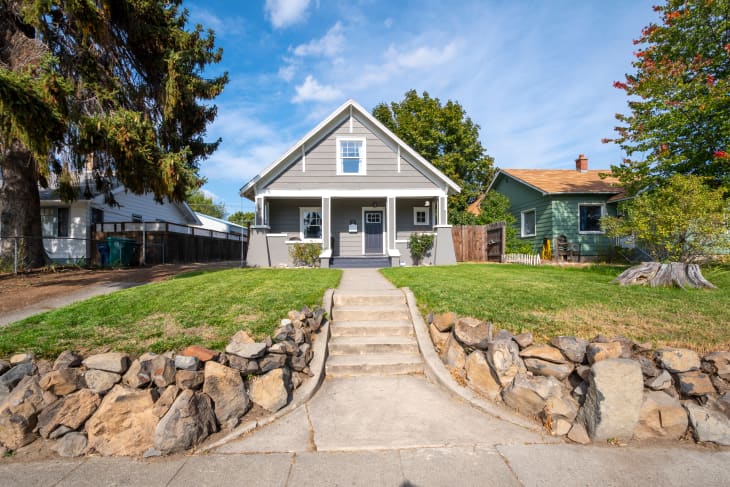 Over the past year, record-low interest rates have fueled an unprecedented homebuying frenzy. For-sale homes are getting snapped up at breakneck speeds and sellers are entertaining multiple offers, with many bids coming in above their asking prices. But unlike an appliance you impulsively bought amid a frenetic Black Friday sale because so many other people were vying for it, there's no 30-day return policy on a home. 
Something that's overshadowed by the excitement of becoming a homeowner is homebuyer's remorse. After the rush of having a bid accepted, toasting with champagne, and moving in, some people begin to regret their decision. And on top of that, buyer's remorse in the context of homeownership isn't often discussed in real estate.
Still, nearly two-thirds of millennial homebuyers reported experiencing this feeling in 2019 — and that survey was conducted in a pre-pandemic housing market, when offers moved at a moderate pace and bids aligned with asking prices.
"With the market moving so unbelievably fast, buyers are making decisions at a much faster rate than we've ever seen before," says Raven Reed, a realtor with Realty Executives Select Group Ohio. As a result, some people are beginning to have a sinking feeling shortly after signing their closing documents.
"I was like 'uh-oh, I hate this house,'" a recent buyer told the Wall Street Journal after sleeping in her new home for a few nights. "I hate this house so much."
This doesn't have to be you. Here, real estate experts share their best tips to help you avoid buyer's remorse on what is likely to be the biggest purchase of your life.
Homes in today's market are receiving many offers and selling above their listing prices, Reed says. For this reason, she recommends buyers avoid shopping for homes that are uncomfortably close to their budgets. For example, if you have a $300,000 budget, you should be looking at homes closer to $250,000 or $275,000 to give yourself some cushion to go over asking — and do so without blowing your budget. Feeling like you've overpaid for a home is a leading cause of buyer's remorse, Reed says.
Definitely Get the Home Inspection
In an effort to make an offer shine, some buyers are skipping home inspections. This signals to a seller that the path to the closing table will be easier (i.e. no re-negotiating once it's discovered the roof is in bad shape). However, this is a risky move if you're not a homebuyer flush with cash and able to make potentially big repairs once you've moved in. 
"Having a licensed inspector investigate the property will uncover any problems with the foundation, pipes, electrical work, roof or other high dollar items," says Jess Kennedy COO and cofounder of Beeline, a digital lending platform. "If a buyer waives an inspection, they run the risk of entering a home full of repairs — leading to a bout of buyer's remorse."
Make a List of What You Want in a Home — and Stick to It
When you're buying a home, make sure you've got a list of your "must-haves" and "would be nice to have" features. For instance, if you work from home full-time, a dedicated work space might fall in the must-have category. But hardwood floors or an open-floor plan could be considered "would be nice" features. Having written this down will help you stay focused.
Buyers have a tendency to allow all the excitement of buying a home to cause them to feel stressed and act too quickly, says Scott Campbell, an associate with RE/MAX United in Cedarburg, Wisconsin. "Too much pressure from both internal and external sources can leave buyers stressed out and lead to significant buyers' remorse if they make decisions hastily," he says. A general rule: Trust your gut, Campbell says. If you have any hesitation, consider holding off to avoid feeling confused (and remorseful!) down the line.