This Game-Changing Bathroom Scrubber Saved My Shower and My Back (Bonus: It's on Sale!)
We
independently
select these products—if you buy from one of our links, we may earn a commission. All prices were accurate at the time of publishing.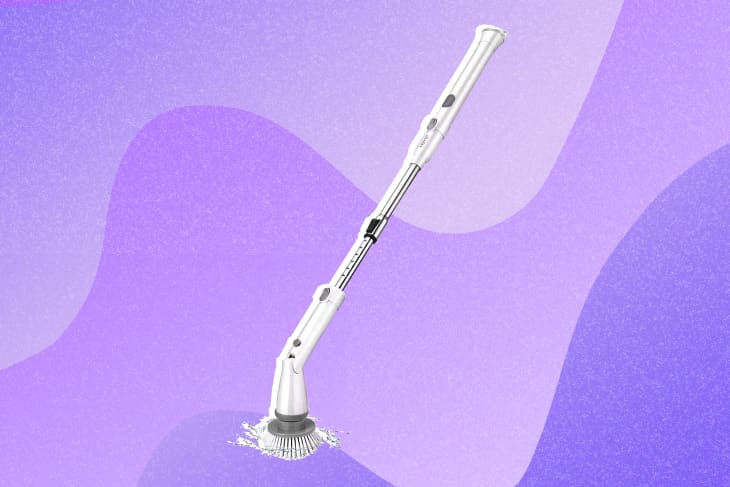 One fun fact you should know about me is that I love to clean. The joy I get out of my weekly ritual of turning my apartment upside down and giving everything a good wipe-down (all while an old Enrique Iglesias CD blares in the background) is incomparable. That being said, I'm not immune to a good cleaning pet peeve, my biggest being cleaning the bathroom — specifically my shower. I think I can speak for many when I say that the back-breaking labor of scrubbing the tiles and tub of a shower isn't exactly the most enjoyable experience. In fact, more times than I'd care to admit, I've put off cleaning my shower solely to prevent the inevitable backache. However, I recently came across a handy tool that has made this once loathsome chore ten times easier and, dare I say, borderline enjoyable: the Homitt Electric Power Bathroom Scrubber.
What is the Homitt Electric Power Bathroom Scrubber?
I came across this scrubber while looking for a scrub brush attachment for my drill after seeing this viral Tik-Tok. However, after remembering how heavy and not waterproof my drill is, I began to step back from the idea — and then this brush popped up on my feed (search algorithms for the win!). A waterproof device that could remove layers of grime from my shower without the need to get on my hands and knees sounded too good to be true. So, naturally, I needed to test it out.
Extendable, versatile, and rechargeable, this powerful electric scrub brush instantly became an essential in my cleaning kit. Powered by a rechargeable 3.6-volt battery, it offers a 90-minute run time, which in my experience was more than enough time to get my shower tiles absolutely sparkling. (Watching the color of my grout change was one of the most satisfying things I've ever witnessed.) To personalize each clean, this kit includes four interchangeable heads: an extra-wide flat brush head (perfect for floors and walls), a small flat head brush (great for detailing), a round brush head (ideal for handling the curves of tubs and sinks), and a corner scrub brush (my favorite, and grout's worst nightmare).
Why I Love the Homitt Electric Power Bathroom Scrubber
For me, the biggest plus of this scrubber is its extendable design. My two chief complaints when it comes to cleaning the shower are reaching the top of my high shower walls and the back pain I experience from scrubbing the tub. Thanks to Homitt's thoughtful design, those issues are a thing of the past. This brush can be extended an extra 21 inches, so I can finally scale the walls as well as scrub the tub, all without bending down. Bonus: Each head can be conveniently angled thanks to the device's adjustable tilt-neck design, meaning no twisting and contorting to get into those especially hard-to-reach areas.
Ready to say goodbye to a grimy shower and the back pain that comes with cleaning it? At just $60, this electric bathroom brush is a tool well worth the investment. Even better? You can currently get your hands on it for just $40! Best of all, this device also works great outside of the bathroom (the small flat brush head did wonders for my badly burned stovetop) making it a multipurpose pick-up you can't help but justify. If your experience ends up anything like mine, you'll find yourself wondering why you didn't pick this brush up sooner.

Buy it: Hommit Electric Power Bathroom Scrubber, $39.99 (normally $59.99)