A Pinterest Employee's 232-Square-Foot San Francisco Studio
Name: Cindy Zhang
Location: Soma — San Francisco, California
Size: 232 square feet
Years lived in: Rented less than 1 year
Finding a nice, affordable apartment has become a challenge for anyone moving to San Francisco. When Cindy moved in 2016 from San Diego, she was super happy to find a cute little studio in the hip neighborhood of Soma. A mix of new buildings and old warehouses, housing mostly start-ups, Soma is quickly becoming a residential neighborhood.
Cindy's studio shows you don't have to live in a huge space to live comfortably. She drew inspiration from Scandinavian design, contemporary typography and vintage posters to decorate her small home. But she also heavily considered furniture shapes and sizes to complement the layout of her studio; Cindy's small studio actually feels quite spacious. And she's carved out dedicated areas for work, relaxing, hosting friends, and even for her beloved piano. Besides working at Pinterest, she is also a proud member of the band Mino.
Apartment Therapy Survey:
My Style: A minimal mid-century-modern base, with colorful vintage accents. Musical subliminal messaging is also everywhere.
Inspiration: I am a big fan of the simplicity and minimalism of Scandinavian design. I love elements from creative spaces such as an open office setting where work and ideas are displayed on the walls. For the pop of color above the minimal base, I'm inspired by modern typographic posters and jazz festival flyers. I am also incredibly inspired by the streets, boutiques, and museums of Amsterdam.
Favorite Element: Music programs and posters I've collected from concerts and jazz clubs in Prague and Amsterdam. They function as souvenirs and as a constant reminder for me to practice and create music every day. And, the big window that brings so much natural light into the studio!
Biggest Challenge: Determining how to break up the room and place furniture, due to the small size. I had to be very cautious when picking out furniture that would fit among the dimensions of the walls.
What Friends Say: "Pinterest-y" — due to the fact that I work there, or that I have a huge board for home decor? I'll never know.
Biggest Embarrassment: The thumbtacks and command hangers that are holding everything up.
Proudest DIY: The grid display above my keyboard. The grid itself was $1.50 from Daiso and stores various photos and items I've collected over the years.
Biggest Indulgence: Probably the studio itself—rent in San Francisco is not cheap.
Best Advice: Look for what you already own for home decor rather than go out and buy new pieces. Chances are, the items you already own reflects what you're passionate about. Surrounding yourself with story-invoking pieces that you connect with will make your home feel like it's yours.
Dream Sources: Street-side furniture galleries in Amsterdam, Stockholm, and Tokyo.
Thanks, Cindy!
---
Explore this style: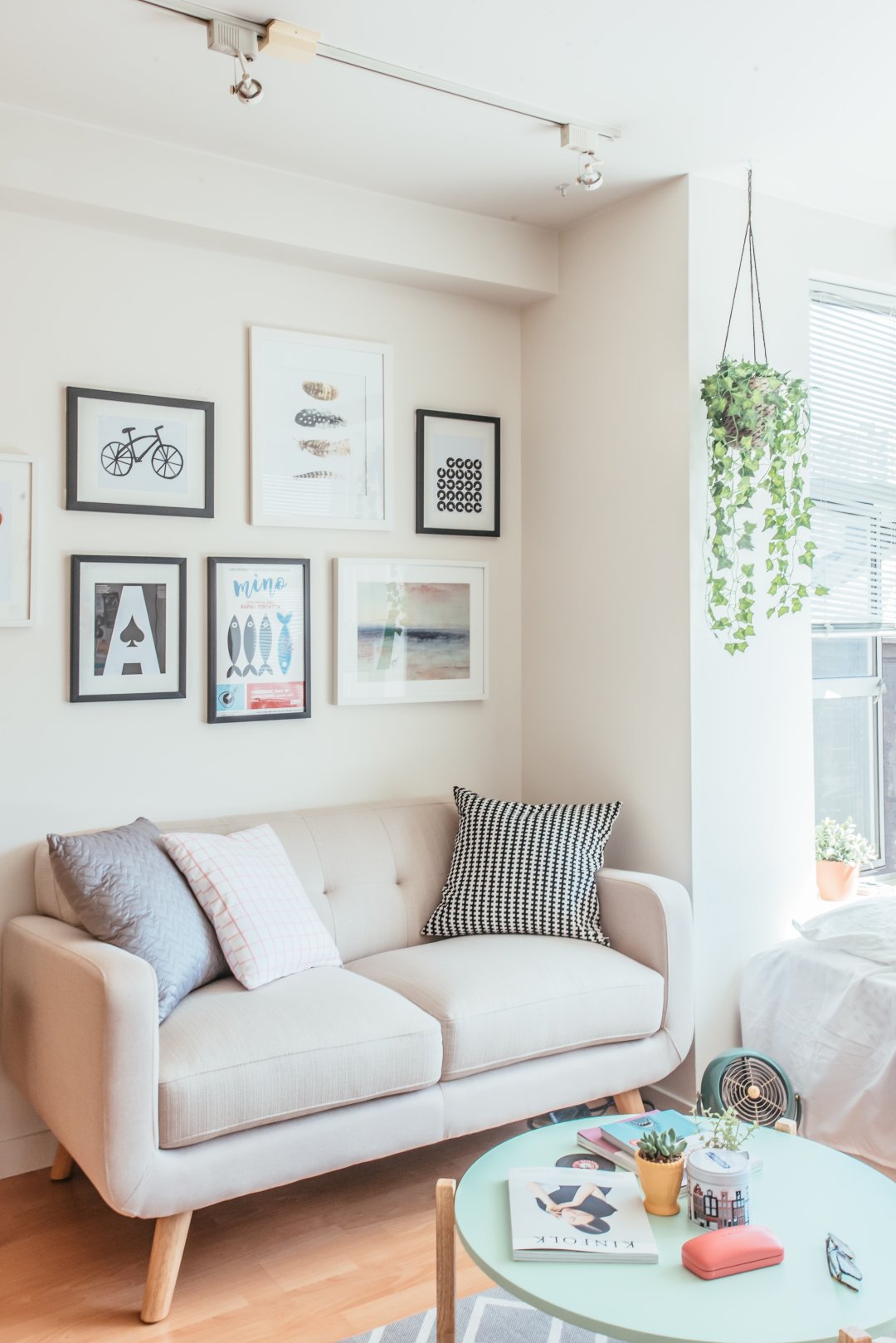 ---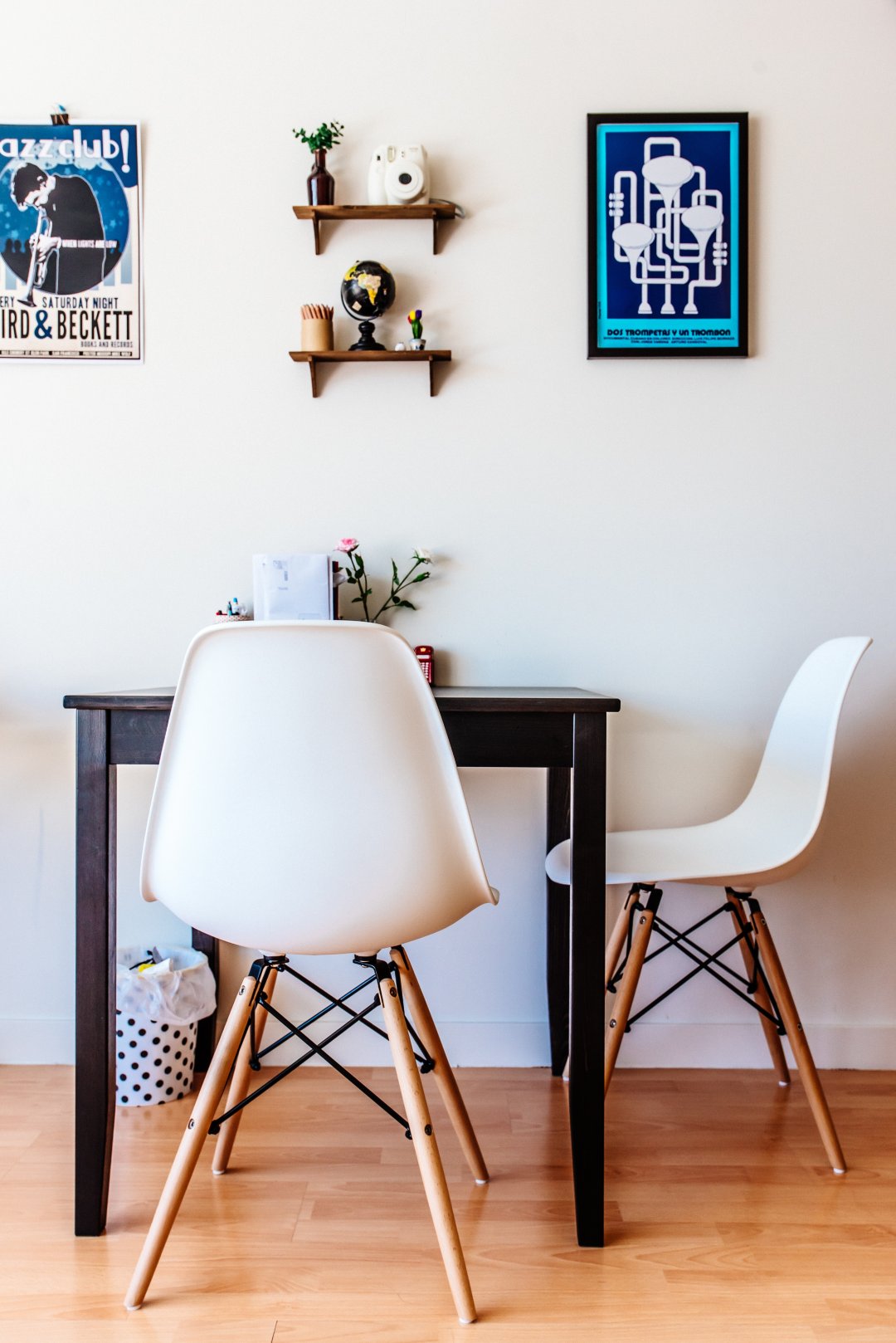 ---
More resources:
LIVING AREA
Coffee Table — Anthropologie
Fish Print — From my jazz/funk band, Mino. It was a promotional poster for a concert at The Loft @ UCSD. Find us on Facebook.
DINING AREA
Wall shelves — Daiso
Hanging LED lightbulb — IKEA
MUSIC AREA
Casio Keyboard and Stand — Amazon
Wall Grid — Daiso
Prints — Found online and printed from Target Photo
Plant hangers used to display prints — IKEA
KITCHEN
Mugs — Left to right: Pinterest office, Blue Praha souvenir shop in Prague, World Market, IKEA, Daiso
Wall grid and hangers — Daiso
SLEEPING AREA
Tiny Succulents— World Market
Bedding — IKEA and Target
Throw Pillow — Ross
BATHROOM
Straw laundry basket — Target
San Francisco Print — Amazon
Rug - World Market
Mason Jar tray — World Market
Shower Curtain — IKEA
Billie Holiday Print — Found online and printed from Target Photo
---