A "Country Modern" Home in the Texas Hill Country
Name: Natalie, Bobby, Arlo the boy, and Lucy the dog
Location: Texas Hill Country
Size: 1,300 square feet
Years lived in: 1 year
Natalie and Bobby met in college and married about 11 years ago. Moving from Portland, Oregon (where Natalie studied to become an art therapist) to Austin, Texas in 2013 was a huge adjustment. "I had found out I was pregnant the day we packed up and said goodbye to all of our friends and our lovely Portland neighborhood."
Texas was quite the adjustment in many cases, although moving to Austin made it a little easier. Over the last couple of years Bobby has successfully expanded the Portland-based staffing firm Flux Resources to Austin. Natalie has a part-time art therapy practice and owns Ceremony Botanical — a boutique nursery and botanical design studio.
It wasn't long before Natalie and Bobby settled into their lives (in fact they had JUST finished a kitchen remodel in their first house) when Natalie got the call from her dad that a two-bedroom cottage was for sale. This Hill Country house was originally built by a woman named Mary Anne in the late '70s. Her land was adjacent to Natalie's parents' land and had access to the chicken coop, greenhouse, and many shared gardens. Around her 90th birthday, she contacted Natalie's father and told him she would be selling.
At this time, Natalie and Bobby had NO intention of moving to the tiny little town where Mary Anne's house is located. However, it only took a few visits to rope them in to purchasing the home.
Over the course of the following year an amazing friendship blossomed between Mary Ann and Natalie, and the couple bought and renovated the entire house. While remodeling they lived in a vintage camper (which is not as glamorous as it looks, especially with a toddler) on the property and spent most of their days and evenings outdoors. Natalie believes this — as well as a connection to Mary Anne and the history of the home — strongly impacted their style and design aesthetic. Mary Anne has since passed away, but her weekly Carl Jung study group remains gathered around the same fireplace that it has for the past 25 years — just now with a slightly younger host.
Apartment Therapy Survey:
Our Style: Hill Country Modern/Bohemian
Inspiration: Antiques/Texture/Plants and Outdoors
Favorite Element: Our white walls reflect light beautifully and the plants help us feel like we are outside even when we have to be in. Also, we LOVE our antiques.
Biggest Challenge: Knocking out the wall in the kitchen. The beam was originally a faux beam and served no structural purpose, the wall however was load bearing. Removing that wall was so important to us and crucial to get the feel that we envisioned for the space. My grandpa and brother-in-law are architects and they helped us scheme up a really good, albeit challenging, plan. We had to bring in and install a 700 lb steel beam. It took six men. We encased the beam in painted cedar to match the center beam in the living room.
What Friends Say: There is great energy in here! This space makes me feel good!
Biggest Embarrassment: Ordering all five of our custom doors in the wrong size (non-refundable).
Proudest DIY: Repurposing ALL parts of the existing fireplace mantel into kitchen shelving and brackets. This was all Bobby. He took the actual mantel and sanded it way down, then he used the masonry that attached the mantel to the stone as brackets for the small shelves in the kitchen.
Biggest Indulgence: Bathroom vanity and linens.
Best Advice: Try to have as many decisions made as you can regarding the non-fun parts of the design before you start demo (which way do doors swing, how many lights etc). Also, measure and re-measure.
Dream Sources: Remodelista, Apartment Therapy, Rethink, and our local Feed Store.
Thanks, Natalie and Family!
---
Get this home's look with these shopping sources: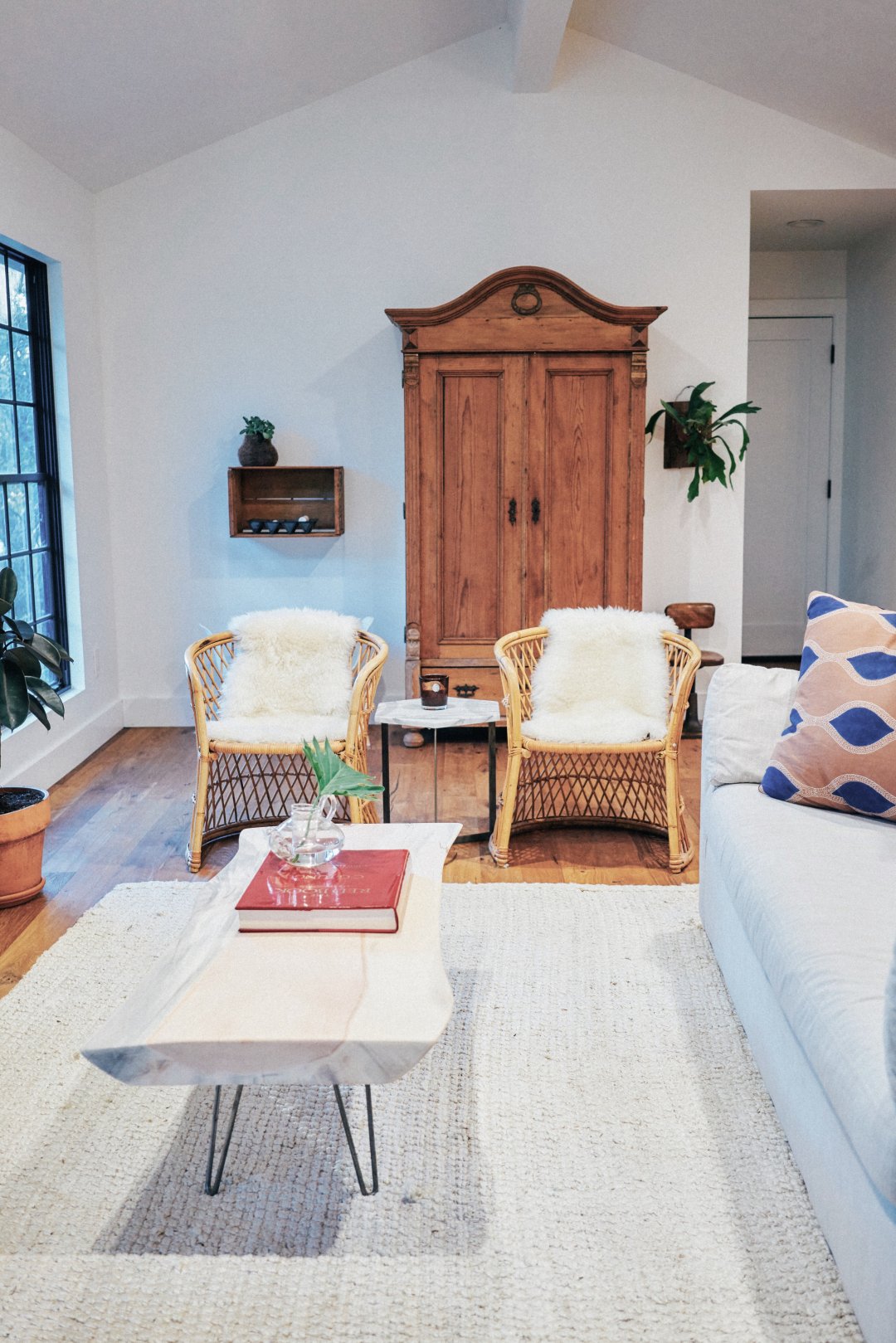 ---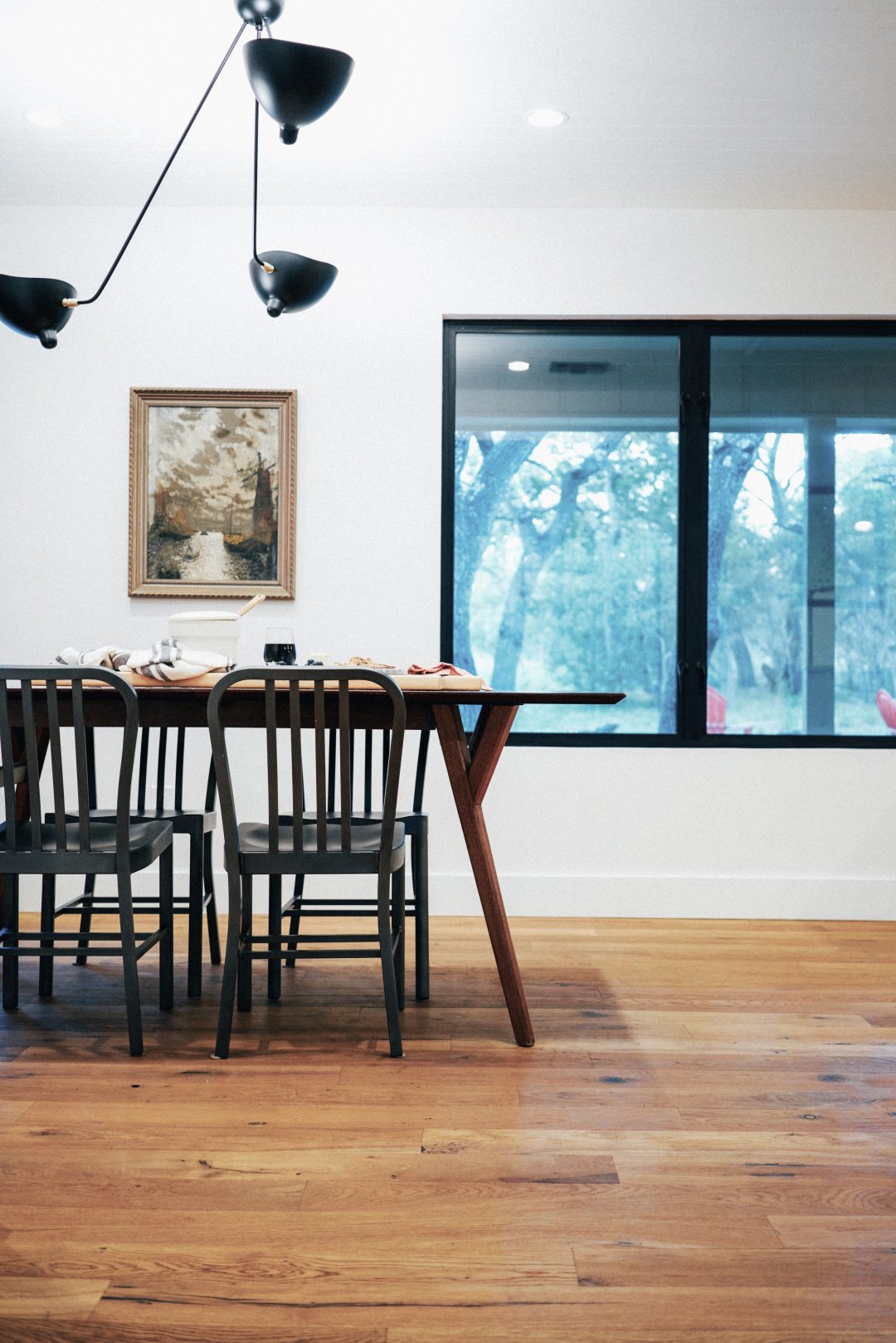 ---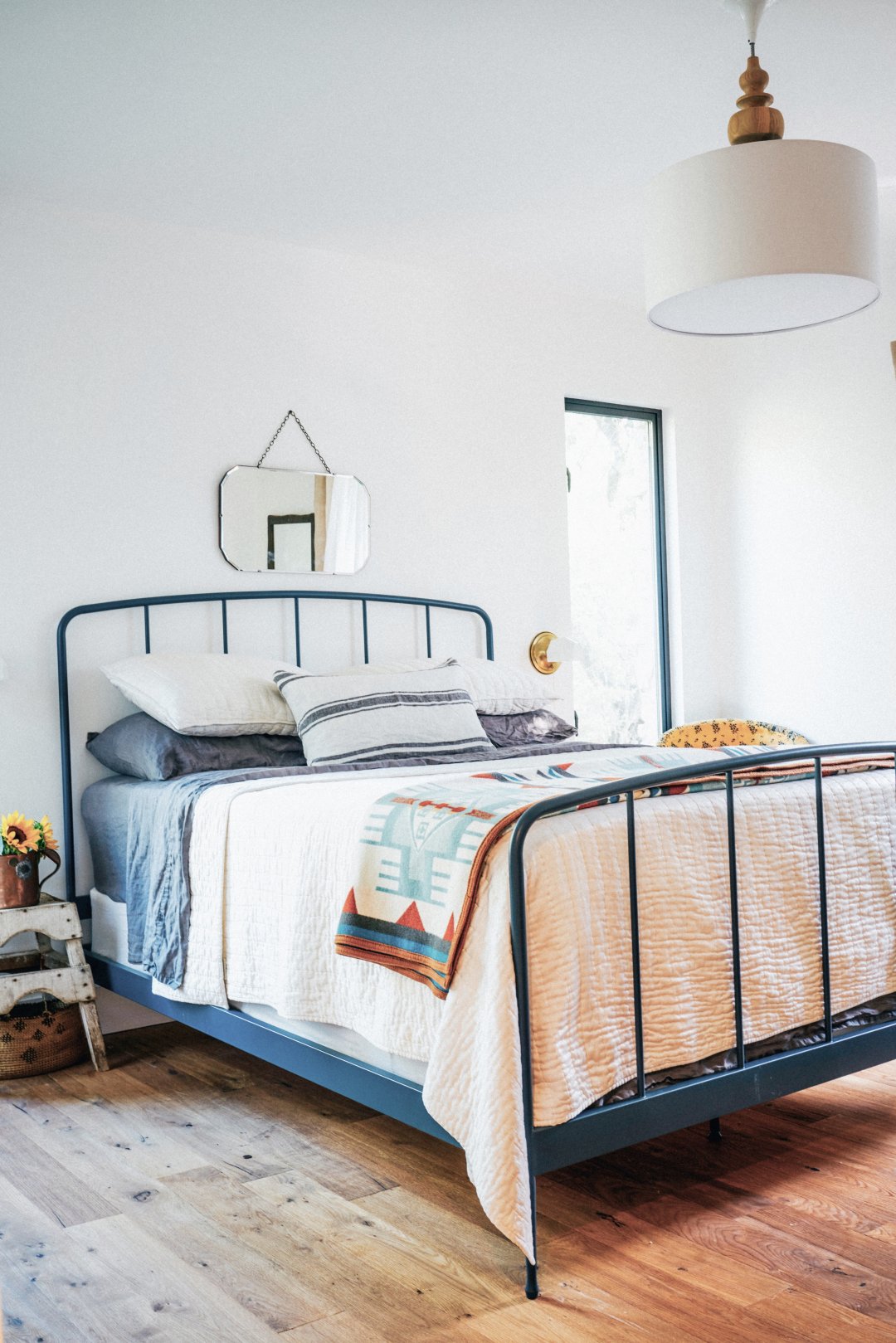 ---
More resources:
PAINT & COLORS
Behr Ultra — Polar Bear on all walls (eggshell) and ceiling (matte)
ENTRY
Bench - Ponderosa Pine purchased from a saw mill in Santa Fe (our second favorite place in the US).
Antique medicine cabinet was a gift from my grandmother.
Hat rack — $10 from the thrift store
Vintage Metal Basket — Roundtop Market
LIVING ROOM
Coffee Table — designed and made by Bobby out of Ponderosa Pine and hairpin legs.
The Big Red Book by C.G. Jung on the coffee table — (this was on Mary Anne's coffee table the first time I stepped foot in her home. Our love for his work was the first thing we had in common and these conversations led to the beginning of one of the most important and impactful relationships of my life.)
Antique Ratan Chairs — antique dealer from New Orleans
Macrame Swing — purchased from Treehouse
Vintage Log Basket — I bought these from a friend of a friend who had inherited too many to count from her in-laws who purchased them in 1960 on their honeymoon in Africa.
Stag-horn Fern — Ceremony Botanical (made by me)
Little Antique Chair — Great Grandmother's school chair
DINING ROOM
Light Fixture — France and Son
Cutting Board — Magnolia Market
Hutch — Antique circa 1800
Dutch Ceramic Bowl (of apples) — purchased from JM Dry Goods in Austin
KITCHEN
Shelves — Repurposed Cedar from the fireplace
Tea Pot — Ceramic Artist Keeth Kreeger
Pig Photo — Cody Hamilton Photography
Brass Kitchen Faucet — Delta (Amazon)
Butcher block Countertops/Cabinets — IKEA
Island countertop — Vermont Danby Marble purchased in Fredericksburg, Texas on our first night away from Arlo
Light over sink — School House Electric
BEDROOM
Bed - Crate and Barrel
Mid Century Dresser — G-Plan circa 1960, we purchased this from an Antique show in Portland, Or.
Love is Beautiful Poster — Vintage circa 1973 purchased at same antique show as dresser (this is my favorite thing in the house).
Beveled Mirror over bed — Antique given to me by my grandpa
Light over bed — West Elm
BATHROOM
Vanity — Restoration hardware
Medicine Cabinets — Pottery Barn
Light Fixtures — West Elm
HALLWAY
Constellation Art - Maiden America Studio (these are made by a friend of mine who does beautiful work!)
ARLO'S ROOM
Bed — Antique purchased when we got married.
Tapestry — Purchased fair trade in New Zealand made in Africa. (We traveled in New Zealand with this tapestry for about 6 months).
Closet Door — Barn door track purchased on Amazon. (Installed by Bobby using Birch plywood)
Light Fixture — West Elm
Small Chair — Vintage mid-century chair purchased at a local market.
---