A Fresh & Fun UK Home with a Tropical Twist
We independently select these products—if you buy from one of our links, we may earn a commission. All prices were accurate at the time of publishing.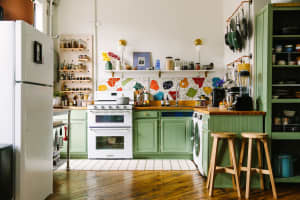 Can't-Miss House Tours Straight to Your Inbox
Keep up with our latest house tours each weekday with our House Tour of the Day newsletter
Creative couple Kate and Joff Reid have been together for eleven years, and living in this small two-bedroom apartment for two years. Their goal with this space was to create a reflection of both their creative careers — Kate is a designer and Joff an artist — as well as surround themselves with memories they've made together.
"We wanted to make sure each room had its own identity but also flowed well into the next. The color green makes many an appearance throughout our apartment, including our mint green hallway, green marble kitchen floor and tropical inspired lounge and bathroom," described the couple.
We first got a small look at their home in their house call, but now we're back with a longer tour!
Apartment Therapy Survey:
My Style: Kate: I guess you could call my style modern and fun with tropical vintage influences. I like things bright and fresh, anything that puts a smile on my face!
Joff: I believe my style is practical, modern and creative.
Inspiration: Kate: I currently love the design and colors of California, Palm Springs mid-century homes, Joshua Tree's bohemian style and Salvation Mountain. I'm always on the hunt for home décor that takes inspiration from these things as well as laid back surfy homes with positive vibes. I love mixing earthy colors and textures with pastels and tropical prints.
Joff: I'm inspired by raw materials (exposed wood and concrete) and modern interiors. Being a screen printer and sign painter, I am a lover of typography and illustration within the home.
Favorite Element: Kate: I always see our apartment as one element that flows from one room to the next so it's difficult to choose my favorite; possibly our bedroom as Joff designed the color scheme and it's probably our most calming and tranquil space.
Joff: My favorite elements of our apartment would have to be both our lounge and kitchen areas for being our most sociable yet relaxing rooms.
Biggest Challenge: Decorating your home when renting can be a challenge. When we first started, we had so many people advising us that it was a waste of time to decorate when it's not our home, that it would be a waste of money etc.
Of course, we took everyone's advice on board and did the opposite! We have been careful when decorating though. For example, we've covered over carpets with rugs, only painted "feature" walls rather than the whole space.
Decorating has never been a chore for us though, we love making a space ours.
What Friends Say: Our guests always compliment us on our space. Friends joke on Kate's re-arranging of the apartment. Each time they visit, there is always something new or something has been moved. They also comment on our growing collection of plants, which we are very proud of.
Biggest Embarrassment: Kate: I wish we had a garden but our apartment is on the 1st floor.
Joff: The layout of our kitchen is not as practical as it could be. Again, this is a challenge that comes with renting but we work around it.
Proudest DIY: Our faux marble kitchen cabinets! Everything in our apartment has been a DIY really and it's been great fun!
Biggest Indulgence: Kate: Our new (old) vintage 1970s bamboo sofa and armchair that we purchased from a supplier on eBay. It arrived with no upholstery so that's our next DIY task but I fell in love with it and had to have it. It's not that it was even an indulgence as the majority of our décor has been purchased either from thrift stores, Ikea or eBay! I'd call it more our best buy!
Joff: Whenever we do indulge in something for the apartment, it is usually for a special reason. For example, our tropical cabinet in our lounge was purchased as a wedding gift from our guests. Our wedding had a tropical theme and this piece will be a great reminder of our day in years to come.
Best Advice: Kate: Fill your space with all the things and people you love and you've got yourself a home.
Joff: Live within your means, take your time and don't be afraid to get creative.
Dream Sources: Joff: Hiring a blacksmith to create hair pin table legs or a carpenter to create a bespoke desk. Not only is it supporting small, independent businesses, it is also creating a custom piece of furniture for you.
Kate: I'd love to go on a sourcing trip to California and bring back as many bespoke and vintage pieces as I could!
RESOURCES
PAINT & COLORS
Whole Apartment- Dulux — Brilliant White
Feature Walls in kitchen and hallway — Valspar Mermaid Cheeks (How could we resist with a name like that!) and Quiet Turquoise
LIVING ROOM
Gold Photo Frames — Urban Outfitters
Tropical Chest of drawers — Boogaloo Boutique
Pink Soderhamn Footstool — Ikea
1970s Bamboo Sofa and Armchair – Vintage
Wicker Fladis Storage Baskets – Ikea
White wire kvistbro coffee table — Ikea
Cow print vintage radio — eBay
Channing Brushed gold table lamp — B&Q
Geometric rug — Ikea
White Hogsten Armchair — Ikea
Palm print curtains — H&M
Faux Hide Cushions — eBay
Green velvet geometric cushion — next
White fringe throw — Thrift Store
White circular mirror — Thrift Store
KITCHEN
Bamboo Mirror — Maison Du Monde
1950s dining table — Gifted
Wicker Stools — Vintage
Wooden Trolley — Ikea
Copper Utensils — TKMAXX
Green Bowls — H&M
Peach Glasses — Zara Home
Terracotta Kitchen ware — Ikea
Artificial Plants — Ikea
Wooden geometric trays — Zara Home
Marble cabinet vinyl — Amazon
Green marble floor vinyl — eBay
BEDROOM
Wicker Peacock Chair — Gifted
Bamboo Wicker Screen — eBay
Marble bed linen — Urban Outfitters
Monochrome shaggy rug — La Redoute
Wooden Footstool bedside tables — Ikea
Ariella frosted Concrete table lamps — B&Q
White Chest of drawers — Ikea
STUDIO
Vintage chair — eBay
White desk — Ikea
Harietta Monochrome Jute Rugs — B&Q
Artwork — Kroma BY Kate