Here it is: The Most Festive Christmas House We've Ever Seen
We
independently
select these products—if you buy from one of our links, we may earn a commission. All prices were accurate at the time of publishing.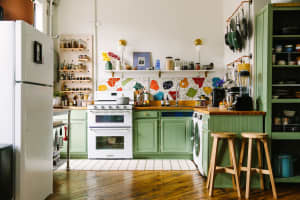 Can't-Miss House Tours Straight to Your Inbox
Keep up with our latest house tours each weekday with our House Tour of the Day newsletter
Name: Jennifer Perkins and husband Chris Boehk along with daughter Tallulah and son Baxter. Kitty is Bri.
Location: Austin, Texas
Size: 2,900 square feet
Years lived in: Owned 4.5 years
Jennifer Perkins' home NEVER looks the same year after year, and that's never more obvious than during the holidays… especially during Christmas. In fact, showcasing Jennifer Perkins' bonkers-in-a-good-way holiday decorations has become a tradition at Apartment Therapy. Her home is worth a look each year because it's never decorated the same—but also because she embodies one of the most important design principles to adhere to any time of year: If you're gonna go over-the-top, go WAY over-the-top.
In the gallery above are photos from Jen's 2017 Christmas decor. I admire Jen on a personal and design level, because she doesn't decorate according to trends, or worry what anyone will think about her home. She surrounds herself with things that delight her and she trusts her own taste, putting in loads of effort to create vibrant, festive rooms year round. "I go with my gut and when something calls my name from across the junk pile, I listen to no one else but myself." Embedded throughout this post are Instagram images from Jen's 2019 Christmas decor, proving yet again she's an endless fountain of decor inspiration.
Her style might be miles away from some folks' tastes, but the guiding principle can be inspiration for anyone's aesthetic: It's worth the time, energy and money to make your home an oasis for you, any time of year. And while her sense of creativity and love of collections is clearly innate, Jen also cites her mother Fredda Perkins as a huge source of inspiration for her.
As is the case every year, "The bathrooms and bedrooms are holiday-free zones. Sometimes your eye needs a break from all the tinsel." But she still has tons of Christmas trees up in nearly every room of the house. Though a lot has changed since the first tour we did with Jennifer in her family's last home ten years ago, perusing her survey questions, I couldn't help but notice how true to her own style she's been all these years; these responses below still apply to her home today:
Apartment Therapy Survey:
My style: Eclectic comedy. Some people take home decorating way too seriously for my taste; I like to have fun with it and mix in unusual elements. I used to have a very strict Mid-Century Modern Asian-only influence throughout the house, but eventually I had to bend to make room for my love of stupid toys and Burt Reynolds.
Inspiration: I don't have one set place where I get my inspiration from. I pick up Elle Décor and Domino and thumb through. I love vintage home decorating books and books with a vintage feel like the Pad series. I get inspired when I see pieces calling out to me on a dusty table at a flea market. When my mother — who I am usually shopping with — gives me the "what in the world are you going to do with that thing" lecture, I usually know it is a score. However my mother is a huge source of inspiration herself. She lives in a pristine Victorian home with all the age-appropriate fixins except for the occasional lamp with an armadillo shell shade or shelf in a corner stocked with doll heads. She loves the home decorating surprise as much as I do.
Best advice: Go by your gut and what you like, not what the magazines and principles of design tell you. Margaret Russel would tear my house a new A-hole if I was a contestant on Top Design, but she does not live here — I do. I always try and remember that. It might not look like what is in my favorite magazines and considered hip with the kids, but it makes the hubby and I giggle. After all, I am the girl known for making jewelry out of plastic gnome cupcake toppers, did you really expect my house to look normal?