A Colorful, Kitschy Tour of a Home with 100 Christmas Trees
We independently select these products—if you buy from one of our links, we may earn a commission. All prices were accurate at the time of publishing.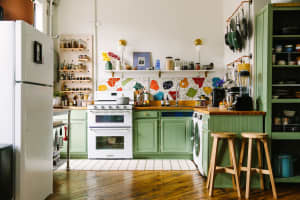 Can't-Miss House Tours Straight to Your Inbox
Keep up with our latest house tours each weekday with our House Tour of the Day newsletter
Name: Jennifer Perkins and husband Chris Boehk along with daughter Tallulah and son Baxter. Kitty is Bri.
Location: Austin, Texas
Size: 2,900 square feet
Years lived in: Owned 3.5 years
We've toured craft maven, entrepreneur and all-around badass woman Jen Perkins' home for Halloween. Twice. Not exactly known for her minimalist views on decor, you guys asked to see how she tackles the task of adding Christmas cheer to her Austin home, and she (and fabulous photographer Chelsea Francis) have delivered. Her home—and the 100 trees within it—is truly cheery and kitschy enough to brighten even the biggest Grinch's day.
→ Yes, this is a rerun of a tour because, well, 100 trees. But anyone who is familiar with Jen knows that she doesn't repeat herself. Though we didn't tour her home this year ourselves, hop on over to her website for a full tour and Instagram to see how she's decked her kitschy halls this year. It looks very pink-a-liscious!
Since we've toured Jen's home a few times now, the regular House Tour Survey just won't do. Enjoy instead the smart, informative (and as always, entertaining) responses to the questions Jen gets asked the most about her holiday decorating skills (and storage needs):
Obviously you do not believe in red and green for Christmas. Tell us about all the different color combinations you used this year:
I love red, white and green as much as the next guy and have done my trees and mantel in a more classic traditional way — just not this year. Each tree and room has a different color combination and theme. My main formal living room is rocking an orange, gold and pink theme this year. I'm calling it my ode to Fredda Perkins, AKA my mother. The first tree I remember as a child was hot pink and orange to match the shag carpeting. She's full Victorian now, but back in the '70s there was a lot of chrome, Thayer Coggin chairs and sunken living room action. Different colors, like hot pink and orange, can be just as festive as red and green.
How do you find decorations in non-traditional Christmas colors to match your themes?
Sometimes you have to improvise. For the most part you can find solid color ornaments in most every color of the rainbow. However, I have to get creative with the rest. This year I have lots of picks from the floral department at the craft store, garlands made of vintage beaded children's necklaces, paper party supplies and several things I made myself. For instance on the pink, orange and gold tree I have my mother's ceramic '80s Christmas village wired into the branches. I just so happened to spray paint it neon pink and add glittered snow before using it, too. I also hand painted ornaments for several of the trees. When I have a theme or color combination I want to work with, sometimes getting all DIY on the decor is the only way to make it work.
How many trees do you have up?
Full disclosure: I work for a Christmas tree company. But I loved kitschmas long before I was paid to. I have 10 full-size trees up around the house. Small trees…well let's just say I can see 27 from where I'm sitting and that is just one room in the house. I'd guess that there are over 100 total.
Does every room in the house get decorated?
The bathrooms and bedrooms are holiday-free zones. Sometimes your eye needs a break from all the tinsel.
If you want a tree (or trees) like Jen's for next Christmas, start shopping now (and shop all year long):
Rome was not built in a day and neither were my Christmas trees. I did not wake up and say "hey I want a tree covered in vintage beaded ornaments, I'll just go to the vintage beaded ornament store." You have to shop year round. Not only are prices on vintage Christmas decorations more during the holidays, you will never find enough in one season to do an entire tree with. I treat Christmas decorations like any of my other collections. When I am thrifting or at the flea market I'm looking for everything from roadside pottery and tramp art to Halloween masks and Christmas blow molds.
Do you decorate your trees the same way every year?
Never. I might have the same trees in the same spots from time to time, but the theme always rotates. My gold tree that is hot pink and orange this year was all jewel tones and vintage Jewel Brite ornaments last year, and covered with my collection of vintage Christmas angels the year before that.
What does your family think of all the decorations?
I always half jokingly say that when I got married one of my top items was that my husband had to have zero opinions on home decor. 18 years later my sweet husband is still letting me do what I want to our house, including drown it in Christmas. I think he actually really likes it and I know he shows the links to our home tours around his office. As for my kids, they love it. They are always asking to help decorate. If I'm painting ornaments you better bet they are next to me making their own mini version. I always have a tree up where their ornaments and school projects go. This year it is the silver tree in the game room and it's my favorite tree.
Do you decorate the outside of your house?
My house is kinda like a mullet, business in the front, party in the back. From the outside you would have no idea what is behind those doors. I only have the mental energy for one or the other and all those inflatables seem like I'd have to break the seal and get a storage unit. Right now all the decor all fits in the attic. Once I have to pay rent to store things I've officially reached a whole other status and I go from fun Christmas lady to crazy obsessive Christmas lady. I'm barely walking the line now and decorating the outside would take me over the edge and then some.