Rustic & Cozy Cabin Vibes in Los Angeles
We independently select these products—if you buy from one of our links, we may earn a commission. All prices were accurate at the time of publishing.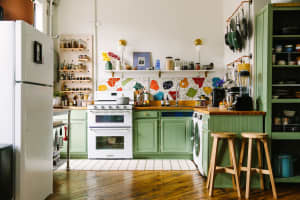 Can't-Miss House Tours Straight to Your Inbox
Keep up with our latest house tours each weekday with our House Tour of the Day newsletter
Name: Lulu Brud Zsebe and Justin Zsebe
Location: Los Feliz — Los Angeles, California
Size: 2 Bedroom and 2 Bath
Years lived in: 2.5 years – rent
Lulu and her husband Justin are lucky to have found an apartment that suits their lifestyle—it's a space that has been passed on though the hands of friends for the past 13 years. They love the coziness, and have created a dwelling that invites their guests to feel at home. They truly believe that "having a home that feels like a sanctuary is what is most important." With the constant race of LA and its multitude of strangers and traffic, they wanted to create a home that allowed them to recharge. Their goal was a residence that sends you out into your day feeling calm and at peace, "A place that tells your story with no apology."
Lulu (an actress, model and lifestyle blogger) and Justin (also an actor) have only lived here for two and half years, but with a few adjustments to their own design aesthetic to suit some of the cosmetic additions that were left before them (the wood wall for instance), they have embraced the home's style and infused it with their personalities.
The most significant thing in their home in Lulu's opinion is "My husband's music collection" and their constant burning of juniper incense sticks or Pinon bricks by Incense de Santa Fe. "They're seemingly small things that make our house a home. It would feel empty in here without them."
This home feels like California. From its sprawling views of the Hills, to the indoor and outdoor elements. "Los Angeles is such an incredible city, you can truly live any version of life that you want here." With houses in Laurel Canyon, sprawling mansions in Beverly Hills, ranches in Malibu, bungalows in Venice and more, Lulu feels "you can live in the middle of the hustle and bustle of West Hollywood, you can pretend you live in NYC and in a loft downtown, or you can live in a beautiful home in the twinkling hills of the East Side." Considering it's one of the biggest cities in America where you are completely encased by nature, where the mountains are on all sides and the ocean is floating out West, "we are fortunate to live in a climate that allows us outdoor living most of the year."
Los Angeles has taught them to play with those lines that cross the city roughness with nature's alluring softness. "That's why we have plants everywhere in our home. That's why we created a living room on our porch with a fireplace and little dining table." From their home they can hear the whistle of the train, the yips of the hillside coming alive with baby coyotes, and they are a short walk to Griffith Park. "And we get epic moonrises over the mountain and a beautiful flush of light that floods into the valley at sunset." They also hear a constant stream of white noise that is LA traffic. "It's such a delicate balance that exists between nature and the man-made world."
Apartment Therapy Survey:
Our Style: Rustic Cozy Cabin Bohemian Vibes
Inspiration: If we can't be in a cabin in Joshua Tree, which is where we're most at home, we wanted to create a home that felt inspired by that kind of nature.
Favorite Element: Plants. Plants everywhere.
Biggest Challenge: Our friends who lived here last did so much incredible work with the place—installing wood floors and recessed lighting, putting up a wood wall, and they left us a large L-shaped couch that wouldn't fit into their new place. So finding our own voice in a place that felt so much like them was a challenge. But I think we have finally found a nice balance.
What Friends Say: Our friends never want to leave; they feel at home here. They also ask us to come help them with their homes or teach them how to keep their plants alive.
Biggest Embarrassment: Our closets. My next project is installing sliding barn-wood doors instead of the curtains that are existing there now.
Proudest DIY: Our fake tiled staircase that we made by creating block prints and stamping every stair leading up to our house.
Biggest Indulgence: Our cozy bed. For Christmas this year we splurged on a king-sized Keetsa mattress, Parachute Home sheets and an upholstered headboard. We have never slept better and will never go back.
Best Advice: Be patient. Combine old and new. Embrace textiles. Don't be afraid of plants—they're good for the air in your house. Our homes can be the place that we can take our time with and invest in pieces that are made to last. In this world of fashion and things that are made to be disposable, I believe that the home is a place we can buy things that we plan to hold onto. So many of our pieces are hand-me-downs from friends that we re-purposed. Or they're from random stores that we walked into, which seemingly vanished behind us as we exited. Take chances! Stop your car and pop in that store you've always seen while driving; get up early on a Sunday and hit the flea markets.
Dream Sources: Flea markets, Our Open Road's Annual Bazaar, Environmental Furniture and things acquired by traveling.