Scuba's Open House
We
independently
select these products—if you buy from one of our links, we may earn a commission. All prices were accurate at the time of publishing.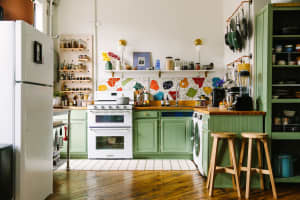 Can't-Miss House Tours Straight to Your Inbox
Keep up with our latest house tours each weekday with our House Tour of the Day newsletter
Name: Stephen "Scuba" Clark
Location: Phoenix, Arizona
Size: 1,700 square feet
Years lived in: 5 years; Owned
Stephen 'Scuba' Clark bought his house five years ago, and in that five years, not a month has gone by that he hasn't managed to add significant and beautiful upgrades to his home. All of the projects are custom, designed by Scuba, and typically built by his roommate, Jeremy. Scuba's passion for life and travel is obvious in every corner of his home.
Stephen moved to Phoenix from New York City 10 years ago, and he absolutely loves it. "In ten years I've watched it change so much. It's great. Every year it gets better. Not one thing takes a step back." The friends he's made since moving to Phoenix are the biggest factor is his happiness here. It's clear he's crafted his home not just for his joy, but that of everyone who comes through the front door. "I don't have a key to my house. Everyone has a key but me. Everyone has the alarm code, the garage code. They come in and out and I like it that way."
He shares his house with his boyfriend Billy and close friend Jeremy. Jeremy lives rent free in exchange for his craftsmanship. If a project goes over the cost of rent, Scuba then pays Jeremy the difference. It's a symbiotic relationship that speaks volumes of their ingenuity and spirit during difficult economic times. While searching for a cost-effective way of creating the closet in his master bedroom, Scuba looked at big box stores for shelving units, but knew there had to be a cheaper, more attractive way. He designed the shelving, bought the materials, then handed everything over to Jeremy. His resourcefulness is motivating and infectious — with the excess materials from the closet, they made the side tables in the living room. The furniture that hasn't been hand crafted is typically purchased at GoodWill or thrift stores. Scuba takes great pride in how inexpensively he's creating his dream home, and he should. The brief time I spent in his home left me giddy with inspiration for my own.
Apartment Therapy Survey:
My Style: Homely-Mid-Century-Random-Comfy.
Inspiration: My friends and my travels. All of my friends have great style and
uniqueness, and I learn from each one of them. Every project in the house, like the
leather kitchen pulls, was done with the help of friends. For the kitchen pulls I had 8
friends come over and help me make them. I'm also very fortunate to be able
to travel overseas at least 3 times a year. Each new place I go I always find something that I incorporate into the house.
Favorite Element: My bathroom door. I found it at a junk store and refurbished it for my bathroom door. I sanded it, frosted the glass, added brass hardware, and then painted the house number, 1844, on the door. Everything made in the house I've stamped the house numbers onto, so if I ever move I will remember it came from this house.
Biggest Challenge: The house was built in 1955 — that's pretty old for Phoenix, and my bathroom was unbelievably small. The original shower was so small if you dropped anything in it you would have to get out of the shower to pick it up. I combined the bathroom with the master closet and washer and drier room from
what was the back porch to make a master bathroom/laundry room/closet all in one.
What Friends Say: It's always clean and feels comfortable. My aspirations are that my home is always warm and inviting for anyone who walks in the front door… except for a robber of course.
Biggest Embarrassment: The TV room. The ceiling is so low. It used to be the back porch and to raise the roof cost way too much, so I just enclosed it and made a living room.
Proudest DIY: As simple as it may be, painting the entire interior of the house was the proudest moment. It was my first project and took me a whole week to finish, working every night after work. This is my first home I purchased by myself, and the feeling of finishing that first project was unexplainable and amazing.
Biggest Indulgence: My backyard. Living in Phoenix, we have amazing weather
throughout the year, and I wanted a living space outside. I saved for four years to complete it, and it was worth every penny.
Best Advice: Do whatever makes you happy and don't be afraid of change. Even if you end up changing the paint color 2 or 3 times until you find that one color that makes you smile.
Dream Sources: Thrifting and international flea markets.
• House – Sherman Williams 7031 Mega Greige
• Middle bedroom – Sherman Williams 6967 Frank blue

• Lamps: China cabinet (display case), frames/pictures on the fireplace: Goodwill
• Mantle: made by my father.
• Piano: craigslist
• Couch and both chairs: Phoenix Metro Retro
• Coffee table – craigslist

• Dining Table – Modern Manor Phoenix. Made in Phoenix.
• Dining Chairs – craigslist – 40's from Tucson middle school closing.
• Bookcase – designed by me, built by Jeremy Smith. Handy Smith

• Bed – Arrowhead wood – Etsy
• Nightstands – good will
• Lamps – West Elm
• Bathroom lights – vintage Italian from Phoenix Metro Retro
• Mirror – Ikea
• Shelf under mirror – made by me
• Closet – designed by me made by remodeldaddy.com
• Fabric for closet curtains – SAS Fabric $1 a yard bin.
• Fabric for closet curtains – SAS Fabric $1 a yard bin.
• Side tables – good will, painted trim white and concrete slabs made by Jeremy Smith Handy Smith.
• Bed – from craigslist
• Bed – Restoration Hardware from craigslist
• File Cabinet – goodwill
• Side table – Viva terra
• Lamp – Phoenix Modern Manor
• Rug – Istanbul Turkey Grand Bizarre
• Suitcase – Sydney Flea Market
• Raise bed garden, large table & counter top – Designed by me and Jeremy Smith of Handy Smith Jobs. Built by Jeremy Smith.
• Painting stencil back yard wall – me + friends. Used stencil of a frame from the inside of a friend's house up the street.
• Lounge furniture – custom made by ortiz-brothers.com

• The most important things are not things – front room – made by me
• Birds on string w/frames- Kelly Placke
• Tree master bath – me
• Middle East artwork – parents from when we lived in Iran in the 70's artist is Yang (my mom said there was an Asian guy selling art in the alleys of Esfahan Iran.)
• Bird on wood above master bedroom – me
• Cut up map in master bedroom – me
• Horseheads back patio – whitefauxtaxidermy – etsy


Thanks, Scuba!

(Images: Lindsey Nochta)

• HOUSE TOUR ARCHIVE: Check out past house tours here.
• Interested in sharing your home with Apartment Therapy? Contact the editors through our House Tour Submission Form.