The Houseplants a Home Stager Always Puts in Bedrooms
We
independently
select these products—if you buy from one of our links, we may earn a commission. All prices were accurate at the time of publishing.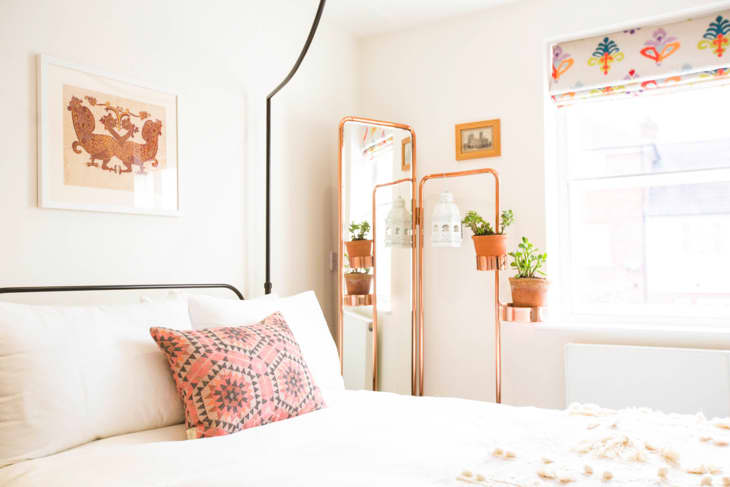 It's easy to overlook bedrooms when styling your home with houseplants. Folks tend to spend more time in communal spaces like the kitchen or living room, making those spots more convenient for the care and keeping of plants. But there are benefits to incorporating plants into every room — including mental health benefits! — that make the bedroom a logical next step. I spoke with Anna Watson, design project manager at home staging company Elite Austin and self-proclaimed plant mom, for her expert advice on the best houseplants to add to your bedroom.
When it comes to staging homes, and particularly bedrooms, Watson doesn't overcomplicate things. "For staging, we actually do use 100 percent faux plants just to obviously make it easier on us," Watson says, "Especially because at any given point we have about 100 homes staged, so it would be a full time job and maybe then some if we had to take care of 100 houses worth of plants." Even the most dedicated plant lover would agree that in this case, practicality outperforms ambition.
In terms of faux plant recommendations, Watson shares, "We love fiddle leaf figs, I feel like they look the most luxe, because they are definitely an expensive plant." For similar reasons, Watson also recommends a faux palm, "because it has a very big presence. The stems are really big and they're really dramatic." These plants say hey, there's a plant in this room! without making it the focal point.
If you're on the fence about bringing faux plants into your home, I get it. I'm a bit of a perfectionist, and the thought of cutting corners instead of cutting literal cuttings deterred me for a while. Ultimately, the aesthetic benefits of faux plants are just as potent as real ones. The colors and textures of faux plants are generally the same as the real thing, effectively representing the feng shui wood element.
However, if you're determined to incorporate authentic plant life into your bedroom for the many biophilic design benefits that plants provide, Watson has several recommendations. First, to minimize the likelihood of plant neglect, Watson's recommendations have a common denominator: "All of these plants are, I wouldn't say impossible to kill, but you'd really have to give a good effort to kill them because they are resilient." 
Her first recommendation is a fan favorite. "If you are not a plant person, this is your go-to: it's going to be a snake plant. It is honestly comical how hard it is to kill these things," says Watson. She notes that they're also on the more affordable side of real plants. (For those who love the snake plant look but really can't get on board with plant care, don't worry! There are plenty of faux options). 
Another key factor to consider is lighting. In my home in Chicago, we have blackout curtains to block out the pervasive city lights. We rarely think to pop them open each morning, so our bedroom is basically a constant cave. Enter: philodendron. "If you're somebody who is traveling a lot, you might have to draw your shades and you might not be able to water them once a week — that's a good plant to have just for the sake that it can kind of be neglected a little bit and it would be fine," says Watson. 
Similarly, a member from the same plant family earned Watson's Green Flag. "Another plant that's really good that can do really good in nearly pitch black condition is going to be a pothos. I really love pothos as well because they are a hanging plant, so they have really long… legs and you can cut them off and propagate them and continue to create more plants out of one," says Watson. Lastly, she recommends the rubber fig, a.k.a. ficus. "This one needs a little more light than the others but it can be a filtered light, so if it doesn't have full sun all day it can do pretty good," says Watson. Seems like the ideal solution for a calming bedroom, if you ask me.