Why Biophilic Design Is the Newest Trend in Real Estate
We
independently
select these products—if you buy from one of our links, we may earn a commission. All prices were accurate at the time of publishing.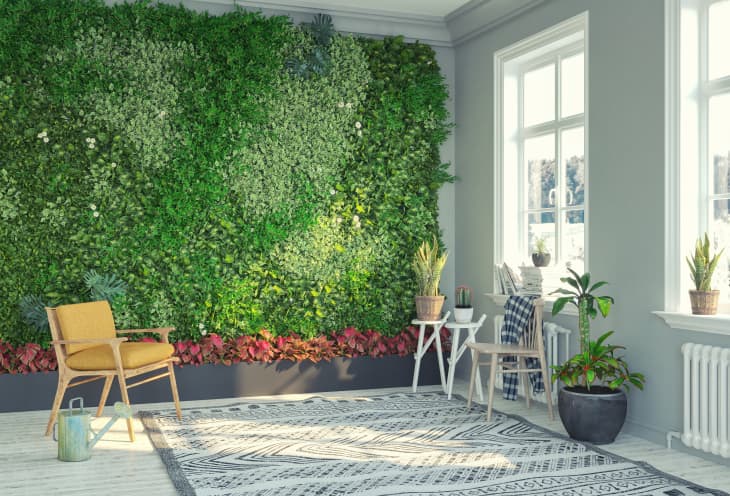 In the months and years since the global pandemic materialized, irrevocably altering the course of our lives in the blink of an eye (or the swab of a nose), countless real estate and design trends have emerged to satisfy our evolving needs. Cottagecore fulfilled our desires for wholesome escapism while sheltering at home. Then came Carnivalcore for those rejecting more traditional decor expectations in favor of joyous, celebratory design. And I'd be remiss to exclude the macabre and delightfully-spooky Cottagegoth trend that leans into Halloween season year-round (a triumph).
While aesthetics such as these surface and recede as trends are wont to do, one design facet has remained consistently in demand: access to nature. March 2020's sudden shift indoors left those without access to green space scrambling for ways to maintain a sense of harmony and calm that nature intrinsically provides. And now that people are learning to live with the ongoing presence of COVID-19, nature as a design element is here to stay. This school of thought is called biophilic design. 
This year's Pinterest Predicts identified biophilic design as a major trend to watch for 2022. While the designation "biophilia" might be a new term for many, the practice of biophilic design is far from a novel concept. In fact, examples of this type of design in architecture and home decor alike are developing nationwide. I spoke with Chicago-based Linda Kozloski, creative design director at Lendlease Development, about biophilia and her experience on the team behind Chicago's biophilic Cirrus and Cascade residential towers.
"Biophilic design is based on the inherent human need to connect with nature," Kozloski explains. Providing residents access to nature can look very different, depending on the region in which they live, as well as the surrounding culture, climate, and even population density. As a result, biophilic design in Scottsdale, Arizona, will not necessarily (and shouldn't!) be replicated in a four-season climate such as Chicago, Illinois. 
Biophilia can be applied to a home's design or decor in a myriad of ways. "There are two ways to look at biophilia: being immersed in nature and then bringing nature into a building," Kozloski says. In locations like my native Chicago, incorporating nature inside is especially helpful between December and April, when the city is practically a tundra. Kozloski continues, "It's an advantage to be inside your unit but still have access to the view even of the river or the lake, depending on your location, and the green space outside, and observing the seasons change."
The advantages extend far beyond just property value. "There are many health and wellness benefits to biophilic design — it includes things like stress reduction, an increase in productivity in office [spaces], and in schools, increased rates of learning," Kozloski shares. Studies also show being able to see greenery from (or in!) your home can reduce symptoms of anxiety and depression. Simply put, having natural elements in the home is an easy way to boost health and wellness.
In Chicago's Cirrus and Cascade residential towers, the design team focused on providing residents the wellness advantages of biophilic design. One key element of the structures is their linked conservatory, which boasts lush indoor plants but also expansive views of Chicago. 
"You can imagine that in February, it's zero degrees in Chicago and there's snow on the ground but you have that beautiful crisp blue sky," Kozloski says. "You can be sitting in that conservatory inside, toasty warm, surrounded by plants overlooking the park… you're looking out towards nature, and you're comfortable because you're inside but you can still experience the beautiful winter day." 
Most people don't have control over the architectural design of their living space. According to Kozloski, that's no problem. She shares, "If you are renting an apartment and you don't have a hand in shaping the space from an architectural point of view, there's many ways to help bring biophilic aspects into your house; plants, potted plants — there's always a place in your apartment that you can fit a small little succulent or a fig tree in a pot." In addition to leveraging plants, adding decor elements with natural textiles and materials, such as pottery, rugs, throws, or pillows, can aid in connecting to nature. 
Lastly, Kozloski encourages residents to make time throughout the day to center biophilia. She says, "You just need to focus your attention periodically throughout the day to something else than your laptop or your Zoom meeting. You need to be able to focus on something that's green and calms you." Whether you're able to engage nature by going for a walk around the block, taking a long glance out the window, or relaxing in your indoor conservatory, designating time for harmony with nature is a lasting trend with life-changing benefits.