5 Ways to Adjust to Working in an Office After Being Remote, According to Therapists
We independently select these products—if you buy from one of our links, we may earn a commission. All prices were accurate at the time of publishing.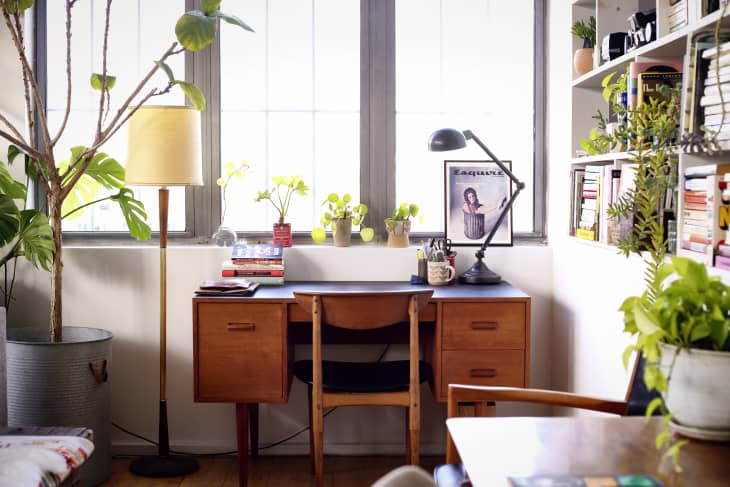 The pandemic has pushed many employers to allow employees to work from home. But after two-plus years, many companies are asking their employees to come back — whether that means commuting into the office full-time or adopting a hybrid schedule. Some people may welcome the in-person arrangement since it means the return of water cooler chat, lunches with colleagues, and face-to-face time with peers and bosses. However, many have embraced the at-home working lifestyle and are hesitant to give up their remote roles. 
Follow Topics for more like this
Follow for more stories like this
I asked a few therapists about how people can adjust to working in the office again after being remote. Here's what they had to say.
When you have a break, go outside.
Spending seven to eight hours a day in a cubicle or office space may feel daunting when after having had the freedom at home to walk around and grab a breath of fresh air whenever you want. You may feel some anxiety being cooped up in an office setting, which is completely normal.
"To try and deal with these fears, it can help to go outside as much as you can when you take your breaks. Fresh air is helpful in feeling less stressed and closed in, and it can help you to collect yourself before going back to work," says neuropsychologist Alexander Burgemeester. "It can also help to invite coworkers on your break to ease the social anxieties you might have. Chatting outside feels less forced and you can feel more relaxed by being in a larger environment."
Bring comforts from home. 
Sometimes the familiar helps to ease uncomfortable feelings and it may be a good idea to have reminders of your remote life at the office. 
"Bringing comforts from home for your desk or office space might also help with this transition. A small plant, picture, or piece of decor can really help to ease some of the stresses you might be feeling. It can also help to brighten up the space and make it feel more like you are working from home," says Burgemeester. 
Work from home attire may have included a nice blouse or shirt on top and pajama pants or shorts below. Of course, no one may have realized this over Zoom or Skype, but with meetings at the office, your wardrobe may have to move from comfortable to slightly more professional.
Counselor Amanda Levison says planning your wardrobe in advance may ease some of the in-person anxiety of going into the office. "Make sure that you have work-appropriate clothing you feel comfortable in, as taking pride in your appearance helps to boost your mental health," she says. 
Brainstorm topics to discuss with coworkers.
Working from home means fewer awkward silences with coworkers or having forced conversations with your boss. It can definitely be a transition remembering how to activate those skills, especially if small talk isn't your thing. 
Levison says, for some, "Conversation with coworkers in person again may cause anxiety, especially for introverts. Taking some time to brainstorm conversation topics in advance can help if small talk does not come naturally to you."
Give yourself and coworkers some space.
The pandemic proved difficult for many people, and professional and personal relationships may have changed. It's a crucial time to be mindful of how others may be feeling. 
Dr. Angela Swain, business psychologist, emphasizes, "The pandemic was tough on all of us, so give yourself and your coworkers grace." Many people lost a family member during the pandemic, and "others lost people from unrelated causes and did not have the space to process their grief," she says. 
"Assume everyone you meet is going through something," Swain advises. "By giving people the benefit of the doubt and showing compassion to your team members, you'll find that going back to work doesn't feel so bad after all."