Rest, Celebration, and Activation — A Look at The Many Ways Black Americans Choose to Honor Juneteenth
We independently select these products—if you buy from one of our links, we may earn a commission. All prices were accurate at the time of publishing.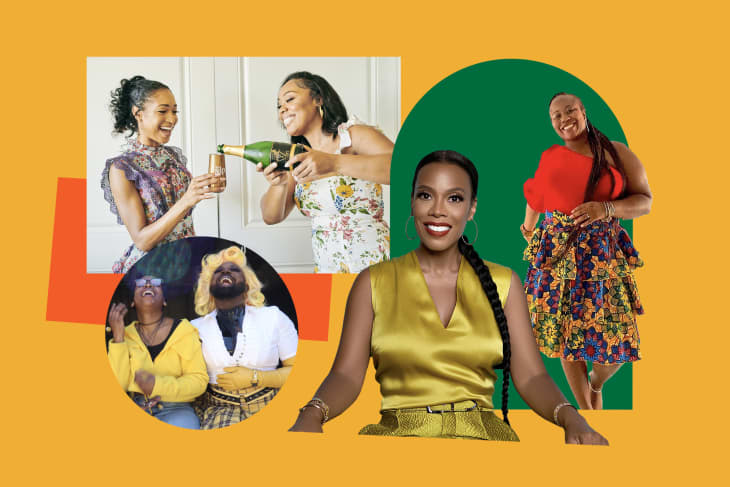 Erica Davis grew up celebrating Juneteenth — the oldest nationally celebrated commemoration of the ending of slavery in the United States — each year by attending a Juneteenth fair with her family that took place annually in her native Bay Area, California, community. Today, Davis is one of the founders of The Sip, a curated subscription box for women-owned and Black-owned wines from around the world, and she still keeps her Juneteenth celebration focus on uplifting with food, and drinks too, of course.
Follow Topics for more like this
Follow for more stories like this
"We start our Juneteenth menu first with wine," Davis shares. "For us, it's all about making sure we celebrate black vintners. This year, we're pairing my mom's gumbo from her catering restaurant, Carolyn's Creole Kitchen with Wachira Wines, a Black women-owned wine brand from the Bay area. On Juneteenth, we make it a point to recognize those who are growing with us, come before us, and set the stage for us. It's our day of celebrations, and they may look a little different with each passing year."
Juneteenth is a combination of the words "June" and "nineteenth" and originated in Galveston, Texas where on June 19, 1865, federal troops arrived in town and announced the emancipation of the last enslaved people in a Confederate state. The news was welcomed and celebrated by close to 250,000 of those still enslaved at the time, which was months after the Civil War had ended and two years after the Emancipation Proclamation was issued. Juneteenth became a state holiday in Texas in 1980.
Today, Juneteenth, also known as Freedom Day, continues to be celebrated around the country in many different yet equally meaningful ways. "The holiday is a time of reflection and celebration of Black history," says Laetitia Samuel, who operates EL + CO, a family-run business that helps Black people trace their roots and relocate to Ghana. "I believe everyone should have the space to celebrate this day in their own unique way, and my family and I have decided to use the day as a time of rest, reflection, and play." Last year, the entrepreneur commemorated the holiday with a day of rest, and this year she says she will likely do the same. 
Not all Black Americans grew up celebrating the holiday or knowing about its true meaning or significance. Samuel didn't hear about Juneteenth for the first time until she was in college. For over a century, Juneteenth wasn't a well-known holiday for many Americans, but on June 17, 2021, President Biden marked Juneteenth a federal holiday, sparking mainstream interest in this centuries-old holiday and its celebratory traditions. But for people like Alex Frazier, one of the organizers of Ohio's Mx. Juneteenth event, the new national designation doesn't change what they feel Juneteenth is ultimately about — Black liberation in all forms.
"We don't center federal legislation or recognition at Mx. Juneteenth," Frazier says. "Framing it from that angle centers our oppressors. We have a very unique and intentional focus on Black queerness, intersectionality, community care, and expressive joy — we attempt to capture the true spirit of Jubilee Day. We recognize that Juneteenth was not something that was given to us, but something we took and claimed for ourselves." 
Frazier's community event, Mx. Juneteenth: Black & Queer Celebration, takes place in Cleveland, Ohio, and features music, drag performances, community workshops, and food from local vendors. Frazier says that their goal is to create an event that reflects their own Black and queer identity and centers and prioritizes a narrative that uplifts Black people. 
"Our goal as a collective is to create an opportunity to honor the Black tradition and commune with one another while making an intentional space for those whose Blackness exists at intersections like LGBTQIA+, elderly, disabled, immigrant/refugee, and other forms of marginalization." The organizer adds, "We want people to see what really happens and what is possible when Black and queer folks are able to have and create space. We want people to feel supported and to give support. Most importantly, we want people to experience the liberatory power of jubilee in its fullness." 
Celebration and Fellowship
Juneteenth festivities often include food and fellowship, and Ingrid Best, a Los Angeles-based wine negociant, celebrates by preparing dishes that represent fond childhood memories. "I've made it my tradition, particularly with my son, to cook the food I remember eating at the Juneteenth festival. It's important to me to not only recognize the weight of this holiday and what it means, and also to make sure that I'm instilling that same level of importance for my son and the generations of our family to come." Best adds, "I cook dishes that infuse my Caribbean heritage. Typically, my meals will involve greens, mac n' cheese, yams, and rum cake — it's a little bit of everything." 
While the Juneteenth holiday represents a time of joy for many, it can also serve as a time of reverence to honor the struggles of those who were enslaved. "Juneteenth is a moment to reflect on the power and resilience of my ancestors. I would not have had the life, the career, the success that I've been able to accomplish in this life if it wasn't for the hard work and continued fighting that those who came before me set out to do," Best says. "Juneteenth is also a reminder of the work we need to continue to do. It took centuries to make the progress we've made; it didn't just happen overnight, and we still have a long way to go. It's a moment to appreciate how far we've come, but to remind ourselves that for full and total equity, we have to keep pushing forward." 
Though Davis and Best have proudly celebrated Juneteenth for years, some are just beginning to create their own Juneteenth traditions on their own terms. From pageants to family gatherings to community events, Davis insists there is no one way for Black people to celebrate a holiday that commemorates their freedom and honors their history: "My advice to anyone who wants to celebrate Juneteenth is to do what feels right for you. You can start small or go big. Find a local celebration, have a small cookout, but most importantly just be together."