How I Knew I Was Ready To Commission a Custom Piece of Furniture
We
independently
select these products—if you buy from one of our links, we may earn a commission. All prices were accurate at the time of publishing.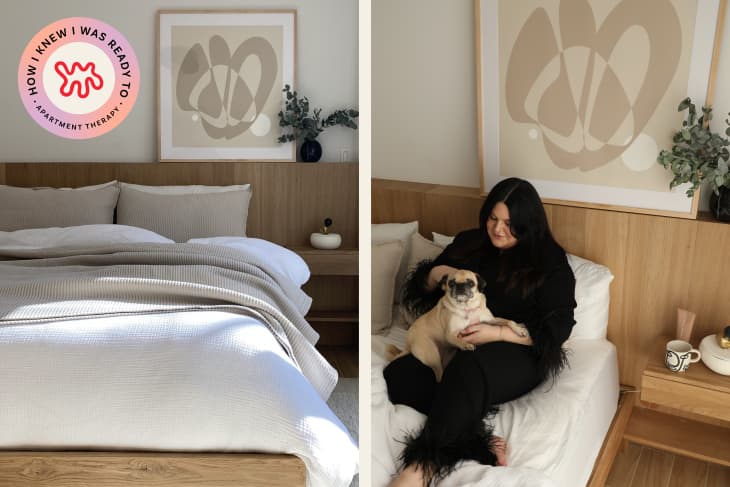 Welcome to How I Knew I Was Ready To, a column exploring the thought process — and finances — behind milestones and major life decisions. Today, we're catching up with Nicolette Mason, a Brooklyn-based creative consultant who recently commissioned a custom-made bed Thank Thank Thank from Nightwood NY, owned by designer and builder Ry Scruggs. 
The Project: A custom king-sized bed with an oversized oak headboard, floating nightstands, and a solid oak frame. 
On finding the right time for this investment:
After over a year of pandemic living in a one-bedroom apartment, Mason had a vision: She wanted to create a hotel-esque zen oasis for herself and her partner in their new apartment together. But when they started the shopping process, nothing felt quite right — both in terms of their needs and their aesthetic. So they decided to go custom in order to get exactly what they were imagining without compromising a single thing.
"Add in extra-long lead times due to the pandemic's impact on supply chains and dissatisfaction with off-the-shelf furniture to begin with, and an enthusiastic recommendation of mutual friends led us to Nightwood NY," Mason recalls. "The moment we realized pricing was not that much higher than getting a bed frame from Crate & Barrel or West Elm, we knew that going with a local, independent maker like Nightwood to get exactly what we wanted was the right decision." 
Was this a want or a need?
"This was definitely a want and a luxury," Mason admits, quipping: "A luxury want?" But she adds that when it comes to furniture, prioritizing quality is essential in her mind. "An initial investment tends to save money over time, rather than having to replace pieces in the future."
The budget plan that worked for her:
Mason went into the project with a solid mantra: Do it once, and do it right. "We plan to be in this apartment for a long time, so having quality pieces that truly fit the space and contain a more neutral, classic aesthetic felt like a very worthwhile expense," she explains. "We prioritized our bedroom over other spaces in our home, so this was definitely a 'Phase 1' budget allocation. The rest of our space will take more time to put together." 
On her personal tips for commissioning a special piece of furniture:
"Have a solid vision, bring references, and trust your maker's input," Mason emphasizes, adding that she and her partner shared visual examples of what they were imagining, which served as a springboard for their collaboration with Scruggs. "Ry offered solutions and design ideas I hadn't considered — like swapping out solid oak for another material for the back of our headboard, in order to help bring costs down without compromising on aesthetics or function." 
How custom design has changed her outlook on furniture shopping forever:
Before commissioning her dream bed, the idea of custom furniture felt pretty unattainable. "I just assumed it would be out of our budget," Mason explains. "But working with an individual maker, carpenter, etc, isn't necessarily more expensive than buying something new from a mass retailer."
She adds that participating in the design collaboration for her bed helped solidify what works for her when it comes to furniture shopping. "We learned that we'd rather take our time and do it once, and get exactly what we're envisioning — even if it's a slightly more expensive process."
On whether it was worth it:
"It was really valuable to us, on an emotional level, to create a bedroom space that felt like a relaxing retreat," Mason says, adding that the bed has had a positive impact on her and her partner's sleep habits. "The room truly sparks joy and calm for us every night, and that feels so special."
And that's not all — Mason shares that she and her partner are planning more custom pieces, and are especially excited about supporting LGBTQ+ designers and builders in the future. "Since getting our bed, we've considered other ways we could work with independent makers and artisans to help bring our wants to life, and have been introduced to several other queer lighting designers, woodworkers, and carpenters in NYC whom we've earmarked for future projects," she says.