Minimalism Is Out — Here's How to Be an "Organized Maximalist" in 2023, According to Experts
We independently select these products—if you buy from one of our links, we may earn a commission. All prices were accurate at the time of publishing.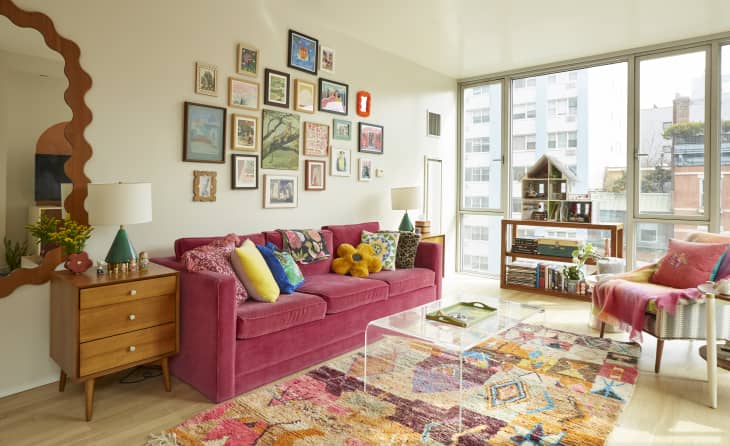 So you've Kondo'd. And you've removed things. And you've donated and resold and decluttered. But your home still has quite a bit of stuff in it. In recent years, the minimalism trend has taken hold, from 35 item capsule wardrobe to counters free of any items at all, but for many Americans, especially those with more than just one or two people living in their home, it might be unrealistic and go against how you'd like to live. If that's you, you might actually be a maximalist.
Maximalism doesn't mean living in an excess of stuff; instead, it means surrounding yourself with meaningful objects you care about, and those that are useful to you. Interior designers point to vibrant textures and patterns, rather than the often white and clean lines of minimalism, along with accessories, according to Vogue. 
"There are plenty of people for whom minimalism will always be their path to happiness. But there are others who derive genuine pleasure from their belongings and felt like minimalism had them trying to reach for a goal that wasn't making them happy," says Corinne Morahan, founder and CEO of Grid + Glam, a professional organizing firm.
Here's how to tell if it's time to let go of the pursuit of minimalism and become an organized maximalist instead.
What is organized maximalism?
Maximalists reject the idea that they are disorganized and cluttery. Instead, they own what they love and use those items often, but don't "feel confined to having a capsule wardrobe and zero duplicates of an item," Morahan says. If you are more comfortable dedicating a whole shelf to backup beach towels, for example, and feel they will be put to use, you might be a maximalist.
If a person has difficulty removing old items every time they bring in new items, they may be a maximalist, and, if they like to have backup items on hand for a rainy day, they might be one too, adds Pam Clyde, president of BritLin Cleaning.
Others define it slightly differently, such as Leanne Stapf, chief operating officer of The Cleaning Authority, who says that "being a 'maximalist' means that you embrace excess and quantity. I think that this trend is gaining steam largely because people are recognizing that having a lot of items in your home doesn't mean your home won't look good. Maximalism allows you to keep what you need while maintaining an organized space."
If you want to have more than the "minimal" amount of each item, but plan to be organized enough to know exactly where everything is, organized maximalism might be for you.
Getting to the root of disorganization
Whether you consider yourself an aspiring minimalist or a maximalist who needs to do some organizing, decluttering is still a must. Morahan explains that clutter happens when you don't know where your stuff is and can't locate it, or when you fill your home with items you don't use, creating a burden.
"Clutter is a series of delayed decisions. Make the decision in the moment of whether or not you want to keep something, and where in your home it's going to live," she says.
So, even if you do plan to keep two backup sets of sheets, make sure they are organized and labeled for easy access, and promptly put any new incoming items where they will live and be most useful to prevent disorganization and clutter.
Clyde adds that simply owning too many things beyond what your home can hold is a sign it's time to declutter — nothing should be falling out of cabinets or stuffed into drawers, for example.
How to become an organized maximalist
If you know minimalism isn't your path, but you want to be as organized as possible, here's how to move ahead with pursuing organized maximalism this year. 
Get fresh eyes on your space
Clyde says that when you've spent too long looking at your own stuff, you might not realize how much clutter you are living in. Ask a trusted friend who has a level of organization you admire in their own home to come visit and give an honest opinion about whether your home seems cluttered and which areas you might want to pay attention to. A professional organizer can do this as well. "Be ready for the truth and decide whether or not you are willing to make a change," Clyde says. 
Take it one room at a time
Stapf shares this room-to-room guide that'll make it easier to chip away at a larger clutter problem in order to become an organized maximalist:
Make sure to avoid clutter by taking unnecessary items off the coffee table, removing unwanted books or DVDs from your shelves, etc. 
Try to narrow down the blankets and pillows needed in your space.
Clear your countertops, storing small appliances that aren't used daily.
Take inventory of your spice drawer. 
To avoid Tupperware clutter, use bins to organize your containers better. 
You can get simple bins from the dollar store to help organize the food and products on the shelves of your fridge. When placing items in your fridge, make sure to face the labels outward so you can see the expiration date — that way, you can avoid wasting items.
Add a Lazy Susan to your bathroom closet or shelves to store extra products that aren't used as often. 
Investing in drawer organizers can also be extremely helpful. 
Use easy-to-reach shelves or baskets to store your detergents and other cleaning products, and create a spot specifically for a drying rack. 
Leave room for sorting and folding to simplify your laundry process.
Store toys in different categories to keep things organized. You can have separate bins for dolls, puzzles, toy cars, etc. 
Make sure to look through and remove any toys that are no longer being used.
Make decluttering a routine
Like anything else, practice is key, shares Marcia Sloman, owner of Under Control Organizing, and "… the answer is the same whether you live in a studio apartment, tiny house or a 10,000-square-foot home: having a daily routine to eliminate clutter and maintain living spaces is critical."
So, build in a daily or weekly decluttering ritual, and set aside specific times to tackle special projects that require more mental or physical effort. In time, you will be the organized maximalist you are striving to become, where everything has its place and purpose.
Reset Your Home with the (Free!) 2023 January Cure
Renew your space with our free 20-day January Cure program — it all begins January 2.