Here's Everything You Need to Know About How to Clean Leather Boots
We
independently
select these products—if you buy from one of our links, we may earn a commission. All prices were accurate at the time of publishing.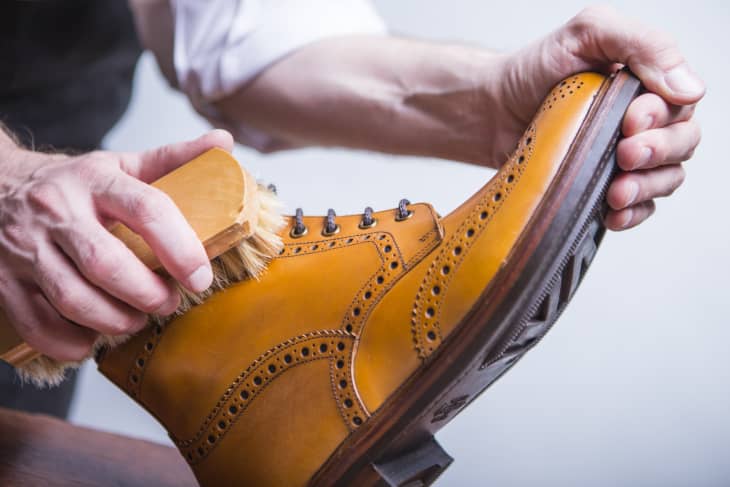 They may not be the absolute warmest winter shoes out there, but if you're looking for a sturdy, breathable option to wear throughout the year, consider a pair of leather boots. Well-made leather boots are certainly a financial investment, but they can last for years to come — especially if you know how to take care of them. 
Before you bring leather boots home, it's important to do a bit of research (and make sure you have the right products on hand). According to Mike Larson, design and development manager at Red Wing Heritage, following the right steps can help break in a new pair of leather boots and ensure their longevity, so they'll look and feel good long after the time you first try them on. 
How to clean leather boots
Below, everything you need to know about how to clean leather boots. 
Step 1: Remove the laces.
Before cleaning your leather boots, take out the laces and set them aside. 
Step 2: Brush away loose debris.
Brush away loose debris from the upper and soles of your leather boots. Larson recommends a horsehair shoe brush, which is dense enough to clean but soft enough not to damage the leather. 
Next, it's time to deep clean the leather boots using a mixture of water and cleaner. Wayne Edelman, CEO of Meurice Garment Care, says you can use a small amount of mild detergent diluted in cool water with a clean rag. To remove soil from areas you can't get to with a cloth, try a stiff bristle brush or an old toothbrush. If you'd rather use a dedicated product, Larson suggests Red Wing Foam Cleaner. 
After cleaning, use a separate clean rag with clean water to remove excess product. Don't run water over the boots. Allow the boots to dry fully before moving on to the next step.
Step 5: Apply conditioner.
Once the boots are completely dry, use a dedicated boot oil or cream conditioner to help the boots maintain moisture and prevent cracking. Larson recommends inserting a cedar shoe tree when you condition the boot. "The pressure opens the pores of the leather and allows the conditioner to do its job," he says. Apply in circular motions, being sure not to use too much product. 
Step 6: Allow the conditioner to dry.
Be aware that the color of your boots may look dark after you apply conditioner. As they dry, Larson says the boots will lighten up to their original color. 
Step 7: Spray leather protector.
Lastly, when the boots are fully dry from the conditioner, spray a leather protector on them, which will help protect them from scuffs and stains. Allow the boots to dry fully before wearing your boots again.