The Easiest Way to Keep Textured Lamps and Home Decor Clean
We independently select these products—if you buy from one of our links, we may earn a commission. All prices were accurate at the time of publishing.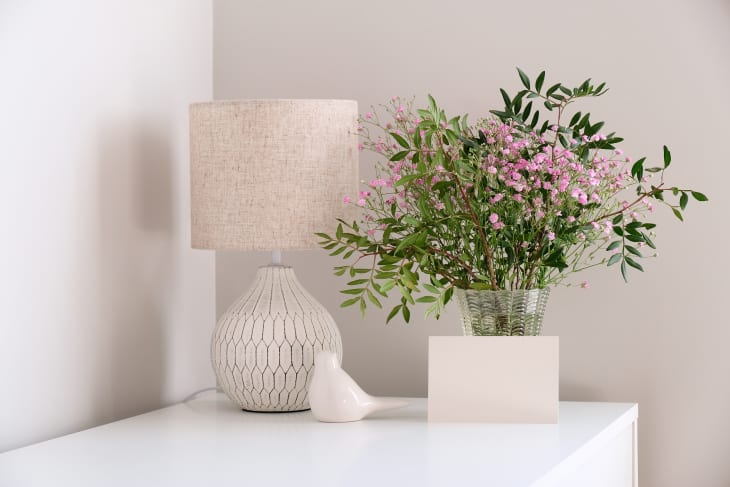 Homes are filled with texture, from shag rugs to terracotta planters to rustic wooden trays. While these accents add depth to a room, they come with their own unique set of cleaning challenges. 
Textured decor pieces — whether they're unglazed pottery, rough-texture lamps, or raw stone side tables — need to be cleaned in a specific way to get all the dust and dirt off. Paper towels and Swiffers don't work since the uneven and coarse material rips them. It might be tempting to skip dusting them altogether, but this will only make the cleaning process more challenging in the long run, since the dirt will embed itself in the uneven material. 
Here's how to properly clean textured items, making cleaning day easier.
Vacuum with a bristle brush
Lint-free microfiber cloth
Can of compressed air
All-purpose cleaner
How to clean textured lamps and home decor
Grab your vacuum with a bristle brush attachment and lightly run it across your textured item. The stiff bristles will help agitate the surface, loosening any dust and grime embedded throughout the days or weeks.
Next, move on to dry dusting. Certain ceramics and textures don't react well with moisture, so you want to be diligent in dusting these items weekly, so you don't have to use a cleaning spray or soap solution to cut through grime. To dust, grab a lint-free microfiber cloth and gently rub it across its surface, around any contours, and into any nooks. If you find that a microfiber cloth isn't catching as much dust as you would like it to, try these "magnetic" dusting cloths, which create electrostatic as you use them, helping particles stick to the rag.
If stubborn dust is hiding in crevices, use a can of compressed air to blow it out. This is much easier if you clean these nooks weekly since the dirt won't cake.
If it's been a while since you last dusted the piece and it seems like dry-dusting isn't cutting it, grab your lint-free microfiber cloth and an all-purpose cleaner. Choose a cleaner without any harsh chemicals which might stain certain pottery or materials. Lightly mist your fabric with the solution — you don't want the cloth to be wet since some materials might stain or discolor when they become damp. Gently run it across the item's surface and into any corners or crevices. This should help cut through any buildup, leaving a clean surface.