Here's How to Decompress Over the Holidays
We
independently
select these products—if you buy from one of our links, we may earn a commission. All prices were accurate at the time of publishing.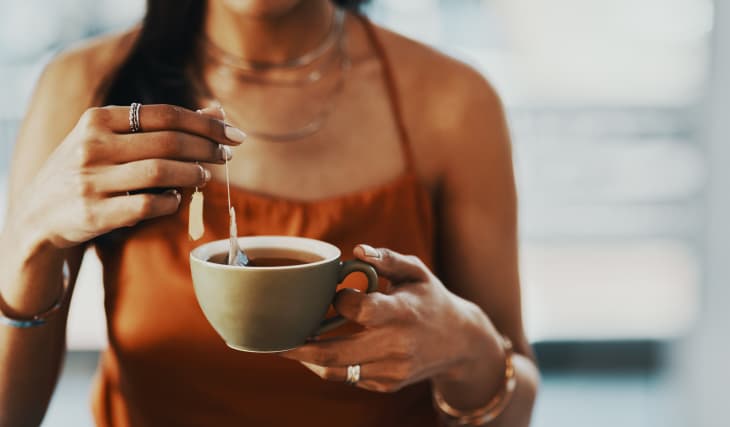 The holiday season is full of delights: delicious food, cozy vibes, quality time with the people you love, and parties both real and virtual. But those cheery lights, pretty packages, and cute snowman cookies can bring with them a high volume of holiday-related stress, from budgeting for gifts to packed schedules and family drama to worries over how you'll get it all done.
I don't need to tell you how important it is to care for yourself, but during the hustle and bustle of the holiday season, self-care can easily slip by. These expert tips will help you decompress from holiday stress and focus on you so you can better enjoy the beauty and wonder the holidays bring.
Prioritize your essential self-care practices and take time for you.
The holiday season is extremely busy, and you may not have time to do everything you want to do. So be sure to prioritize the self-care practices that are absolute musts for you. "Prioritizing your health and well-being is not worth sacrificing any time of year, but especially during the holidays," says Lauren Ferrara, VFit Studio fitness instructor and registered dietitian. "That may vary person to person, so write out what that is for you and make sure it happens every day." If your daily 30-minute cycling class is an absolute essential or you love a bath at the end of the day to help you reset, schedule time with yourself to make it happen. "You cannot be the best version of yourself for you, or anyone else, if you're feeling depleted, run down, unhappy, and unfulfilled," Ferrera shares.
Ensuring you have the time and space to focus on caring for yourself is key in a stressful season. "Really carving out some time for you — even 10 minutes a day — can make a difference," says Daniela Wolfe, a work/life balance and habit expert. "By filling up your own emotional cup first, you're in a better position to handle the hustle and bustle of the season and help others," she explains.
Find ways to manage your stress.
Learning a few techniques to find your calm can help you navigate stressful moments better. "I always recommend having at least three tools to pull from when you need to calm yourself when stress creeps in," says Dr. Rachel Goldman, licensed psychologist and wellness expert for Rae Wellness. "These can be things like breathing exercises, meditation, social support, planned alone time… because different tools help manage different stressors."

Dr. Goldman also recommends checking in with yourself to see how you're feeling, what you can change, and what you need to make things feel more manageable. Do you need support in a certain area? Are you drinking enough water or getting enough sleep? Doing a bit of reflection can help you figure out where stress is coming from and how to handle it better. 
Your days feel better and more balanced when you enjoy a good night's sleep, and while it feels obvious to prioritize rest during stressful times, it's hugely important for more than just your mood. "Lack of good, quality sleep can affect your mood, appetites, ability to focus, and even immune system," says Dr. Mahmud Kara. Dr. Kara recommends optimizing your environment for sleep, including turning off screens an hour before bed (your phone counts too!), dimming the lights in your space, and doing some stretching. "These activities can help calm down the brain and your body and promote restful sleep patterns," he says.
It's OK to say no, especially when your plate is super full. "Make sure you are not overburdening yourself with too many things that can realistically fit in one day," says Wolfe. "Not having this balance can increase stress, anxiety, and depression and can be expressed as anger as well." If you know you don't have the bandwidth for something, let the person asking know! Be clear about what you can and can't accomplish to avoid overdoing it.
Practice gratitude when it feels right.
It's easy to get swept up in the to-dos of the holidays and forget what the season is actually about: sharing the love with the people you care for most and being thankful for what you have. "By focusing our attention on what we're grateful for, we can have the perspective and the peace that we need to be happy over the holidays," Wolfe shares. "Gratitude [can make you] feel healthier, more energetic, less stressed and anxious." Consider starting a gratitude journal where you write down a few things you're thankful for at the end of each day, or make it a habit to recognize the people in your life for how they've helped you grow.
Spend time with your people.
Don't neglect your friends and family when you're stressed; instead, lean in to the spirit of togetherness. Connection with those closest to you can recharge your batteries and help you focus on what's most important. "Social connection is as necessary as food and exercise," says Ferrera. "We are humans and need connection to survive and thrive."