I Managed to Squeeze an Entryway Into My Small Apartment—for Less than $100
We independently select these products—if you buy from one of our links, we may earn a commission. All prices were accurate at the time of publishing.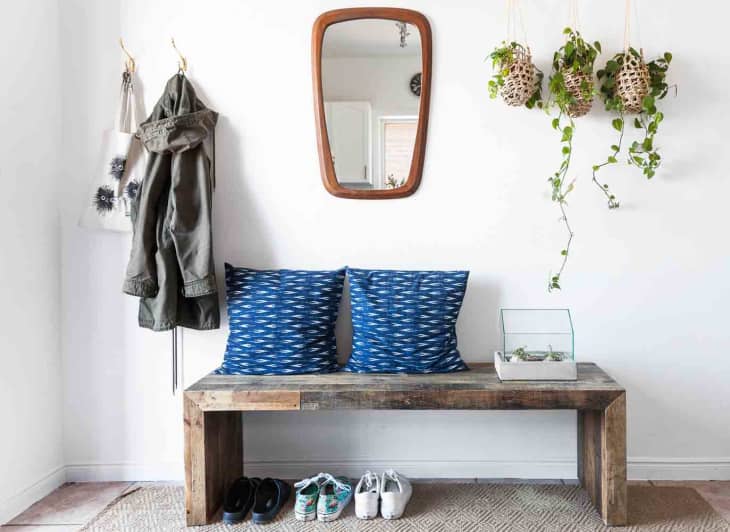 There are a couple of things that truly bother me about my apartment. First on that list is the general lack of natural light, which is going to be a dealbreaker for me in any place I choose to live going forward (and why all of my iPhone pictures of my place look extra sad and dingy).
Follow Topics for more like this
Follow for more stories like this
After that, it'd have to be its lack of a defined entryway. My front door opens right onto my living room, and when the door swings wide, let's just say it's not far from the side of my sofa. I'm not saying I need a fancy foyer or built-in cubbies by any means, but a little hallway real estate would be nice—you know, a place for keys and mail. So what's a small space dweller to do? Get creative.
Right underneath my door buzzer, there's about a 30-inch wide stretch of wall in between the door and the opening to my little dining nook. So I put a square-shaped Parsons style table there, right up against the wall. It only set me back $40 at a flea market, and it's the perfect spot for incoming and outgoing mail. For umbrellas, totes, hats, and scarves, I bought a jute laundry basket from H&M Home similar to the one shown below and parked it right underneath the table. Ideal? No, but it gets the job done.
As for my keys, thanks to a sturdy 3M Command hook on my door, I now always know where to find them. The only thing missing is a proper spot for coats, since the small coat closet to the left of the door is used, unfortunately, for everyday clothes. I even leaned a small mirror from Anthropologie (scored for $20 in their sale section years ago) against the wall for that one last outfit check before leaving the door. Not bad for maybe ten square feet of floor space, right?
Point is: There's a way to fit some semblance of an entryway—and some much-needed storage space—into the tightest of spots or smallest of nooks. A built-in might be out of the question, especially in a rental. But some hardworking pieces will help you fake it 'til you make it. Next in my decorating plan? Maybe a coat of pink paint on the inside of the front door (like our editor in chief, Laura, did in her home) to brighten this spot up a bit. That, a small rug to define the space, and definitely a new light switch, since the dimmer button has been broken for some time now. Yet another thing to add to my to-do list!