7 Tips for Finding a Remote-Friendly Job, According to Recruiters
We independently select these products—if you buy from one of our links, we may earn a commission. All prices were accurate at the time of publishing.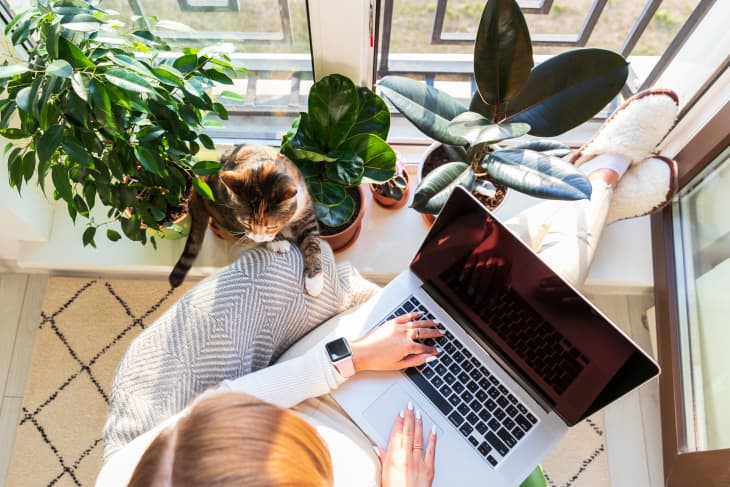 Unhappy with your current gig? Want to switch careers or find a new remote position in another company? Here's the good news: There are currently more than 11 million job openings across the United States, which means your job search will likely lead to at least a few places that may pique your interest. 
Follow Topics for more like this
Follow for more stories like this
And many of those jobs are remote. But how do you find those work-from-home job opportunities? I talked to several recruiters who shared seven tips for finding a remote-friendly job. 
Explore all options with targeted searches.
When beginning a job search, don't limit yourself. Make a list of what interests you and what types of positions and companies could check those boxes. Try to discover as much as possible about the potential role and how your skills may be a good fit. 
Recruiter Adina David recommends using all available searches to pinpoint which roles are remote, and to determine if your skills match the job description. "The best sites to check out for jobs are Flexjobs, LinkedIn, and Indeed. These sites are great because they'll help you find positions that are remote-friendly." 
"You can also search on Google for keywords such as 'remote jobs' or 'telecommute jobs' and you will see a list of all the available jobs on a Google job board," she says. Searching various sites in multiple ways will help you cast a wider net. 
Leverage your social network to find a remote job.
Talking to friends and family, making a list of all potential contacts, and attending virtual events are all ways to connect with people that may potentially help you land your next job. Using your online platforms to reach out to someone in your industry is a good way to create a potential connection.
"Leverage your social network to look for a remote job. Let some of your colleagues and immediate circle of family and friends know you're looking, as they may know someone in their own circle who's looking for the same or who works for or with a company that offers a remote job," says Steven McConnell, director of sales and marketing at Arielle. "This isn't the time to be reserved and shy — proactively reach out to your connections to get a foot in the door with your ideal company, job, or talent source."
Spend time updating your LinkedIn profile.
Many companies are scouring various platforms to find good candidates for positions. You want to create a good impression online in case a recruiter or a human resources representative stumbles upon your profile. Think of your LinkedIn profile as your digital resume. 
Emma Lindberg, recruiting manager of Advantis Global, says it's wise to take some time to update your LinkedIn or portfolio. "Have something that showcases all your skills, certifications, accomplishments, and sample work. This will help companies see what you're capable of and how valuable your work is," she explains. "This is especially important if you're asking a recruiter or hiring manager to try and turn an in-office position remote." 
Consider a staffing agency.
Staffing agencies can be a good resource for finding remote-friendly positions. "They not only have job boards, but give you access to communicating directly with recruiters or hiring managers," David says. "Get in contact with staffing agencies to have them add you to their roster of talent to have remote jobs sent to you instead of seeking them out yourself."
Don't limit yourself by location.
Since you're looking for remote opportunities, you should try to expand your search as much as you can. That means looking at all opportunities across the globe. 
"Limiting your search to jobs within a specific area only narrows your options. Remote work means you can work for an employer from anywhere in the world regardless of where you are. Hence, it is best not to restrict yourself and make your job search local. International jobs are also most likely to be 100 percent remote," advises Stella Scott, cofounder EasyPaydayLoan.
Always be respectful and professional.
Whether it is an email, a phone call, or an in-person meeting, try to bring your best self when you communicate. In many instances, hiring managers are making their first impression based on how you present yourself digitally or in a brief conversation. A solid initial impression will be particularly important when trying to land a remote-friendly position, where most of your communication with colleagues will be digital. 
"It's important to be humble and professional, and show respect for others and the company. No matter how confident you feel about your qualifications, never badmouth others or the company. Always be professional, and never be rude or insulting," says David. 
Do your best to be ready.
Although there are many remote opportunities available, the demand has also increased for these jobs. That means there are likely several candidates eyeing the same remote position — but don't let this dishearten you. 
"All you can do is work to strengthen any weaknesses in your candidacy: Polish your application structure, boost your video interviewing skills, put your free time towards self-improvement, and reach out to interesting companies to introduce yourself," says Fabrizia Zanca, a recruiter at Remote. "This is a turbulent time, and you never know when a great opportunity will present itself. Do your best to be ready."