A Guide to Quitting Your Job and Switching Careers in 2022
We independently select these products—if you buy from one of our links, we may earn a commission. All prices were accurate at the time of publishing.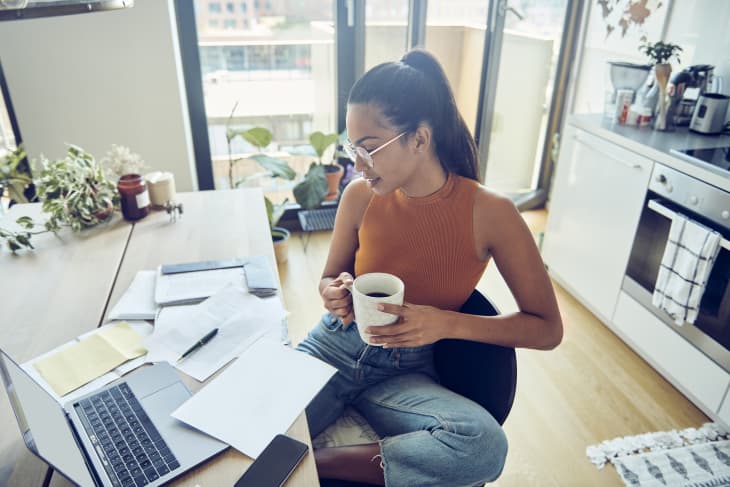 My most common inquiry as a career coach and recruiter this past season? How do I quit my job and change industries? Clients previously in social services have compassion fatigue, and corporate professionals want to experience life after burnout. More and more millennials want to make changes in pursuit of greener pastures. 
If you're one of the many people interested in changing things up in your professional life this year, here's where to start.
Reflect on your past to build your future.
Before heading to LinkedIn for your next job search, get clear on what you're looking for. Too often, job hunters allow their desperation for something new to override their need for something better. I've seen professionals leave one "bad company" for another due to impatience and a lack of introspection. (And to be clear, sometimes getting out is the priority — being selective is a privilege in its own right.) 
If you're eager to move on from your current industry or employer, get curious about why and explore what's behind it. Do you no longer feel fulfilled by your day-to-day responsibilities? Have your values changed and are no longer aligned with your field of work? Perhaps you don't feel challenged in the work you do. Sometimes you find that you don't need a new career — you just need a new boss who cares about your development. But if you find that you're disillusioned with your chosen field, get clear on what isn't working and what has to change for you to be happy.
Build a pipeline of leads and connections. 
Staying connected to those in your field is good advice, no matter your level of professional satisfaction. However, it's particularly important when looking to break into a new industry. 
After you've reflected on why you're looking to enter a new field, it's time to host informational interviews, which are opportunities for you to learn more about the area of work you're interested in exploring. At its most productive, an information interview answers your top questions about a prospective field and either fuels or diminishes your curiosity for an industry. While it can sound intimidating, inviting someone to a virtual coffee in your desired field is a great example of an informational interview. 
Stay updated with industry news and trends.
Whether you're branching out into a new industry or looking to stay motivated in your current one, keeping up to date with news and forecasts is essential. Begin with news articles and popular podcasts within your job market. Discover and study renowned leaders and explore futuristic topics with refreshed perspectives. 
Pragmatically, you're able to build upon the fundamental knowledge and go into meetings, interviews, and connection calls more prepared. (I once knew a hiring manager who liked to quiz hiring candidates on current affairs within their prospective field.) 
Be sure to check in and ask yourself, "Do I really care about what's going on in my industry?" As a professional myself, I left social media for human resources in 2016. One red flag was how little I cared for engagement trends and industry updates. I didn't want to learn more or become a more specialized expert. However, when I found myself in HR years later, I was excited to become more knowledgeable. 
Develop a thoughtful exit strategy and timeline.
Once you're ready to leave a current employer, it's time to develop and deploy your exit strategy. There could be specific guidelines or policies you're expected to follow depending on your industry or employer, but here are some general best practices to consider:
First, look at your financial landscape. Clients will come to me devastated and desperate to quit. Your financial situation can influence how risky leaving your employer can be. 
Read the fine print in your employee handbook. It's best practice to give a company two weeks' notice, but some employers have different policies. Recently, I had a client learn that she had signed a four-week notice agreement when starting at her job five years ago. This ultimately impacted her starting date with her new employer. 
Keep it professional. Though it may be tempting to rage-quit, it's important to remain professional in your last few days. Develop an exit plan for your team, and be sure they're prepared for your absence. It allows for a smooth transition and keeps bridges from being burned.
Lick your wounds. Work relationships mirror romantic relationships in many ways. For instance, we can take emotional baggage from one bad experience into a new relationship if we're not intentional about our healing. Speak with a professional or someone in your support system, and give yourself the space and permission to heal from any trauma you experienced at a past job.
Focus on building connections and credibility.
As a new hire, it's easy to focus on all that is new: your new co-workers, your new salary, and your new job title. But it's most important not to lose sight of your new responsibilities. Building healthy credibility with your team will be paramount to your success and overall experience at a new company.
Learn how success is defined in your new role and what your 90-day metrics are. As you begin to build credibility, you'll earn the trust and respect of your co-workers while feeling competent at your job. Once a foundation has been established, you're able to pave a promising career trajectory.