How To Fix a Slow Draining Sink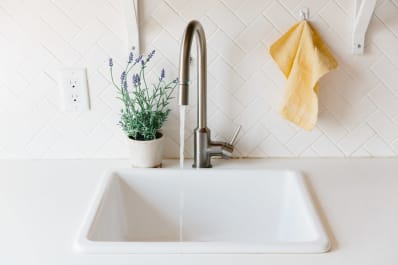 Our sink has been draining very slowly for months; but, complete laziness has kept us from doing anything about it. Last night when we were brushing our teeth, we realized that we'd let it all go too far. So, today, armed with a tea kettle, a Q-tip, a box of baking soda, and a bottle of white vinegar, we got to work...
To clear a slow drain that you suspect is clogged with gunk (recognize that this method might not work as well if your problem is a hair-clogged drain), here's what you should do:
Set a full tea kettle on the stove to boil.
Dry your sink out with a rag.
Now, measure a 1/2 cup baking soda and dump it down your drain. In most sinks, the sink stopper will be in the way. We used a Q-tip to push the majority of the baking soda down the drain. Don't worry if you can't get it all down, the next step will do the rest of the work for you.
After the baking soda, measure a 1/2 cup white vinegar and dump that down the drain. Admire the fizzing for a minute or two.
Now, the full tea kettle should be boiling. Carefully pour the whole kettle full of boiling water down the drain.
Turn your faucet on and see if your sink is now draining at a normal speed. Ours was and we were thrilled!
Originally published 2008-09-15 - CB
Apartment Therapy supports our readers with carefully chosen product recommendations to improve life at home. You support us through our independently chosen links, many of which earn us a commission.