How to Get a Landlord Referral When Yours Is MIA Most of the Time
We independently select these products—if you buy from one of our links, we may earn a commission. All prices were accurate at the time of publishing.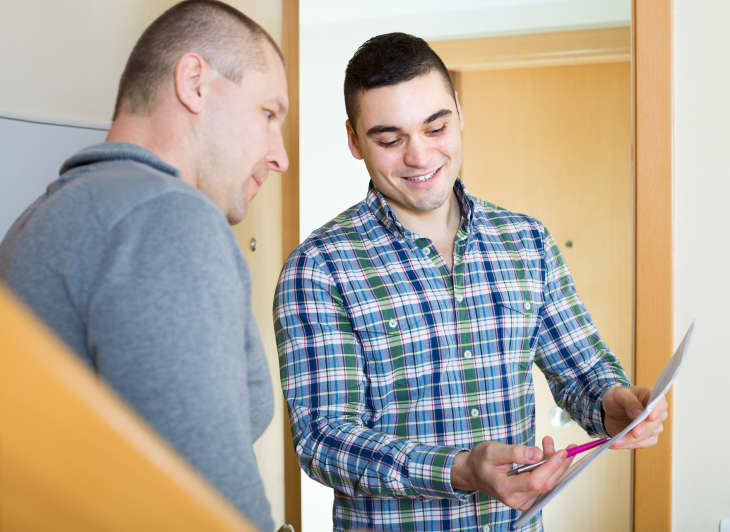 Landlords are understandably busy people. Between cleaning out newly vacant apartments, finding new tenants, doing general maintenance, hiring specialists for repairs, and keeping up with the accounting for their rental business (and maybe working another full-time job), it's no surprise that they're sometimes tricky to reach.
When it's an emergency toilet situation, sure, your landlord responds to your SOS text right away. But when it comes to longer-lead requests, like providing a referral to your new landlord or apartment complex when you decide to move into a new place, they can be harder to pin down.
What's a tenant to do? We checked in with a few landlords for their tips and advice for getting a referral, even when your landlord is super busy or seemingly MIA.
It may sound obvious, but the best way to get a landlord referral is to be a good tenant. Your relationship starts the moment you first begin interacting and continues throughout your lease. If your landlord isn't responding to requests for a referral, there's a chance they may be feeling uncomfortable about recommending you to another landlord or property manager.
Being a good tenant means paying the rent on time, but it also means following all of your landlord's rules and being considerate — no hidden pets, no raucous parties that disturb the neighbors, being gentle with the apartment's fixtures, letting him know about issues right away, and giving plenty of notice when you decide to move out.  
"Keep in mind that relationships are key everywhere you go," says Stacy Brown with Real Property Management. "Establish a positive relationship with your landlord or property management company while residing at your current residence. When you decide to move out, asking for a reference will be easier." 
It's easy to forget to respond to an email or put off a task on the to-do list when there's no deadline attached. Give your landlord a specific (and achievable) deadline to meet for your referral. 
Keep in mind that landlords are busy, so you'll want the deadline to be reasonable, but not so far in the future that they forget about it completely. This also means planning ahead when it comes to lining up your next lease so you aren't scrambling to track down your landlord for a referral on short notice. 
"Be sure to give them time to complete one but include a timeframe," Brown says.
Your new landlord or property management company will likely have a preferred format for a landlord referral — they may request your landlord's number or email so they can reach out to her directly, or they may accept a form letter with your landlord's signature that you provide to them.
Either way, the best way to get your landlord to help you out with a referral is to keep things simple. Consider starting an email chain that includes your current landlord and your prospective future landlord, plus all the relevant details about your rental history. Or, type up a form letter with the same basic information and ask your landlord to review and sign it.
Some property management companies may even have a referral letter template that you can use, so don't be afraid to ask, says Rose Caiola of Bettina Equities, an apartment rental agency in New York City.
"We are always happy to provide one, it is generally a pre-templated one page sheet," says Caiola. "You can reach out directly to management and they will happily provide one."
In addition to making the process quick and painless for your current landlord, keeping things simple also makes life easy for your prospective new landlord, too. 
The reason? Landlords really only need to know a few things about you as a tenant, says Brian Bellew, vice president of property management operations with Atlas Real Estate. They're likely running a credit check and a background check, and they may be verifying your income with your employer — the landlord referral is one extra piece of information that gives them confidence in you as a future tenant, so it can be short, sweet, and just cover the basics.
"If the applicant paid on time, cared for the property as their own, and gave proper notice when moving out are all extremely important pieces of information," he says.