How to Really Get Your Glassware Sparkling Clean, According to a Bartender
We
independently
select these products—if you buy from one of our links, we may earn a commission. All prices were accurate at the time of publishing.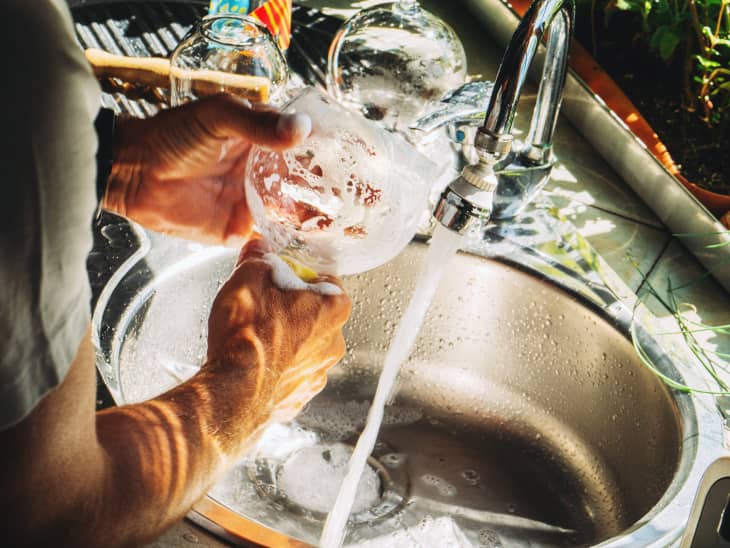 I recently moved from a small apartment in the city to a house in the suburbs, and the top three things I was most excited about having were a yard, a bedroom for my daughter, and a dining table to host dinner parties.
There's something about a sit-down dinner party, though, that demands a matching set of gleaming glasses. Not just wine glasses, but maybe highballs for aperitifs, tumblers for an after-dinner dram of whiskey, water glasses, juice glasses, or even Champagne flutes. There's just one issue: I'm not sure I can remember how to make all those glasses shine in time for their big moment. 
Of course, you should clean your glassware after it has been used, but there's no point in polishing until you're setting the table, or the glasses will gather dust and lose their gleam before you get the chance to impress your guests. 
But how do you actually polish your glassware? I asked Sammie Ellard-King from London-based bar and music venue Amazing Grace for his tips on getting glassware sparkling clean and party-ready.
Quick Overview
How to Get Glassware Sparkling Clean
Skip the dishwasher and hand wash in warm water with a cold rinse.
Dry with a lint-free cloth.
Use vinegar for mineral deposits and hard-water stains.
Smooth scratches with a polishing compound.
The first thing you'll want to do is clean the glassware thoroughly. Instead of putting glassware through the dishwasher, use warm, soapy water to remove any stubborn stains, drink residue, or dust. Then, make sure you rinse your glasses thoroughly in cold water to ensure that no soap residue is left behind. Soap residue can not only create streaky lines on your glassware, but also leave a nasty aftertaste if it gets into your drink.
Use a clean, lint-free cloth.
After you've let your glasses air dry, polish them using a clean, lint-free cloth, like microfiber, which is soft and absorbent, and doesn't leave any lint behind. Firmly and methodically buff the glass with your cloth, starting with the inside and then polishing the outside, so you take any finger marks away after polishing. This should remove any dust or watermarks.
If you find that soap, water, and a clean lint-free cloth aren't producing the sparkle you want, try white vinegar. White vinegar is an effective cleaning agent that can remove any stubborn mineral deposits or hard-water stains from glassware. Make a solution of equal parts white vinegar and water, soak the glassware for a few minutes, and then rinse thoroughly. Allow to dry, then buff, as above, with a clean, lint-free cloth.
Use a polishing compound.
Polishing compounds are a bartender's secret weapon to sparkling glassware — even after multiple daily uses and runs through an industrial glass wash machine. If your glasses have any small scratches or imperfections, a polishing compound can fix them by gently removing a thin layer of the glass to reveal a perfectly smooth surface (like sanding down well-trodden hardwood floors). Ellard-King recommends using a polishing compound that contains cerium oxide.