The Free Tool I Use to Make Everything From Book Clubs to Dinner Parties Feel Extra Special
We independently select these products—if you buy from one of our links, we may earn a commission. All prices were accurate at the time of publishing.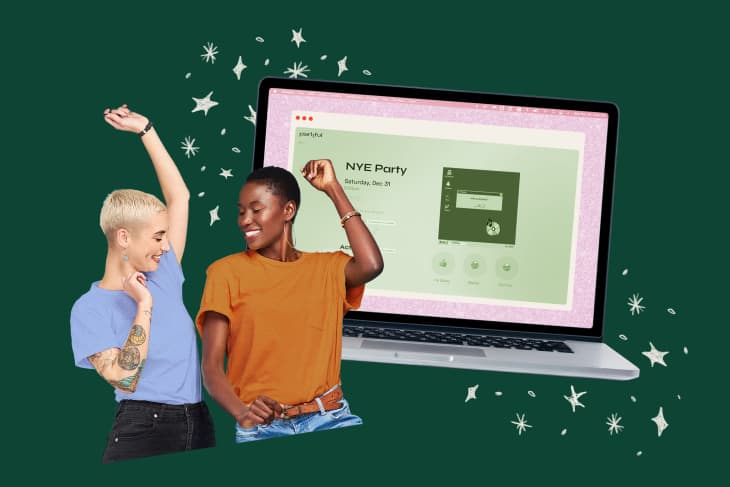 Who doesn't love getting invited to a party? Of course, a proper paper invitation sent via post never gets old — I, for one, always relished opening my mailbox to find birthday party invites as a child and still love receiving mail to this day. Throughout high school, college, and early adulthood, Facebook events became the prevailing way to share news about parties and events, with the occasional evite for fancier occasions. But these days, whether I'm hosting a book club meeting, themed holiday gathering, or a small dinner party, you can bet that I'm using one tool to create stylish invites with easy-to-manage guest lists: Partiful. 
The website takes all the convenient features of Facebook events and pairs them with beautifully designed graphics that you can send to your friends via text message. You can search the site for templates based on the occasion, and you'll be met with both abstract options that could suit anything from an engagement party to brunch get-together, as well as more specific visuals tailored to book clubs, dinner parties, and more. You can also upload your own image for more customization. Even if you're the furthest thing from artistically inclined, you can trick your friends into thinking you've become a graphic designer overnight. 
Earlier this fall, I hosted a book club with friends from different areas in my life. Creating a group text would have been too complicated, since not everyone had exchanged phone numbers yet. By using Partiful, I was able to communicate details about the event to everyone, as well as encourage my guests to share the invite with any other book lovers who might want to come. And because we were hosting the book club in a park, I sent a text blast to every attendee who marked themselves as "going" or "maybe" on the day of the event to clarify exactly where we'd be meeting. It was impressively easy to stay in touch leading up to the event, taking much of the stress out of planning.
My guests not only mentioned that they loved the look of the invitation, but they were also impressed with how easy it was to stay up-to-date on event logistics. There are also a few more handy options for different kinds of events, including adding a guest limit (which would come in handy if you're hosting in a small space), a cost per person with links to Venmo or Cash App (a great option if you're hosting a charitable event), and COVID-19 safety requirements. 
While Partiful is a convenient tool for planning larger gatherings, it's also brought another element of fun and festivity into my smaller get-togethers. A few weeks ago, I had four friends over for dinner at my studio apartment (thanks to a drop-leaf table and some other furniture rearranging, we were able to fit just comfortably enough). Was it absolutely necessary for me to make an invitation when I could have just texted my four close friends? No. But making a fall-themed invitation completely set the vibe for my dinner party and made me even more excited to host an evening filled with roasted squash, prosciutto-wrapped dates, and a few negroni sbagliato with some prosecco in it. 
I happen to love party planning, and creating a stylish invite is one aspect of the process I particularly enjoy. Even if planning tends to stress you out, though, Partiful makes it easy (and it makes it look easy). And who doesn't want to at least appear as though they are an effortless host? I certainly do.