How to Make the Most of the Holidays With the People You See Most, According to Experts
We independently select these products—if you buy from one of our links, we may earn a commission. All prices were accurate at the time of publishing.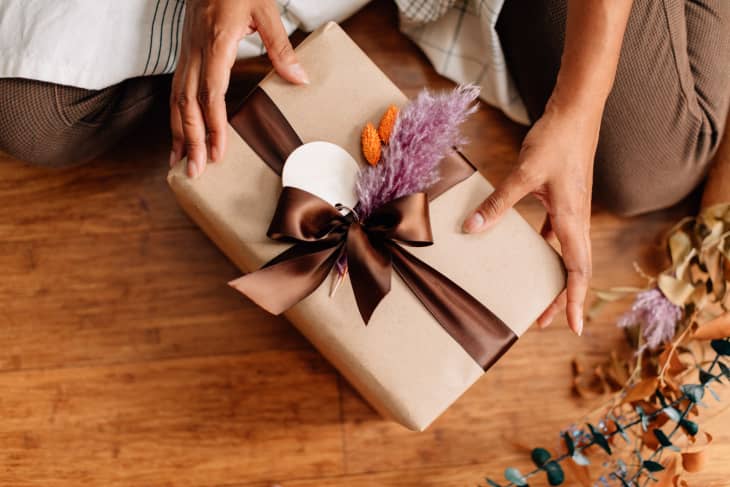 The holiday season can be magical in many ways, filled with novelty and wonder. But what happens when you're partaking in festivities with the people you see day in and day out? 
The COVID-19 pandemic forced millions of Americans to spend the 2020 season alone, away from loved ones, or in continued close quarters with their immediate family, roommates, or partners. Now that the holidays are back around, people are gauging if they feel comfortable traveling, or if they'd rather stay put with the same people they've seen almost exclusively for the past two years. Despite whatever dinner, decorations, or plans your household has on the agenda, the latter can make a holiday feel like merely another day with a hint of glimmer. 
According to Dr. Cío Hernández, a licensed family and marriage therapist and the CEO of the mental wellness app GotThis!, holidays can serve as opportunities for you brain to harness a feeling of novelty, even if your surroundings don't change all that much. "Celebrations make pseudo-timestamps where we connect time, spaces, [and] relationships; and make other connections that we can use to make sense of our lives at other times," she tells Apartment Therapy. "When we have positive connections to those timestamps, it breaks up the monotony of doing what we have to do, encourages connection, creates memories that give us information about safety and connection, and a whole lot more."
But if the holidays feel like "just another day," that can have adverse effects on the way you perceive time. "Those very long stretches where we don't have memories to look on actually keep us in this strange kind of dissociation where we're disconnected from ourselves and each other," Dr. Hernández says. "But if we can have little sparkling times that are just about reconnecting, then that's going to be better for us as individuals, us in our relationships, and ultimately in our success with a goal that we're already working on." 
Instead of expecting the holiday magic to arrive at your doorstep, there are ways to make the holidays feel extra-special and cultivate some wonder with your family, roommates, or loved ones. 
Treat the day like a true festivity.
Do you remember what it felt like to get dolled up for the holidays or rip open presents? Reconnect with the magic and spirit of the season by reflecting on what delights your younger self, or what Dr. Hernández calls your "inner little." According to her, dressing up distinguishes special time from yet another night streaming TV in your sweatpants, and can conjure up old feelings if you've had positive experiences dressing up for previous holidays. "If you've had horrible experiences in dressing up, then maybe it isn't for you, but the idea is that we have a clear distinction that makes this time unique from other times in our home environments," Dr. Hernández says. 
Event and wedding planner Cynthia Najaras, lays out a huge, buffet-style spread with lots of food and goodies during the holidays. "That's basically the priority when it comes to any gathering: food that brings everyone together," she says. 
Play games and get creative!
"There may be football games going on in the background and a meal on the stove in the kitchen, but take time to connect with your loved ones through play," Dr. Hernández advises. Play allows you to get lost in an activity, which helps you connect with yourself and the world in a way that keeps you safe and connected — biologically, this is our way of moving from "survival to thriving."
You can do card games, chess, and other board games, but Dr. Hernández advises unstructured activities. "Even if you show up with some Dollar Tree canvases and just have a pop-up paint party, you'll be surprised that people may not be totally into it in the beginning, but then they don't want to stop," she says. 
Najaras likes to purchase gifts and fun activities like cookie kits from small businesses for the holiday season. "It's something for them [my children] to do, and it's a little experience and something to look forward to every year," she says. 
The holidays are an optimal time to reflect and express gratitude, which Najaras practices by going through photos from past holidays and talking about memories, which usually results in lots of laughter and fosters togetherness. "It's also a way to see how far we've come [as a family]," she says. This activity can also serve as a bittersweet way to commemorate your loved ones if you're experiencing grief or loss.
You can also print out photos to reflect on previous holidays and your childhood. "Print out photos of yourself at different ages and let the little one know that they deserve an amazing holiday," Dr. Hernández suggests. "If you live with friends, a partner, or family, consider having everyone write a little note for each other's photo."
According to Dr. Hernández, expressing gratitude with others allows your mirror neurons to connect with somebody else's, and you start to co-regulate. In turn, you'll feel safe and more connected with one another. 
Create your own traditions. 
Whoever you're spending the holidays with, creating your own traditions can serve as a way to keep things positive and exciting. Though you might have a few classic dishes that need to appear on your table, asking each guest to cook or nominate their favorite dish, or trying some new recipes out together can help lay the groundwork for future classics in your home. You can also host a movie marathon with your go-to childhood flicks, or dress up according to the theme of your choosing. The holidays don't need to be a restricted or "traditional" time — it's what you make of it. 
Dr. Hernández recommends prioritizing your health, safety, and comfort this holiday season. "Part of the problem with the holidays is feeling like we don't belong in our families, or don't belong in ourselves," she says. "Some of the messages that we may have been sent during the holidays and other times might trigger some of these negative beliefs about ourselves that had nothing to do with us to begin with."
To combat these feelings, she suggests creating an environment that celebrates your "inner little," and perhaps subverts your negative childhood experiences. For example, if you grew up in a household with extremely rigid views about the way things needed to be, then you might benefit from being more spontaneous about how you approach the day. Meanwhile, if you grew up in an unpredictable household, you might benefit from celebrating the day in a structured way. 
If you're still in a living situation that is potentially harmful or doesn't affirm who you are, Dr. Hernández advises you to reach out to resources to keep you safe, such as the National Domestic Violence Hotline and The Trevor Project's support lines. "Maybe treat yourself to safety for the holidays," if you can, she said. "We all deserve safety for the holidays."