Wondering What to Do with Old Towels and Sheets? Here Are 10 Smart Ideas
We independently select these products—if you buy from one of our links, we may earn a commission. All prices were accurate at the time of publishing.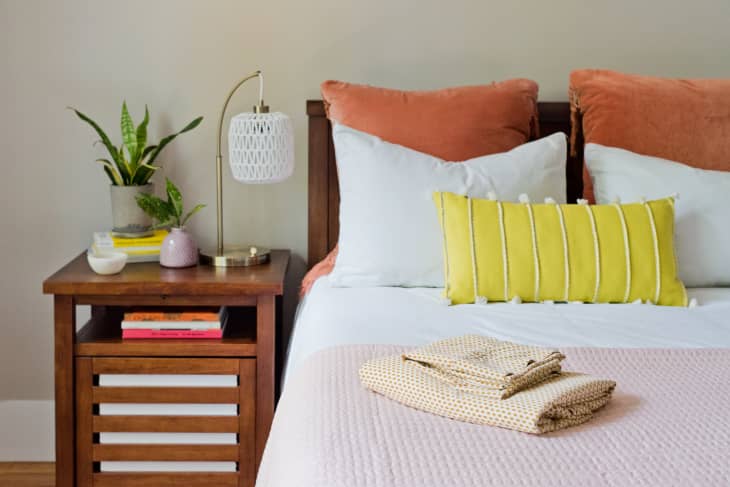 We recently took stock of our linen closet and realized that half of the storage space was taken up by sheet sets and towels that we simply don't use. Some are very old and worn out, and some just never seem to make it into our weekly linen rotation. Of course, we didn't want to throw them out, so it got us thinking about recycling options.
Follow Topics for more like this
Follow for more stories like this
1. Turn an Old Blanket Into an Ironing Board Cover
Use old sheets and blankets to make new ironing board pads and covers, like those featured on A Beautiful Mess. Thick blankets make ideal ironing board pads. For the blanket pad, cut just the size of the ironing board top. Then, lay the old ironing covers down on your sheet and cut them out, cutting extra to cover the sides of the board. Place the blanket pad underneath the sheet cover and fit on the ironing board.
2. Donate Old Towels and Sheets to Animal Shelters
Donate old sheets and towels to a local animal shelter. Most shelters will accept old blankets, bath towels, hand towels, sheets, pillows, pillowcases, bathroom rugs, and t-shirts. Shelters use these for lining pet cages, cleaning up messes, drying off wet dogs, providing warm bedding, and covering kennel doors when pets need a rest from the light. Most shelters are under-served in this area, so any extra help is greatly appreciated.
3. Make a New Toy for Fido with an Old Towel
On that note, if you have a dog, make some thrifty knot toy from your old towels. Cut the towel into strips lengthwise, about five inches wide, and tie knots along the length of the towel close together. Your dog will love chewing on it.
4. Transform Your Old Sheets Into Curtains
If your sheets are still in good condition (and you still like them!), make them into curtains. A printed cotton top sheet would be an easy and lovely way to cover your windows.
5. Prep for Picnics and Outdoor Outings 
If you have a car, keep an old sheet or towel in the trunk for an impromptu picnic or day at the beach (also good for protecting the car seat after a swim). You could also sew a couple of old sheets together and use them as a beach blanket.
6. Donate Gently Used Towels and Sheets to Shelters
If you happen to have towels and sheets still in good/unworn condition, donate them to a local church or homeless shelter.
7. Test Your Sewing Skills and Make Cloth Bags
Use your old sheets to make gifts or shoe bags. Just cut the size you need, sew a one-inch seam for the drawstring, and then sew the bag together.
8. Fashion Old Textiles Into New Dish Towels
Make your own dishtowels by hemming the edges to prevent fraying, or take old tea towels and turn them into pieces of hanging art.
9. Create Table Linens Out of Old Sheets
Use your old sheets to make a tablecloth, table runner, placemats, and napkins. Sew a few layers of sheets together for added thickness. Also, use either an old towel or sheet to make an apron.
10. Go Green and Create Reusable Cleaning Cloths
Originally published 2009-02-09 – CB