How to Get Nail Polish Stains Out of Clothes
We
independently
select these products—if you buy from one of our links, we may earn a commission. All prices were accurate at the time of publishing.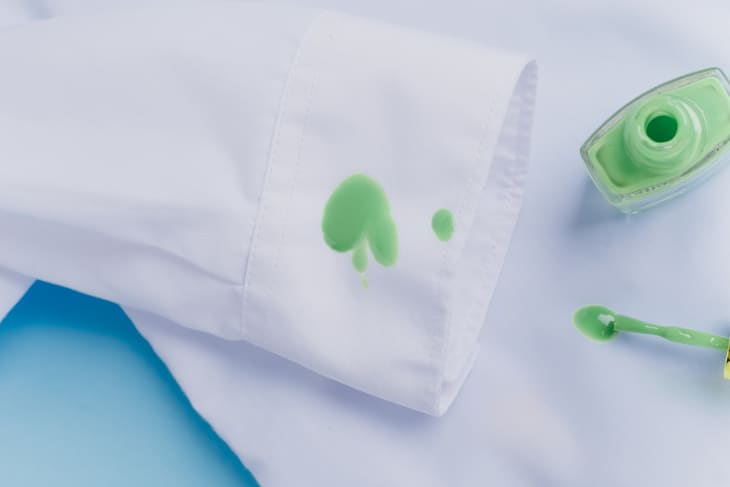 If it's ever happened to you, you know just how stressful this all-too-common scenario can be. You're carefully painting your nails, trying your best not to smudge the polish, when all of a sudden the brush drips onto your shirt. (And of course, you're wearing your favorite one.) Try not to freak out. Yes: Nail polish is one of the peskier stains to deal with, but the good news is, nipping it in the bud is a lot easier than you think—especially if you act fast.
Nail polish remover 
Cotton ball
Paper towel
Stain remover
Brush
Laundry soap 
How to Remove a Nail Polish Stain on Clothing
According to Richardson, the very same tool that removes nail polish from your nails and skin is the best way to get it out of your clothes. "Nail polish remover is a solvent, so it breaks down the polish no matter where you're using it," he says. 
It's generally easier to do when the stain is fresh, so it's best to work on it right away — but if you can't or you only notice a stain after it's dried, a little extra work can still remove it. Either way, you probably don't have to worry about damaging your clothes in the process. "Nail polish remover is safe on most materials, but it'll damage acetate, so don't use it on a party dress from the 1960s," Richardson says. If you're dealing with pretty much any other material, follow these steps to remove nail polish from a garment. 
1. Spot test with nail polish remover. 
Out of abundance of caution, Richardson recommends spot testing the nail polish remover on an inconspicuous part of your clothing, like the inside. If after it dries the material doesn't appear damaged, you should be safe to use it on the stain. 
2. Apply the nail polish remover to the stain. 
Next, the important part: applying the nail polish remover to the polish. The trick should work if the polish is wet or dry, but don't get your clothes wet before adding the remover. 
Add something disposable to the inside of the clothes, such as a piece of paper towel, to avoid transferring the stain. Then, add some nail polish remover to a cotton ball or pad, and have at it. "You don't have to rub super hard," says Richardson. "Just blot it like you're taking it off your nails."
3. Apply a stain solution. 
The nail polish and stain treatment should take care of the nail polish stain. Once you've completed both of those steps, thoroughly rinse the garment. "Make sure everything's out before you throw it in the washer," Richardson says. "That way, the stain won't set, and you can repeat while it's still wet." 
5. Run a normal load of laundry. 
Next, run a normal load of laundry — Richardson prefers the quick wash cycle whenever he does laundry, because it's less likely to damage clothing and more energy-efficient. Detergent, he says, can also damage clothes, so he recommends using laundry soap instead. (These soap flakes would do the trick.)
Whether you air dry or use the dryer, check to make sure the stain is gone while it's still wet. If you can still see the nail polish, repeat the process as many times as needed until your garment's good as new. If you accidentally dry it and notice a lingering stain later, no worries — Richardson suggests repeating the steps again from beginning to end (and maybe scrub a little harder next time).  
And, while you're in a stain removing mood, don't forget to study up on these common stain removal mistakes that dry cleaners want you to stop making.