You Probably Already Own the Only Thing You Need to Remove Your Address From Shipping Labels
We independently select these products—if you buy from one of our links, we may earn a commission. All prices were accurate at the time of publishing.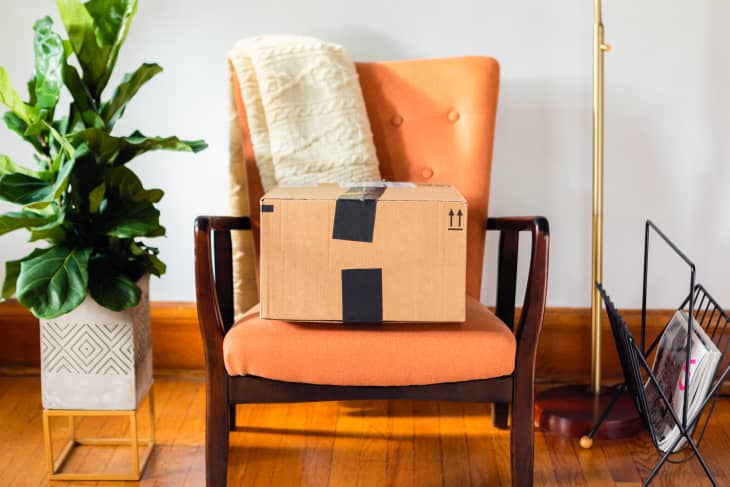 Like a lot of people this year, the number of deliveries I've received at home pretty much skyrocketed this year. When I started working from home in March, I needed to remedy my then-spare home office setup in a cost-efficient way (which meant Amazon was first on my list of retailers). The scattered closures of "non-essential" stores and a general reluctance to shop around other people meant many of my other shopping needs went digital, too—and that amounted to plenty of packages over the past nine months.
Follow Topics for more like this
Follow for more stories like this
I've been pretty good about breaking down my boxes before taking them down to my apartment building's recycling station, but have also tried to find ways to reuse the cardboard on my own. Ripping the packing label off the box is often far from the neatest way to obscure the box's initial use, so when TikTok's algorithm served me with a useful hack for removing printer ink from labels, I was intrigued.
As the clip from @goodtoknow.co.uk shows, you can grab a bottle of acetone nail polish remover to gently wipe the ink off almost any packing label. (Though some sites also suggest using nail polish remover to loosen ink stains on fabric, doing so might damage the item's fibers, so be careful.) Simply soak a cotton ball or cotton pad in the nail polish remover, and wipe it over the label. It will take a few passes to fully dissolve the ink from the box, but once it dries, you'll be left with a perfectly service-able box.
While you might be looking to reuse that cardboard box, there's another benefit, too: Wiping your information from the page before you throw it in the recycling means no one will get your information if they're rummaging through your bins.
TikTok users also chimed in with their own tricks: One promises that using deodorant made with aluminum will turn the label black if it's printed on a certain kind of paper, while another wrote, "I just black it out with a sharpie… less work lol." (Others swear by the tried-and-true method of ripping the part of the label with your address on it off of the box, or cutting up the part of the box with your information on it "like confetti.")
If you clean all of your package labels but have more boxes than need for them, there's always a way to pay it forward. Either hold onto them for friends who are moving, or see if you can donate them through Craigslist or another service. Everyone always needs boxes, and while they probably weren't the thing you bought online, they're valuable all on their own.