The Easy Way I Made My Disposable Takeout Container Collection Disappear
We independently select these products—if you buy from one of our links, we may earn a commission. All prices were accurate at the time of publishing.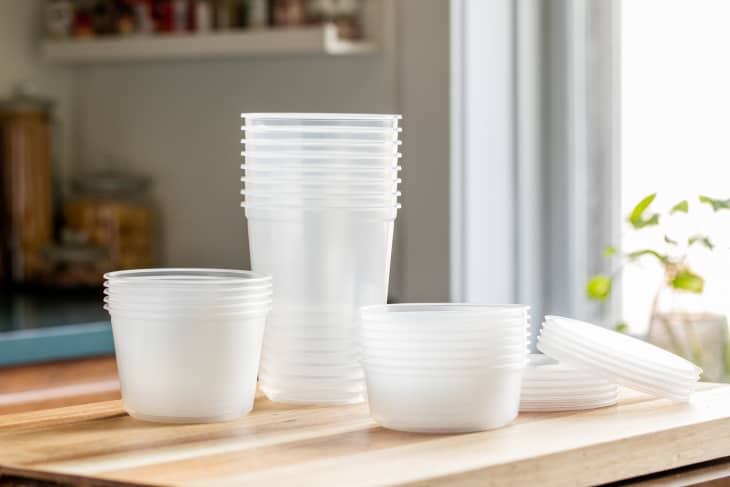 I made the switch from plastic food storage to glass containers a few years back when I pared down my collection in an attempt to keep track of what I had in the cabinet and, hopefully, hold on to these containers for longer. It worked. They've held up beautifully and I no longer have a cabinet full of mismatched bottoms and lids, stained with tomato sauce and scarred with mysterious white marks. If it's possible for a food storage container to inspire joy, I'm telling you, these do it.
But a collection of crisp glass containers didn't eliminate the inevitable plastic disposable takeout container making its way into my home. Whether I'm buying my favorite jalapeño sauce from the gourmet grocery store up the street, ordering Chinese food on a Sunday night, or grabbing a shrimp dip from the seafood market, I can't avoid amassing a small army of the opaque plastic containers whose lids never seem to easily snap on or off and the black-bottom-clear-top dishes that can only stand up to one or two spins through the dishwasher. 
And while I don't want them taking up precious space in one of the five cabinets in my tiny kitchen, throwing them out feels even less sustainable than accidentally acquiring these plastic containers in the first place. 
But thanks to a hack from my sister's mother-in-law, I've found a useful way to get these containers out of my home without letting them go to waste.
I believe it was a holiday evening, with family and friends gathered round and a spread full of ham biscuits, cheese straws, and all the other standard party fare. We were threatening to overstay our welcome — one of those evenings where you say goodbye a few too many times, but never quite make it out the door — and, somehow, my husband finagled his way into snagging an offer to take a few appetizers to go. 
But these snacks didn't come home with us wrapped in a napkin or in a storage container that we'd have to remember to bring back at a later date. Instead, she pulled out a plastic to-go container — the type you'd get with a takeout order — and loaded it up. She made a passing remark that she always keeps these recycled containers on hand to dole out leftovers to guests at the end of get-togethers. Instead of the usual hollow chorus of, "Does anyone want to take some?" without an actual concrete way to send guests home with anything, this was an offer served with a clear next step. Fill up this container, which doesn't need to be returned, and take it with you!
Sure, you could purchase new cardboard food-safe boxes to have on hand at every dinner party, but why do that when you can keep disposable takeout containers stashed away, ready for their chance to be reused? It's the ultimate sustainable hack for taking an easy-to-throw-away, but also easy-to-reuse disposable piece of plastic. It's a convenient chance to give it a second life, while also giving your guests the best kind of party favor: an edible one.