This Twist on an Accent Wall Is a Small Space-Friendly Way to Separate Your Studio or Open Plan Layout
We independently select these products—if you buy from one of our links, we may earn a commission. All prices were accurate at the time of publishing.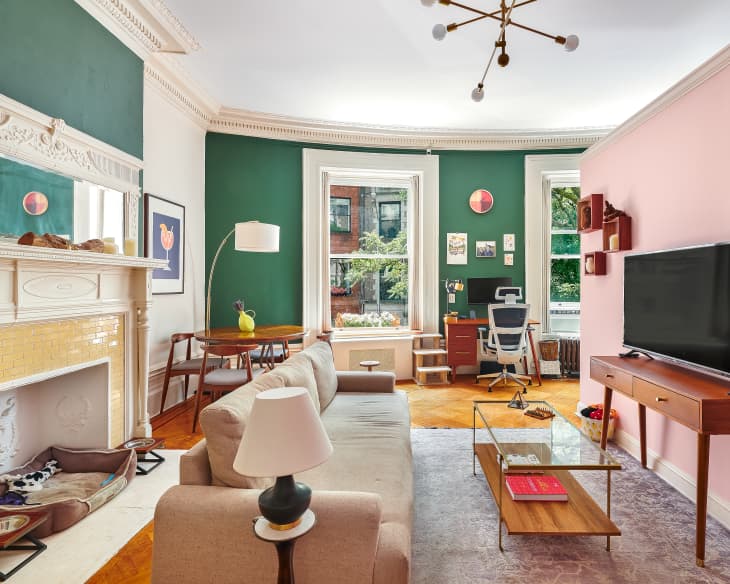 Living in a studio apartment often means being creative with carving out separate spaces. Without walls, it can be hard to distinguish your bedroom from your living room or your dining room from your home office. If you aren't in the market to purchase another piece of furniture though, a simple paint trick can do the job. Enter: the accent wall, which is back from the early 2000s and better than ever, but in this particular case, white is the contrast shade versus something saturated.
Maria Vasquez lives in a super-stylish 450-square-foot studio apartment on the Upper East Side of New York with her boyfriend, David Chikovani, and their dog, Chonka. Although the apartment is small, Vasquez absolutely loves it and has truly made it a home over the past year-and-a-half that she's been renting. "Once I saw the inside of the apartment, I fell in love with its character," she says in her house tour. "I also loved how even though it's a studio, there's still plenty of room to have a comfortable bedroom and living space. I can't believe I found the perfect NYC apartment."
Follow Topics for more like this
Follow for more stories like this
Vasquez considers her design style to be boho meets mid-century, and you can see that through the way she mixes cozy, warm textures, clean lines, and neutral furnishings throughout her home. Luckily, styling and decorating came easy for Vasquez because she already knew what her vibe was. "If I could live in an Anthropologie store, I would," she says. "Unfortunately, that's not possible, but browsing for inspiration is free, and FB Marketplace is an amazing place to find secondhand gems!"
The biggest challenge of living in less than 500 square feet? For Vasquez, that'd have to be figuring out how to make a small space feel spacious. "Since we only had one wall to separate the bedroom and living room, we purposefully created different 'spaces' within the living room," Vasquez says. "And our favorite element of the apartment is the dark green wall." In fact, instead of painting every wall in that gorgeous shade of green (or the peppy pink that's also in the mix), Vasquez left the smaller walls beside her fireplace white to create a backdrop that visually defines both her kitchen and her dining room area from the "living room."
Now, when someone walks into Vasquez's space, you can clearly tell where one "room" ends and another begins, thanks to the clever placement of different colors of paint (and the white in particular). "This helped us mentally separate our dining, piano, office, and TV areas," she says, and I agree. Let's bring back some accents walls; in the right context, they're totally genius.
So if you're working with just a little bit of square footage and don't want to lose floor space to room dividers and floating furniture for privacy and partitioning, you don't have to! Follow your architecture to implement this paint trick, which is not only simple but could actually save you time and money, especially if your place already has white walls.