How to Split a Check with Ease (and Without Making Things Awkward), According to Etiquette and Restaurant Experts
We independently select these products—if you buy from one of our links, we may earn a commission. All prices were accurate at the time of publishing.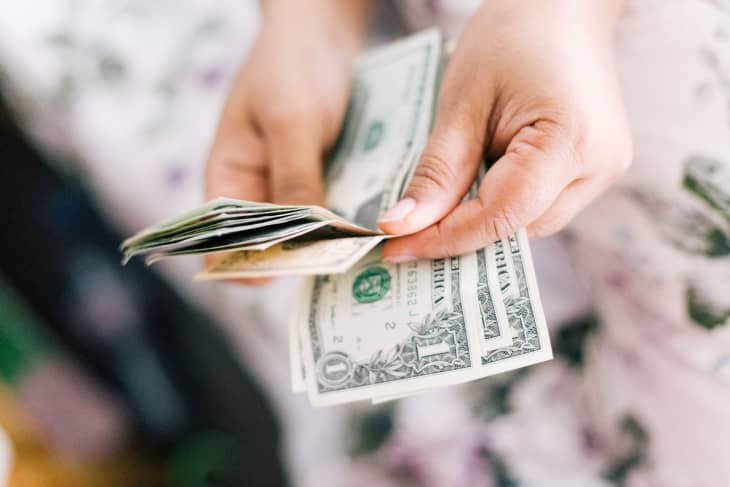 Sharing a meal is a fabulous way to reconnect and enjoy time together, whether it's with coworkers, family, or friends. And while restaurants are still monitoring safety protocols, taking a night off from cooking helps you both support a local business and catch up with the ones you love.
Follow Topics for more like this
Follow for more stories like this
But, somewhere between the meal and dessert, it dawns on you: There's the matter of splitting the bill. After all, you may have consumed a modestly-priced entree while your friends ordered lavish dishes. If some people opted for cocktails while others stuck to non-alcoholic options, that can complicate things further. Is it fair to split the check evenly or rude to ask for your own bill? Here, experts weigh in on avoiding uncomfortable conversations and how to split a check with ease.
Check the restaurant's policy.
Thinking about the bill once it arrives isn't ideal, especially if the restaurant has a policy against taking multiple payments. "Make sure to talk with your server to see if the bill can be split," says Liz Bryant, the president and founder of Liz Bryant Business Etiquette in Richmond, Virginia. "Some restaurants will offer multiple checks for a table, while others will not." Avoiding a last-minute approach helps you know what to expect once your server brings the final tally.
Not only should you ask beforehand if splitting is allowed, but there may also be rules about how a server can split the bill. For example, some restaurants require the check to be divided evenly, and others allow patrons to pay separately for their items. "If it is going to be a concern for the group, it may be worth a call to the restaurant ahead of time to ensure everyone is comfortable with the process," advises Bryant. Checking ahead of time allows you to come up with a plan instead of having to change your form of payment on the spot awkwardly.
Stick to the same protocol each time.
If you and your friends go out weekly, it only makes sense to approach the bill the same way every time. "It will be easy as you will have established a routine that you can quickly confirm," says Bryant. However, if it's your first time dining with folks, get the check-splitting debate out of the way quickly. "If it's a new group, begin the conversation when you are seated. It doesn't need to take up a lot of time or mental space, but rather keep it simple and light."
Determine if you want a separate check. 
"An even split will work if everyone is likely to order in the same range, but if you want to eat light or if money is a concern, you can ask to pay for yours separately," suggests Bryant. Just be sure to add tax, tip, and any other fees into the equation, however you break the cost down. 
Bryant also advises being honest with your reasoning. Hinting that you're eating a salad because you want to increase your vegetable intake or ordering off the appetizer menu when you're not very hungry is perfectly acceptable. However, that doesn't mean you can partake of what you're not paying for. "Remember, if you do have yours separated from the group, you shouldn't be dipping into the shared appetizers or bottles of wine," advises Bryant.
If one person fronts their card, have a simple way to pay them back.
Some restaurants only allow one form of payment per check, so if you volunteer your card, ensure that folks either have an easy way to pay you back on the spot. (A bonus for this, if you trust that your party will pay you back, is that you can use a card that gives you rewards points for restaurant purchases.)
Once you decide how the bill will be divided — whether by order or an even split — use the calculator function to determine what each person owes, and send or request payment through smartphone apps if people don't have cash on hand to pay you back. Apps like Venmo, PayPal, and Cash App allow you to transfer funds instantly, ensuring that the person footing the bill gets reimbursed immediately. 
What if one person wants to pick up the check without reimbursement?
When two people are dining, splitting the check is often not necessary, depending on the invitation. "It is generally accepted that the person issuing the invitation will pick up the tab, so no discussion is needed ahead of time," offers Bryant. "When the server asks if the table is ready for the check, the host would ask that it be presented to them." 
Clear up who is footing the bill when determining a time to get-together. If you intend to pay, you don't necessarily need to say anything, but politely mention it during the initial conversation if you want to split the check.
In the event that someone is treating you to a meal, be courteous. "The correct response by the guest is, 'thank you,' but oftentimes they will kindly protest and want to split the check," says Bryant of this natural intention. "My go-to response as host has always been, 'It's my treat. This has been thoroughly enjoyable.' And, if it's a friend or someone you would like to dine with again, you might add, 'You can get it next time.'" Establishing a pattern of who pays or whose turn it is to pay will make future get-togethers easier. 
Whatever you decide, make it simple for your server.
Check splitting can be uncomfortable if you're the one sitting at the table, but it can be doubly unsettling for a server waiting for payment. "If you think splitting a bill can be awkward when you're paying, try being on the server side of the conversation," says Jo Jo Soprano, the regional manager of Clutch, a restaurant in Roanoke, Virginia. "What's fair depends on the situation. No matter how you're splitting the tab, have the conversation and make the decision before the server is ready to take your payment." Coming up with a plan before your event will put everyone, including the waitstaff, at ease.