How to Store Your Card Collection, Whether You Have Baseball Cards, K-Pop Photocards, or Pokémon Trading Cards
We independently select these products—if you buy from one of our links, we may earn a commission. All prices were accurate at the time of publishing.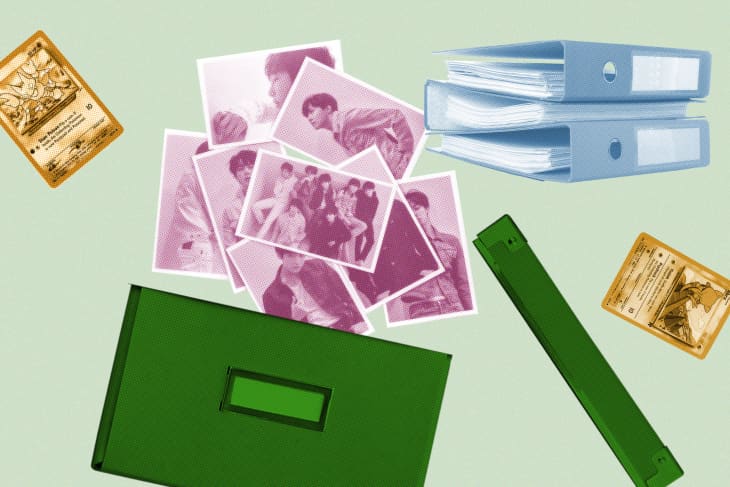 Like many others, I got into K-pop during this global pandemic and found it to be another source of joy in my life. I discovered a lot of skilled artists and became a fan of quite a few. Since there were a lot of album releases last year, I eventually found myself having a handful of photocards — free, exclusive photos of artists that vary and come with each album purchased — with nowhere to store them.
Even though I'm not yet sure whether I'll be collecting photocards forever or eventually selling them, I decided to buy some protective materials to keep them safe in the meantime. "When we collect material culture, we believe it has meaning and value. Whether we envision it as an investment to be sold or donated or something to pass to the next generation, we are responsible for its care," says Hilary Seo, dean of library services at Iowa State University.
K-pop photocards are no different than baseball cards or Pokémon trading cards. In essence, they're all just valuable (and sometimes overpriced) pieces of paper, but that's exactly why they need to be stored properly. 
If you intend to start your own card collection, whatever it may be, you have to know the proper storage materials and practices to maintain the quality of the cards. Here are five tricks to help you start your journey.
Choose the materials you need.
To protect your cards from potential damage, you may need the following materials:
Binder with pocket sleeves
Individual card sleeves
Toploaders
Collectible storage boxes
Card savers
Take note that you don't need all of these — it completely depends on how you want to store, organize, and display your collection.
Generally, you should sleeve your cards before placing them inside binder sleeves, toploaders, or card savers to avoid scratches and dust. Some collectors even choose to double-sleeve them.
If you prefer to keep your cards in binders, you'll likely need card sleeves and binder sleeves, with the occasional toploader when you're trading, selling, or carrying them. However, if you want to store them in collectible storage boxes, you'll want card sleeves and either toploaders or card savers.
Overall, the way you store your collection ultimately depends on your budget, space, preference, and the degree of protection you want to have. Once you know which materials you want to use, you can begin purchasing what you need.
Opt for archival quality.
To ensure that your entire collection is well-protected, make sure you choose "archival-safe" materials, which suggest that they are suitable for preservation and long-term storage, says Seo.
Archival quality generally means that the material is physically durable and chemically stable, which will not harm or degrade your cards. When looking for storage boxes or binder and pocket sleeves, look at the label to check whether they're archival-safe or not.
Magnetic or sticky albums should never be used to store collectibles because they are not archival, says Seo.
Avoid polyvinyl chloride.
You should avoid polyvinyl chloride or PVC plastics at all costs because the material is highly reactive and can cause permanent damage to your cards. Plasticizers are commonly added to PVC to make it flexible, that's why they are not recommended for long-term use, says Seo.
According to Seo, the following plastics are appropriate for preservation storage:
Polyester (Mylar or Melinex)
Polypropylene
Polyethylene
Acrylic 
"These plastics are chemically inert, meaning they will not change chemically and deteriorate over time, at least within a lifetime in favorable environmental conditions," she adds.
Moreover, PVC is a thermoplastic that softens and becomes moldable when heated, and hardens again when cooled. If you use PVC, the cards may not only get damaged but also completely stuck to the plastic.
Last year, a TikTok video from user @nikyeo went viral when their favorite photocard from the K-pop boy group Enhypen got stuck to their clear phone case even though they never glued it. The photocard likely stuck to the plastic due to the heat of the phone, thus permanently damaging it.
Don't get confused by "acid-free."
According to card sleeve importer KMC Sleeves, the use of the term "acid-free" to describe plastics became popular in the '90s. Back then, sports card collectors commonly found their old collections damaged because the material they used had turned yellow and hard. Suppliers then started using "acid-free" to market storage materials of better quality.
However, keep in mind that "acid-free" is not used to describe the archival quality of plastics, says Seo. Many manufacturers continue to put the term on their packaging to appease collectors, that's why you may see binder or card sleeves described as such.
Before purchasing anything, make sure you ask about the kind of plastic it's made of so that you can avoid PVC. If you don't get a straight answer, it's best to move on and keep looking.
"Buy from trusted vendors that clearly show the material type and other appropriate archival characteristics," says Seo. "Non-PVC multi-pocket sheets, individual sleeves, Ziploc-style bags are acceptable for storing collectible cards, as well as acrylic or [recessed] Lucite card holders."
Store your collection properly.
Even if you have the right materials to protect your cards, they're still not as safe as can be without proper storage practices. 
Seo advises against storing collections near windows or electrical appliances because this can accelerate their deterioration. The cards may become brittle and discolored as a result of the fluctuations in temperature and humidity, she adds. Water or condensation can also lead to mold under the right conditions.
Therefore, you should keep your cards away from sunlight, humidifiers, or the hot surfaces of electric appliances. Choose cool, dry storage areas with good air circulation that are stable year-round, says Seo.
All in all, knowing the right kind of materials to buy and the proper storage practices can make all the difference if you're aiming for long-term preservation. "If we take the time to organize and house our collections, stable materials will protect objects for decades without needing to replace failing storage materials repeatedly," says Seo.