I Took Corey Damen Jenkins' Interior Design MasterClass, and I'll Never Think of My Closet the Same Way Again
We independently select these products—if you buy from one of our links, we may earn a commission. All prices were accurate at the time of publishing.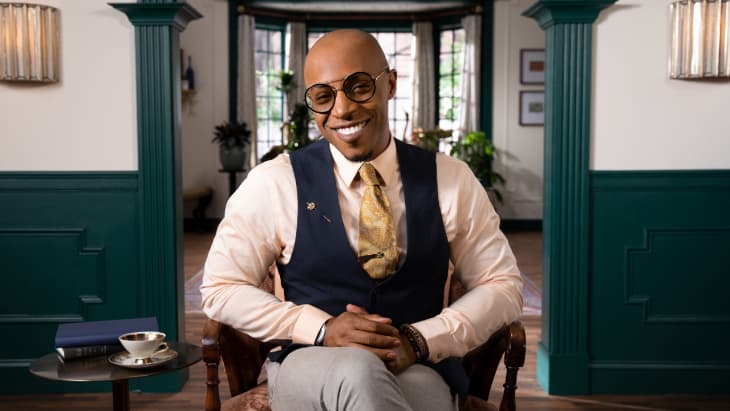 If someone asked you to define your design style in three words or less, could you do it? Arguably the hardest part of the decorating process is articulating what you like… especially when there's so much out there to like. I still struggle with this step, even as a home editor, but I luckily feel much more confident in defining my personal tastes after taking interior designer Corey Damen Jenkins' online MasterClass.
Admittedly, I'd never done a MasterClass lesson before this and really didn't know what to expect. Suffice it to say, though, after watching all 12 videos, I walked away with a lot of new know-how. Jenkins himself rose to home styling stardom after knocking on not one, not two, but 779 doors seeking clients to kickstart his firm. Now, the Detroit-bred, New York-based designer and TV host is widely known for his signature elegant-meets-contemporary look. I could hardly think of a better on-camera expert to guide an interior-focused MasterClass. Jenkins' caters to two specific crowds: The "design enthusiast" seeking at-home decorating advice, and those interested in pursuing a design career professionally.
I identify with the former (as I'm sure most of you do, too), so I had to share one of my favorite takeaways from the two hour-long series — without spoiling too much, of course, because it's well worth the watch. In episode three, aptly titled "Defining Your Style," Jenkins detailed the harmony between fashion and interiors, noting that runway trends often trickle over into design. On a smaller scale, though, the same can hold true by analyzing your own fashion preferences. After all, "one of the most important things that should inform your interior choices is your personal style," he adds.
From there, Jenkins prompted an exercise to dig through an unsuspecting spot for some immediate home inspo — your closet. "Start by going to your own closet and laying out the things that feel comfortable to you," Jenkins explains. "You may find a real harmony or consistency with the choices you've made in your wardrobe."
Up until this moment, I'd genuinely never thought to sync my clothing and home styles, but it actually makes perfect sense. As someone with a lot of very floral-infused, colorful apparel, I realize that I do gravitate toward similar motifs when it comes to the decor and artwork in my home. Take a moment to pull pieces from your closet, too, and you may be equally surprised to uncover some clothing commonalities that could look amazing in your space — whether it's a print, color, or texture that you usually wear on repeat. Who knows, there may even be something you'd never thought to decorate with in the first place.
To that note, in this same episode, Jenkins also advocated for making mood boards. And no, not Pinterest boards — we're talking the tangible, old-school style, filled with inspiring cutouts and clippings. But, he suggested compiling more than just paint and fabric swatches, or pages from home catalogues. As I learned from my closet deep dive, it's equally important to add things like clothing ads or fashion campaigns, just so you can better conceptualize the look and feel you want a specific room to have. Plus, with a physical mood board, you can easily move things around, make swaps, and visualize your intentions for your space IRL.
Now, the next time you go shopping or grab something from your closet, I hope you notice parallels that can cross over into your home for the ultimate reflection of your unique personal style. And if you're interested in more words of wisdom from Jenkins himself — on everything from budgeting to picking out the best window treatments — you can join MasterClass starting at $180 for an annual subscription, which works out to $15 a month.