You Should Probably Give Your House a Name — Here Are a Few Lovely Suggestions
We independently select these products—if you buy from one of our links, we may earn a commission. All prices were accurate at the time of publishing.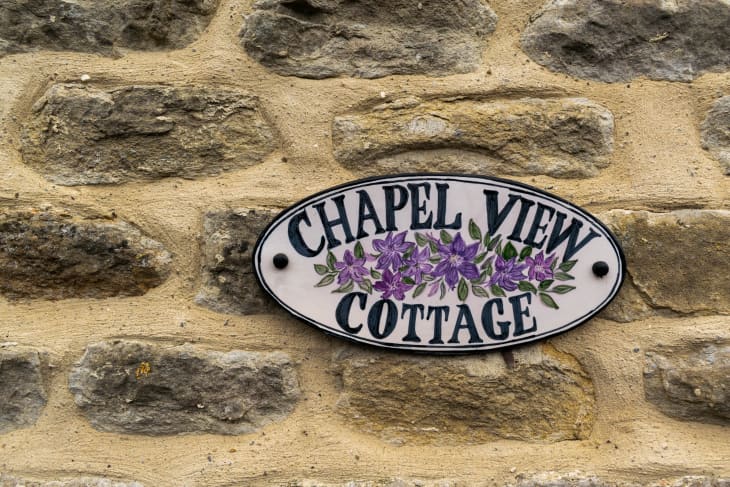 It used to be that only grand estates, castles, and beachy cottages had names. But Kensington Palace and the Lilac Cottage down by the water needn't be the only homes that have titles. In fact, I want to wholeheartedly encourage you to name your home. Why? Your home's name is a place to define your identity and inject a little personality into something, almost like your Twitter handle or a vanity license plate.
Follow Topics for more like this
Follow for more stories like this
Personally, I've always loved the concept of giving your home a name, even if you don't live in a proper "manor." Heck, especially if you don't live in a manor. My point is that house names can still apply to a townhouse, apartment, or studio. It feels regal, stately, and, yes, very fun. Cheap thrills are hard to come by these days.
Plus, if you're a homeowner, a great name for your home might even help you sell it. From UK's The Telegraph:
The survey undertaken for the property website Globrix, found that one in 14 said they would be prepared to pay more for a home just because it had a name. Even those that were not prepared to pay more said their opinion of the property would improve, with 40 percent saying they would be more interested in viewing a property with a name.
Ready to give your home a pedigree? Think about what kind of home you have. A word or suffix that describes your dwelling is a good place to start. Here are some descriptors to get you started: House, Home, Cottage, Lodge, Chateau, Regency, Villa, Arms, Wing, Corridor, Studio, Row, Bungalow, Barn, Loft, Hideaway, Oasis, Retreat.
Then, come up with a unique moniker to pair with it.
Are there any geographical features nearby? Think about your location and the views from your home. Willows, Ivy, Hillside, Meadow, Valley, Pacific, Gulf, Railway, Brook

Any historical significance to your building? Old Mill, Factory, Schoolhouse, Church, Farm

What's nearby? Think about the name of your neighborhood, street names, close landmarks or even rail stops. Haight, Westside, Flatiron, Euston, Division, Highlands

Any flora or fauna local to your region? State birds or just plant names you particularly like? Fox, Honeysuckle, Squirrel, Birch, Peartree, Cherrywood, Bluebell

Does your home or building have something unique about it? What do people comment on when they come over? Red Shutters, Ironwork, Picket Fence, Gates, Brick, Winding Drive, A Hundred Stairs, Clapboard

Are there any words that rhyme with your original descriptor? If you selected Retreat, for example, perhaps Petite Retreat could work? Think of other adjectives that either rhyme with or start with the same letter as your previous word for some old-fashioned onomatopoeia. The Supreme Studio, The Hygge House.
From these starting points, you might come up with names like The Schoolhouse Loft, Honeysuckle House, Peartree Cottage, The Euston Arms, Church View Row, Hundred Stairs Studio, Bluebell Barn, or a thousand others.
You could, of course, be a little more avant-garde than this. Who says you have to follow a naming convention, anyway? You could hearken to the home's history and choose the last name of one of its previous owners.
You could do things Xanadu style, and either make up or find a really funky word to name your place: Pemberly, Blantyre, Naumkeag . There's also the option to choose something completely random — because why not? I'd love to visit a house called Doodad Dwelling, Pelican Shack, or Cheese Farm.
What Do You Do With Your Home's Name?
Now that you have one, you can do a few fun things to show it off.
Give it a hashtag and document your life at home or your decorating or renovating journey.
Make it a location on social media for friends to check-in.
Put it on a plaque near the front door.
Have it embroidered onto towels or pillowcases, naturally.
So, what'd you end up with? Let us know in the comments.