This $40 IKEA KALLAX Bookshelf Belongs in Your Tiny Bedroom, and Here's Why
We independently select these products—if you buy from one of our links, we may earn a commission. All prices were accurate at the time of publishing.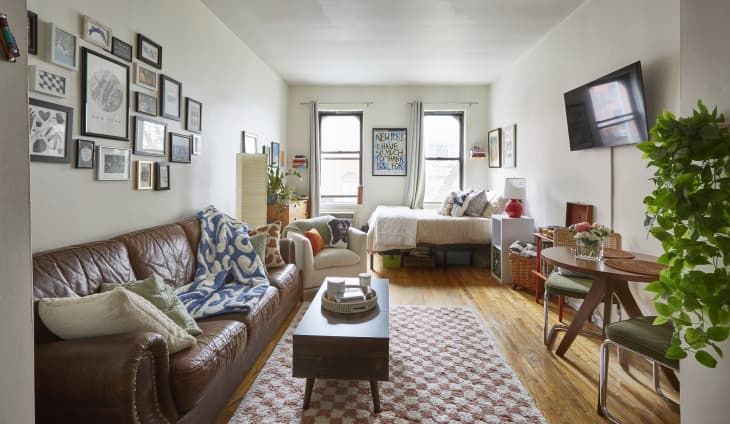 A good creative IKEA reuse goes a long way. If you're familiar at all with the IKEA KALLAX line, then you've probably seen pieces from the collection used for everything from shoes in a mudroom to books in a living room, and beyond. Well, one resourceful renter recently turned one of these cubbies into a bedroom staple, and it's both a budget- and space-friendly solution that any studio or small-bedroom dweller might want to have on their radar.
Follow Topics for more like this
Follow for more stories like this
Rachael Harvey lives in a 275-square-foot studio apartment on the Upper East Side of New York City. While Harvey has only rented this apartment for about a year, she's already filled it with furniture and decor that work double-duty to maximize her small space. "Even though I am in a studio, I have never let that be a barrier to the curation of my home and its function," she says. "I have been able to create separation in each area of living with my furniture and art." 
Harvey considers her personal style to be a mishmash of mid-century modern furniture with more contemporary, classic-meets-cool elements. "I would also say my home is 'ordinarily extraordinary,'" she says. "So I am always seeking out the highest potential in every nook and cranny." One area where Harvey made sure to eke out every last inch of possible space is in the "bedroom" corner. There, to maximize floor space, she pushed her bed right up against one of her windows and paired it with an IKEA KALLAX bookcase used as a nightstand.
While some people stack several KALLAX shelves to create larger storage units, Harvey found it best to stick to one two-cube piece, placing it upright vertically so its footprint remains relatively compact. When you think about it, this KALLAX design is actually ideal for a small space bedside table because the cubbies are fairly substantial in size, and adding a bin to the bottom cube (or both cubes) gives you more closed storage for nighttime essentials than many nightstand drawers do. As a bonus, the tabletop surface is just right for holding a book, a glass of water, and a lamp. For a piece of furniture that's only $40 and 16 inches wide, this IKEA find is both small-space- and budget-friendly. If you have a bigger bedroom or more space around your bed, you could double up on these shelves to create quads on both sides of the bed, and you still wouldn't pay more than $160. 
IKEA is known for their affordable storage solutions, and this KALLAX idea is a perfect example of how something small and simple can make a big impact in your home. "My best advice is [to] create functionality everywhere," Harvey says.