I'm a Private Chef and This Three-in-One Amazon Pan is My Go-To for Meal Prep
We
independently
select these products—if you buy from one of our links, we may earn a commission. All prices were accurate at the time of publishing.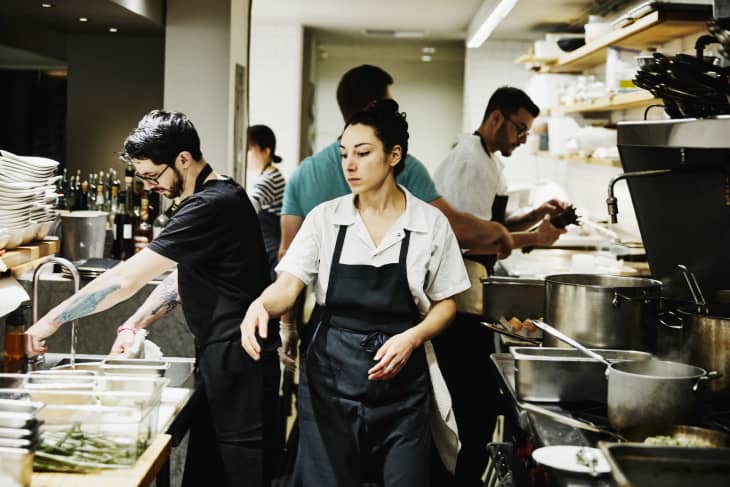 As a private chef, I'm often tasked with weekly meal prep. After preparing up to six meals in one sitting, I mean it when I tell you that every dirty dish counts! I did some research looking for a pot with interior measurement lines to eliminate the need to use a measuring cup and ease up my mountain of dishes. I ended up finding this highly-rated, multipurpose sauce pan with more helpful features than I had even envisioned.
My first takeaway is that this sauce pan doubles as a strainer! The lid has two strainer options with small and large holes to choose from. The pot's rim has two spouts for easy pouring into the sink, so no steam will burn you or cloud up into your face. This pan's straining capabilities, along with its 8-cup capacity, will make it ideal for boiling pasta and blanching vegetables of various shapes and sizes.
Another noteworthy detail is the heat-resistant handle on the lid. As a fast-moving, multitasking cook, I've burned myself too many times by forgetting to grab a towel before reaching for a lid to check on my foods' status. As one satisfied reviewer wrote: "I like the fact that the lid handles are covered with heat-resistant material, so you don't have to worry about burns or pot holders to take off the lid and stir the contents." What a relief!
Now, to how I found this revolutionary piece of cookware in the first place: the measurement lines! This feature is important when it comes to measuring out liquids like heavy cream, broth, or water for grains like rice that require an exact ratio. The measurements on the inside wall eliminate the need to pull out yet another tool to dirty up and have to wash. Also, this feature can be put to good use when a recipe says "until the liquid has reduced in half." No more guesswork, as the easy-to-read lines will give you the reassurance that it is, indeed, time for the next step in the recipe.
This customer's review wrapped it all up in one neat bow for me: "All the great features I loved about my old pots (heavy stainless steel, strainer lid) but even better! These pots don't scald my hands when I touch the handle! It stays cool! And I love the measurement lines inside."
The almost 4,000 glowing five-star reviews prove that there's serious versatility to this seemingly simple pot, and at a great price too. It's clearly going to be my new go-to sauce pan, and it can be yours too (it's on sale!). First on my list of meals to make: this one-pot pasta primavera to put all of the handy features to work!