An Architectural Photographer's Tips on Taking Better Photos of Your Home (Even With an iPhone!)
We
independently
select these products—if you buy from one of our links, we may earn a commission. All prices were accurate at the time of publishing.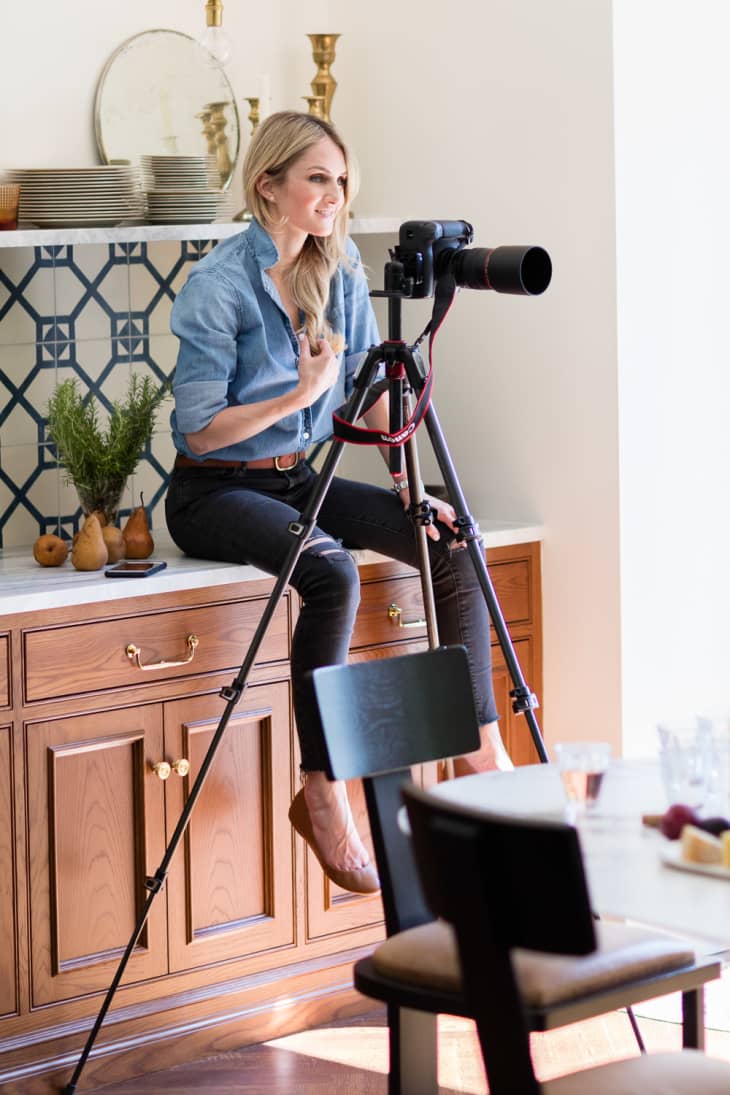 Whether you're capturing images for your Instagram grid or you're an aspiring photographer, taking photos of your home is a rewarding way to express and share your personal aesthetic. But no matter how amazing your home looks (or how fancy your camera is), there's a bit of a learning curve to snapping stunning interior photos. What gear is most important? What's the best way to edit? What's the most flattering angle?
According to photographer Alyssa Rosenheck, the first thing to know is that the process of photography is more about storytelling than gear, editing, or composition. To get the most out of your home photography, Rosenheck says it's important to rely just as much on intention and intuition as technical skills. Ready to up your interior photo game? Here's her best advice. 
Define your personal "lens"
Defining a vision for your photography is the first step to making sure you take photos that feel like "you" and really capture your style. Before you pick up your camera, Rosenheck recommends taking time to set an intention through your own personal and emotional lens. Your home is your personal space—the place where you love and find inspiration—so carve out some reflection time to figure out your photo goals. 
Even if you have a proper camera, your smart phone can be a useful tool for creating, capturing, and sharing meaningful content. "iPhone's camera and video are sophisticated, and with the help of a few reliable apps, anyone can create images that rival the ones I produce for magazines," Rosenheck says. 
Her current favorite app for editing is A Color Story, which is available in the App Store and on Google Play. "They have incredible filter selections that I use for portraits," she says. "And as for spaces, I bypass the filters and only adjust the exposure, contrast, and even out the color temperature."
Photograph in natural light
Rosenheck says natural light (as opposed to overhead lighting or lamps) is essential for capturing the most accurate representation of a room—that's why whenever she starts a shoot, she flips off all the light switches in the home. "It may be counterintuitive, but natural light yields the most accurate representation of the room's color and all the beauty within it," she says.
Investing in a simple tripod for your DSLR or an attachment for your smart phone is the most reliable way to ensure straight lines. "A classic rookie mistake is expecting superstar results from holding the camera by hand when shooting home interiors and architecture," Rosenheck says. "My goal is for the viewer to experience a sense of relief with my images, and when the lines are off, this results in visual tension and the viewer's eye immediately focuses on the crooked lines."
It's fun to play with angles, but Rosenheck says the most crisp and clean images are shot straight-on. So rather than snapping an overhead photo of your kitchen, aim for a straightforward shot. "Overly complicated angles result in fussy images and confusing focal points," she says. "If you want to play around with angles, I suggest letting these be closer detail shots."
At the end of the day, composition—what's actually in the photo—is far more important than the camera you have in your hand. "Composition enables the space's story to be told through object arrangement and placement," Rosenheck says. "I can communicate a particular object of interest through my focal point, or, alternatively, I can introduce a moment of relief by emphasizing the negative space." 
While there are numerous theories behind composition, Rosenheck recommends photographers focus on three things: achieve straight lines, balancing your layers, and letting the rule of thirds guide your lens.