7 Features of International Bathrooms I Really Wish the U.S. Had
We independently select these products—if you buy from one of our links, we may earn a commission. All prices were accurate at the time of publishing.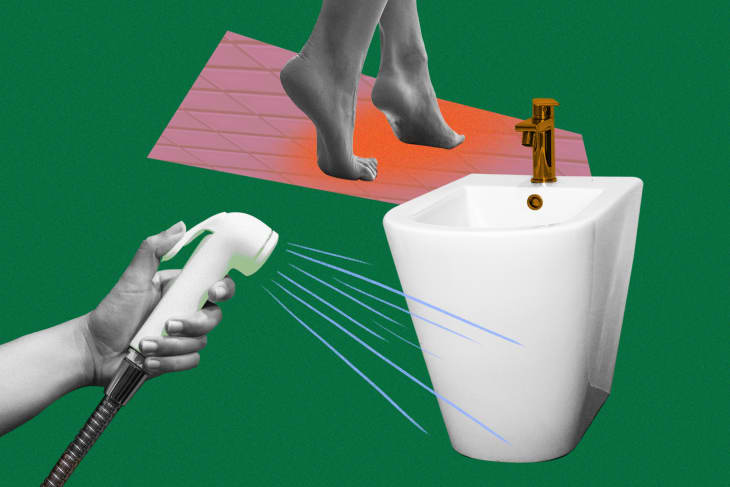 Travel is a fabulous way to gain inspiration to bring back to your own home. For example, perusing the Institute of Contemporary Art in Boston's Seaport encouraged me to add colorful pieces to my art collection. Likewise, a recent trip to Switzerland's Jungfrau region motivated me to be more mindful about incorporating a quaint, welcoming feel into my design. But for all the museums, attractions, and vistas influencing people to tweak their interiors, there's a room that doesn't receive enough recognition concerning its ability to transform our spaces: the bathroom. 
Although it's not talked about often — after all, most people rave about major attractions, food, or nature when coming back home — other countries are a step ahead of the U.S. regarding enhancing the restroom experience. From things folks are just starting to include as design elements to additions I haven't experienced before, here are seven features of international bathrooms that I think we need to make standard in the U.S.
Follow Topics for more like this
Follow for more stories like this
Note: Potty talk ahead, so for now, just consider me your travel mom as we get brutally honest about a few things.
You may have already heard of or even used a bidet. When I traveled to Europe 30 years ago as a child, I marveled at this low toilet, which wasn't a toilet at all. Traditionally, a bidet is a short bowl designed to spray water on your nether region. Sometimes — for example, when menstruating, post-sex, or after a healthy number two — you simply need a little extra cleaning down there. 
From Japan to Portugal, these seats are a great addition to a standard toilet, and having a spray feature can ultimately replace toilet paper. Gerard Breen currently lives overseas and thinks the U.S. needs to get on board with bidets. "As an Irish expat living in Italy, I never used one before living here," he says. "I now hate when I visit home and they don't have them!"
A more modern addition to a bidet is an in-toilet sprayer, which I found by accident during a recent stay at Lake Nona Wave Hotel in Orlando, Florida. While doing my business on their luxe TOTO toilet, a set of buttons on the wall grabbed my attention. I started to press a few to test out the functions (probably not advisable) and — to my surprise — discovered the spraying function. However, once I figured out the buttons, having a sprayer was a welcome and more practical feature than having a separate bidet. The hotel toilet also had a dryer, eliminating the need for toilet paper. 
In some countries like Morocco there is a similar, yet less plush, option of a water tube at the toilet's side. Tour advisor and concierge Massine Attalge often has clients request one when booking their stay. "While asking them about specific features they are seeking, I get requests about toilets equipped with a hygienic tube," says Attalge. Even in its simplicity, a tube can still get the job done without all the bells and whistles of an automatic toilet.
While doing mission work in Nepal, I became very familiar with a wet bath consisting of a shower, toilet, and sink all in one space. The name "wet bath" implies that the sprayer gets the entire bathroom soaked. Although it's not necessarily a luxurious option, it is efficient when you're short on space. Case in point: There's one in our campervan. Designer Sharon Sherman had one of her clients request an all-in-one bathroom based on a recent trip. "The clients experienced it on a trip to Costa Rica and wanted to replicate the experience in their own home but including a wet-rated television," Sherman says. Adding a water-safe TV elevates the overall wet bath experience.
Bladder shy folks, unite! Not only can the sound of rushing urine cause bathroom usage to halt, but other unpleasant puffs, drops, or explosions are obviously embarrassing. Although I haven't experienced a bathroom with white noise capabilities beyond an exhaust fan, traveler Jenn Lloyd came across white noise while in Japan. "Many public and hotel room bathrooms in Japan offer a music or white noise option to cover one's sometimes embarrassing and unpleasant bathroom noises," she notes. "I would love this as a feature in my bathroom to help keep the mystery alive." Hopefully, someday society will come to the point where it normalizes bodily functions, but until then, white noise can do the trick. 
Whether you like your shower water ultra-hot or prefer to finish with cold water, stepping off a cozy bath mat and onto a chilly floor can cause you to shiver. Jen Rhodes has family in Norway, and she always looks forward to experiencing toasty feet. "European bathrooms, especially in Nordic countries, often feature underfloor heating," says Rhodes. "That little extra warmth underfoot can be a godsend on cold winter mornings." As a bonus, she also notes that the heated floors can help prevent mold and mildew growth.
My unexpected toilet sprayer experience in Lake Nona came with one feature I long to have at home: heated toilet seats. I've grown accustomed to a chilly seat, but having a temperature-controlled one — that wasn't warmed up by a previous customer — was perhaps my favorite bathroom addition during my stay. This feature is also fairly common in Asian countries like Japan, where writer Deb Hendricks has used a warmed seat. "Japan leads the world in many areas," she says. "One stellar example of this is the typical Japanese toilet. A personal favorite feature of these thrones is the heated seat." It's the perfect companion for a middle-of-the-night visit to the bathroom.
Finally, I get to mention an option I actually have at home — the rain shower, which is also becoming standard in more U.S. accommodations, such as The Envoy. My recent visit to La Casa de la Playa in Mexico had an ultra-luxurious rain shower with the ability to control the temperature, flow, and waterfall area. An invigorating waterfall was the perfect way to wake up in the morning, and a soft rain shower was ideal for refreshing after a day in the pool. Sidebar: I also had a private infinity pool and volcanic rock hot tub! Although these were more luxurious options, adding a bit of indulgence to a bathroom can enhance your daily routine.