This Super Easy Decluttering Task Will Make You Feel Organized (and Accomplished) in 15 Minutes
We independently select these products—if you buy from one of our links, we may earn a commission. All prices were accurate at the time of publishing.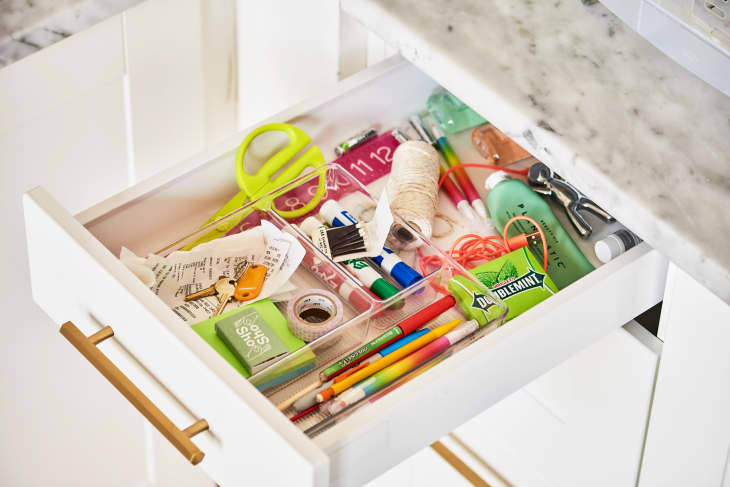 Apartment Therapy's January Cure is a free 20-day program that'll help you reset your home for the year ahead. Sign up here and get all assignments delivered to your inbox. 
Hello, 2023! I'm starting to feel that new year energy, which brings with it the excitement for new opportunities and a chance to make a fresh start at home. If you're feeling as motivated as I am or just looking to freshen up your space, look no further than Apartment Therapy's annual January Cure, which (drum roll, please) kicks off today! 
Follow Topics for more like this
Follow for more stories like this
That's right, our 2023 January Cure starts right now. For the next four weeks, we are taking you on a journey to help you enjoy your home more for the new year ahead — with 20 daily assignments that'll reset your home through cleaning, decluttering, and revamping your spaces.
It'll be guided by me — Apartment Therapy's cleaning and organizing editor — with a little help from some very special guests (see the full list here!) along the way. If you haven't already, you can sign up right now, using the email signup box below (or you can sign up here), to get all of the assignments delivered straight to your inbox.
We are all in for an adventure — and whether this is your first-ever Cure or you're a seasoned Cure pro, we are so happy to have you here. Now, let's get this party started with a quick and easy task.
Reset Your Home with the (Free!) 2023 January Cure
Renew your space with our free 20-day January Cure program — it all begins January 2.
Day 1: Declutter one drawer, anywhere in your home
Choose a "drawer" and spend some time clearing it out. You can choose any drawer you want to declutter or choose an entirely different small space to start. I like to think of this as the "one-spot rule." You pick just one spot in your home that needs some attention, such as an overflowing bin, cluttered cabinet, messy basket, or junk or dresser drawer. It just has to be small and manageable. Once you've picked your spot, let's set aside 15 minutes dedicated solely to decluttering it.
OK, ready to go? Start the timer and do the following: first, take everything — and we mean everything — out. Then, clean the inside of your bin, basket, or drawer. Now, get to sorting. Set aside items that'll be recycled or moved to another place and take all the trash pieces and discard them. Put everything back and organize it to your liking. 
And that's it! Just like that, you're just a little bit more organized than you were at the start of the day. I love the simplicity of our first task and hope it warms you up to help you prepare for what we'll tackle in the days ahead. 
PRO TIP: Drawer inserts can be wonderful tools to help you get organized. You can find one of our editors' favorites here, along with other recommended finds. 
Tell us what you decluttered in the comments below.
More ways to participate in the January Cure:
The Cure Program is a tradition here at Apartment Therapy — it happens every January, April, and September. Click here to learn more about the year-round program and when to sign up.