Jonathan Scott Just Dropped 3 Easy Tips for Redoing Your Kitchen Cabinets
We independently select these products—if you buy from one of our links, we may earn a commission. All prices were accurate at the time of publishing.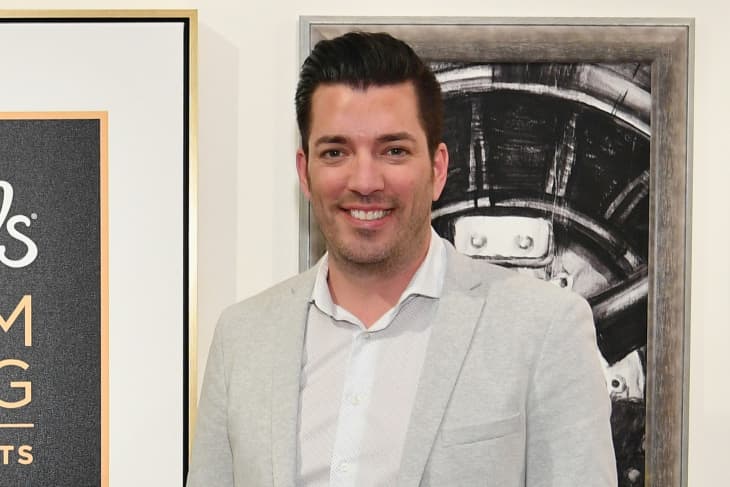 When stay-at-home orders went into effect earlier this year, many people took a long, hard look at their homes. There was reorganizing. There was decluttering. There was repainting and deep cleaning. And now, with even more time at home ahead, harder tasks might be next on the to-do list. And if that includes tackling your kitchen cabinets, Jonathan Scott has tips for refinishing them all on your own.
On Oct. 16, the Property Brother shared an Instagram post that addressed the recent interest he noticed in kitchen cabinets. "Seeing a lot of questions in the comments about kitchen cabinets, so I have some DIY tips for you," Scott wrote in the caption. Then, the mic-drop moment. "If you don't like your cabinets, you don't have to replace them…you can just refinish them! It's all in the prep work."
So, what's the first tip Scott throws down? A simple yet important one: sand well and thoroughly remove any oil or grime before re-staining or spraying. "I prefer spraying over brushing as it looks more pro," he added.
His second tip is if you're into the painted look, "use an oil-based acrylic for a glossy sheen," then warns that latex will slough off. And finally, for the third and final suggestion, "It isn't a must, but think about changing out your hardware, too," Scott wrote. "It might match your new aesthetic better."
Scott signed off with "It'll take a lot of work but can look great! I believe in you." And the most avid DIYers already know that a good amount of elbow grease tends to pay off. Sand, paint, and hardware, here we all come.